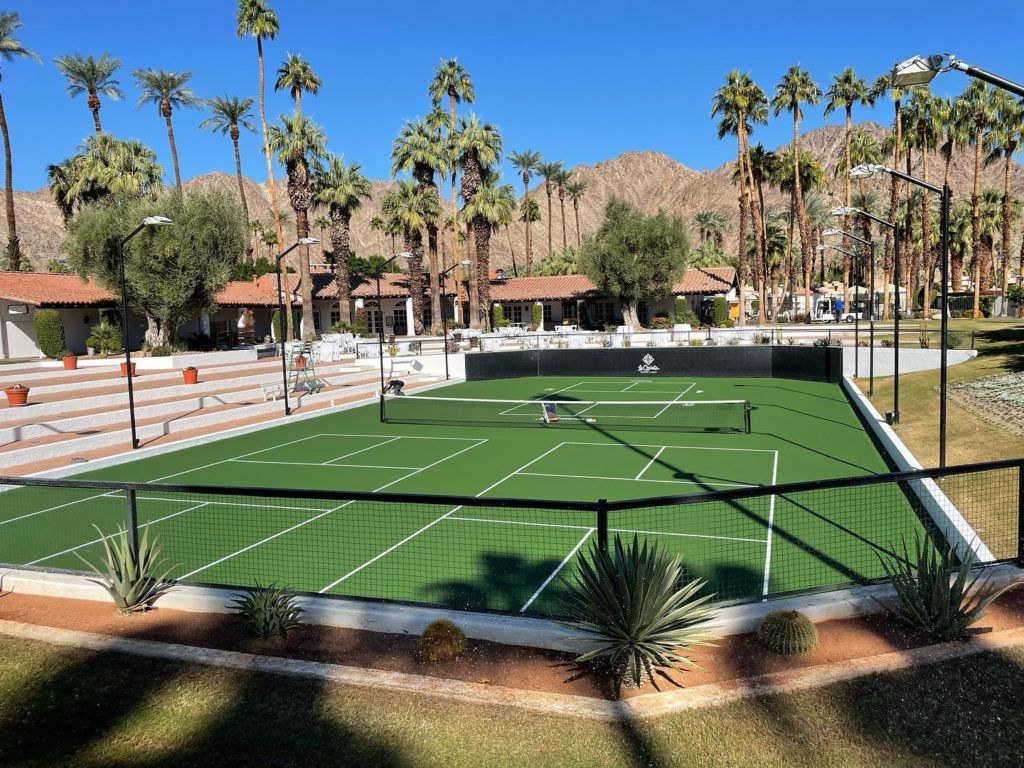 2:30pm ET
We pick up the action following a big upset in the men's game. Thomas Wilson took down #3 sed Jay Devilliers to advance to the quarterfinals. Wilson's stock is rising on the pro circuit as his D1 tennis strokes are transitioning into more effective pickleball shots.
Wilson was an alternate for MLP down in Dreamland and must have been dying to get in on the action. He is off to a hot start in La Quinta. He is participating in all 3 events this weekend. Johnny Goldberg and Lauren Stratman are his partners in the doubles events. Wilson's next test is Frank Anthony Davis and he gets through Davis, Tyson McGuffin will be his last opponent of the day.
On the other side of the bracket, Ryan Sherry defeated JW Johnson. This is an upset based on the seeding but was probably closer to 50/50. Sherry has to be excited to get back into after also missing out on MLP. He will get his shot at Ben Johns next. We will see if the Whitwell performances can inspire Sherry upset the GOAT.
The women's singles draw is developing as expected. The top four seeds will be facing off in the semifinals.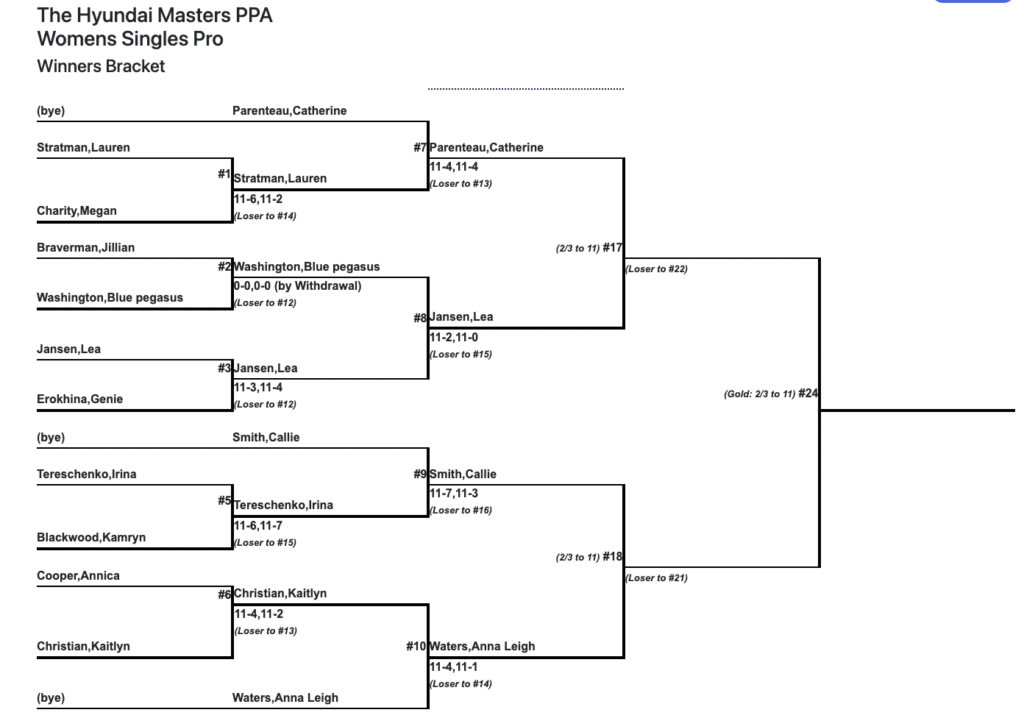 5:00pm ET
Lea Jansen and Catherine Parenteau went 3 games deep and this time Lea Jansen was the winner. Jansen won games two and three in convincing fashion. She was up 9-1 in game two and finished off game three 11-6. Jansen's intensity was on 100 in this match and it helped fuel her victory. Jansen was landing deep serves all match and setting herself up to win short points. She is through to Sunday and will await her opponent from the other semifinal.
6:20pm ET
Ben Johns made pretty quick work of Ryan Sherry 11-0, 11-5. It's nearly impossible to beat Johns when you're at 100 and Sherry was clearly dealing with an injury from early in the day.
Callie Smith is closing the singles gap with the top three players but Anna Leigh was just too much to handle today. Smith had a lead in game two but Waters stormed back time the game up at 10-10 then put it away. Smith had two late serves into the net that I'm sure she will be kicking herself for, but she is a little closer again this weekend and I'm guessing she will bring home that PPA in the first half of next year.
We get another installment of Waters vs Jansen on Championship Sunday.
7:30pm ET
Tyson McGuffin puts an end to a storybook day for Thomas Wilson. He can still leave with a souvenir though. He needs two wins in the loser's bracket to take home bronze. JW Johnson has been tearing through the competition he will be Wilson's next opponent and the winner of that match will play Frank Anthony Davis for bronze.
Johns vs McGuffin for gold, stop me if you've heard that before. Can Tyson find a way to beat Johns this time around?
9:30pm ET
Day 1 is in the books and it is clear the PPA knocked this one out of park. The green courts and all white attire look great. The broadcast was a little rough today and the shadows interfere with visibility but both of those issues can be taken care of for the weekend games.
Catherine Parenteau took bronze over Callie Smith in the women's draw and JW Johnson will be taking home the bronze after a victory over FAD in two games.
Matches start tomorrow at noon eastern time.