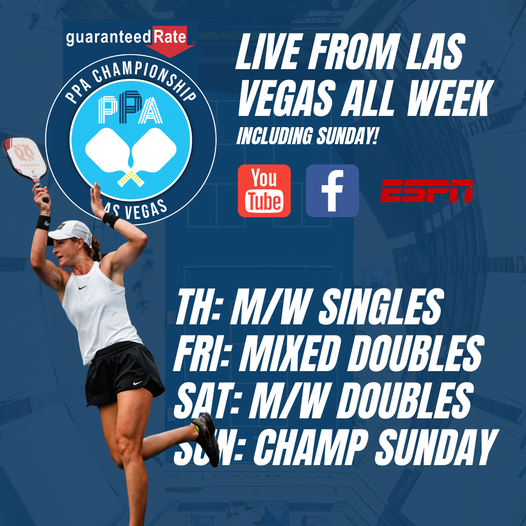 Catch all of the action on the PPA YouTube, Facebook and ESPN 3.
Mixed Doubles Final
1:30  ET
The Newmans got off to the early lead this morning. They took the first two games by completely slowing down the pace of play. They have forced Jessie Irvine & Jay Devilliers into long dink rallies and have been coming out on top in these long points.
Irvine & Devilliers took on a new strategy in game three. They started going at Riley Newman instead of avoiding him. This actually created a faster pace of play with more speed-ups and volleys as opposed to dinks, which favored Irvine & Devilliers. Game four is underway and I would not be surprised to see this one go to five games.
2:15 ET
The comeback is complete. Championship Sunday has a weird way of bringing out these types of matches. One team goes down two games to none then is able to take 3 straight games and win the best of five. In this case Irvine & Devilliers had to win the last 3 games and did so 11-5, 11-5, 11-6. Which is pretty convincing fashion. This is their first gold medal after appearing in two recent tournament finals.
Women's Singles Final
3:30 ET
Catherine Parenteau has had one of the best October's in pickleball. Her singles game has improved dramatically since incorporating more inside-out forehands and deception in her game. She has always had great ground strokes, but they are even more effective when you don't know where the ball is going.
She had one of her best performances winning in three straight games today! This is her third PPA women's singles gold this year. She won the title at the Atlanta Open and the Red Rocks Open. Congratulations to both CP and Anna-Leigh, they will also be playing each in the women's doubles final later today.
Another 5 Gamer
5:42 ET
Our second doubles match of the day also went the distance! Five games from Team NewGuffin vs Dekel Bar & Adam Stone. Bar & Stone took the first two game playing very quickly and winning most of the hands battles. Team NewGuffin slowed things down in game three and took advantage of hitting into the wind. They took game three in a game where Bar attempted a tweener three different times. Momentum rolled NewGuffin through game four to force a game five.
Game five was down to the wire with Team NewGuffin making a late surge at 8-9. Bar and Stone were determined to make the most of this opportunity and refused to lose the last point of the match and win 11-8. This is their first PPA gold together.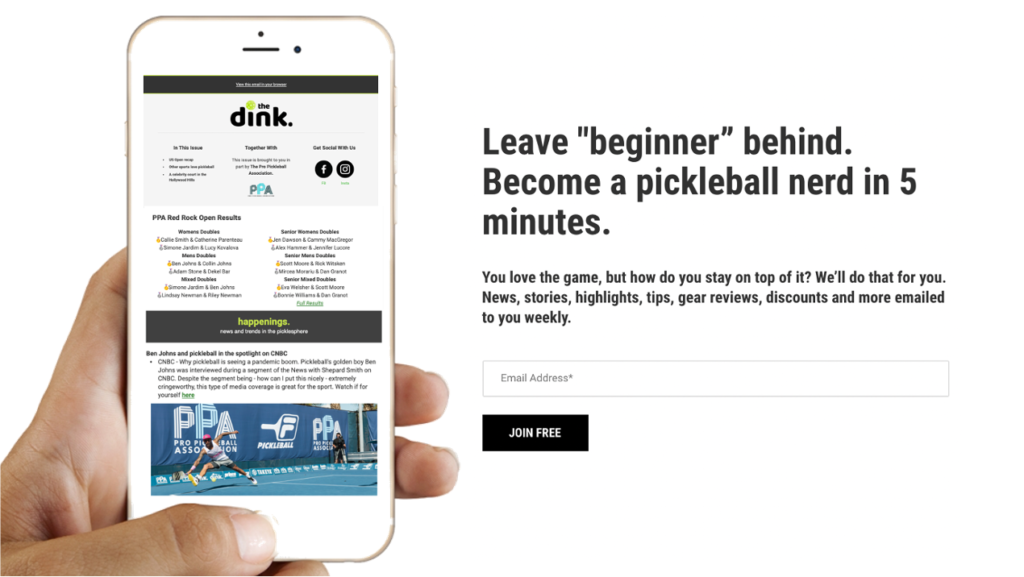 Two for Me, Two for You
8:07 ET
Jessie Irvine and Catherine Parenteau both won gold medals earlier today and got the chance to double up in women's doubles. As a team they stayed extremely calm throughout the match. Not getting riled up after any of the intense points with the Waters.
The Waters did not seem to have the same intensity we are used to seeing, but even with that intensity, they might not have been able to beat Irvine & Parenteau. Irvine has been very effective in neutralizing aggressive play by playing off of the kitchen line. Usually, this isn't recommended but Irvine does an incredible job of retreating before opponents expect it. She then has more time to counter and takes advantage of them being out of position. A little pickleball rope a dope.
Zanesaw is a Buzzin'
9:17 ET
No one has had an answer for the Zanesaw in October including the world's number 1 player. Tyson McGuffin had the unfortunate task of taking on Zane in the finals today. It is just so tough to keep up with Navratil when he can tee off on short serve returns. He has put it all together just in the nick of time before the zanesaw is outlawed. Zane earns his second PPA gold with this win over McGuffin who finishes with two silver medals on the weekend.
For a little added entertainment during the third game we got to see the 'Best Player in Nevada' Chet Subaru and CS junior playing in the the background. Can't wait for that footage to come out.
Signing off from the PPA Championships. Subscribe to the dink newsletter and let's get ready for Major League Pickleball!