APP Indianapolis Open Day 2 Mens and Womens Doubles coverage
Day 2 is underway in Indianapolis and Lea Jansen and Lauren Stratman are out here BALLIN! Serve the ball and get out of their way. You can tune into the action here.
They have taken down the #1 and #3 seeds on their way to the gold medal match where they will wait for their opponent. The pair have not dropped a game today and seem to be enjoying the hospitality of the Hoosier State.
The #2 seed in the men's draw also upset the #1 seed to advance to the gold medal match. Adam Stone and Rob Nunnery came back to win the best of 3 match after dropping game 1 to Jay Devilliers and Pat Smith. The wind has been a factor all day and has caused more unforced errors than expected in this match up. Look out for Devilliers and Smith if they make it through the bronze medal match. Because this rematch would be one you don't want to miss. To see how it all shakes out and catch up on all the latest news, subscribe to our newsletter!
Updated:

Jay Devilliers has shown that he just loves pickleball more than me, more than you, more than anyone else. He can't get enough of the game, taking the long way home to his 2nd gold medal along with partner Pat Smith. The two seemed more comfortable in the final round, winning 2 games to 11 and the final game to 15 while letting out screams that stopped play on all of the surrounding courts. For the Flying Frenchman, vouloir, c'est pouvoir. The new combination of Nunnery and Stone battled a lack of experience playing together that caused just enough confusion to lose some crucial points in the loss of the match. Each player stuck to their strengths and at times looked out of sync with one another. A great performance overall but not enough to take down the well seasoned European duo.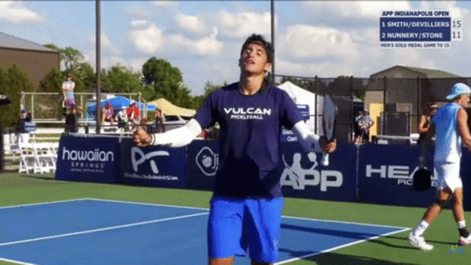 Lea Jansen and Lauren Stratman continued to ball out in the finals match. They must've had a playlist on repeat during the whole tournament. Bang! by AJR and Bang Bang by Jessie J, Ariana Grande & Nicki Minaj. The pair powered their way to a gold medal and have become a force to be reckoned with in the women's game. Corrine Carr and Andrea Koop entered the match after a hard fought bronze medal round and were able to take a game from Jansen and Stratman. They finished with silver in the event but will both be competing in the mixed doubles bracket tomorrow. All of the medalists from today will be competing again tomorrow and Jansen and Devilliers will have the opportunity to take home the triple crown with their respective partners, no pressure JW Johnson and Regina Franco.

That is it for today, shout out Pat McAfee, shout out Reggie Miller and shout out to everything else that is Indianapolis. Let's get ready for day 3!