APP Chicago Open
by JB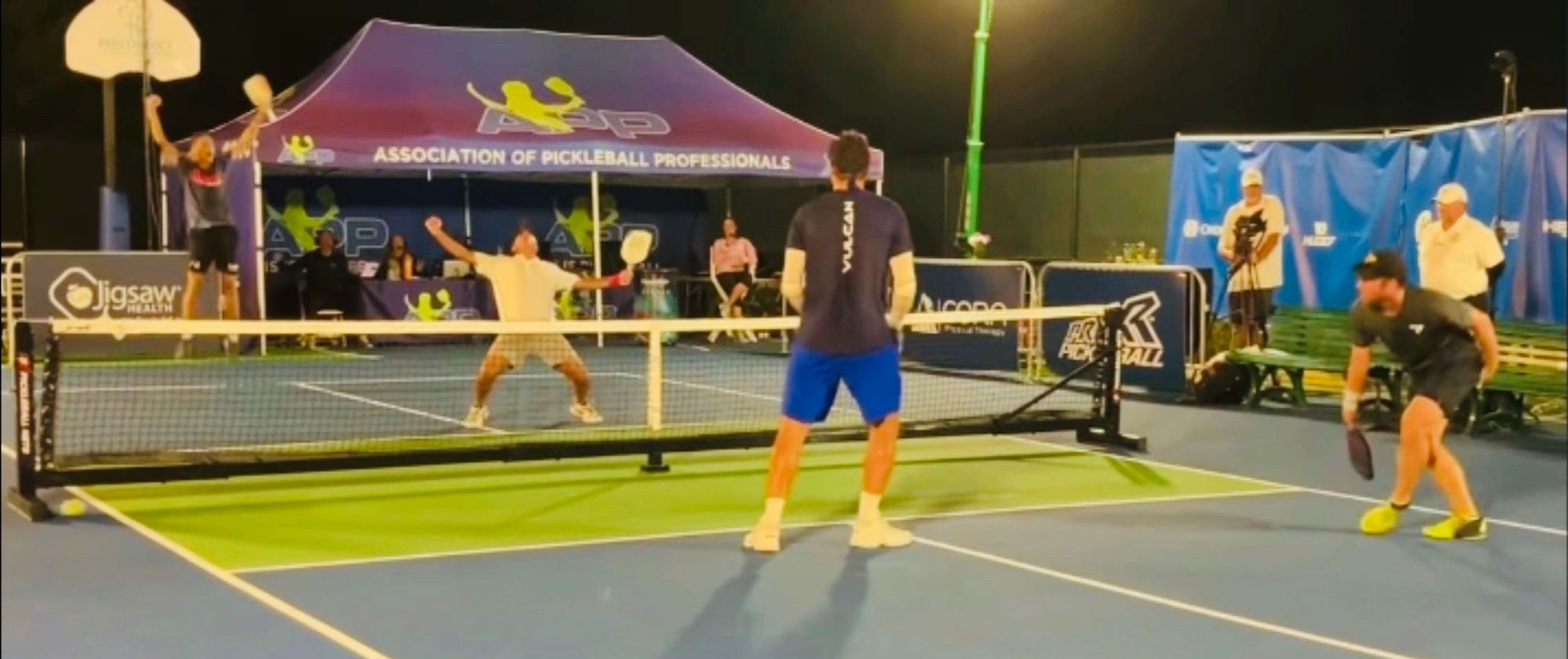 AKA, the Chicago Zanesaw Massacre.

In the shadows of the Chicago skyline, Zane Navratil (MD 6.483) fired up his Zanesaw and ripped through the competition. Gold with first-time partner Susannah Barr Friday night and gold with long-time partner Altaf Merchant Saturday night. Although the Zanesaw will be living in some players' nightmares, the real credit goes to Zane's hustle and tenacity.

One of the more tense matches of the weekend saw Zane taking on USAP Rules Committee member Rob Cassidy and his partner AJ Koller. The main proponent of the chainsaw serve (Navratil) vs one of the main voice opposing it (Cassidy), with Morgan Evans (the spin-serve OG) calling the match. Pickleball drama at its finest.


The opening sequence:

Navratil body-bags Cassidy to score the first point of the match
A couple points later, Navratil serves to Cassidy at 1-0-2, and the screwball is too much for Cassidy, who sends the return long
Obviously irritated, Cassidy offers a sarcastic "congratulations" to Navratil as he walks back for his next serve
Two points later, Zane is set to serve to Cassidy at 3-0-2. Cassidy makes a gesture and inaudible comment to Zane, and then: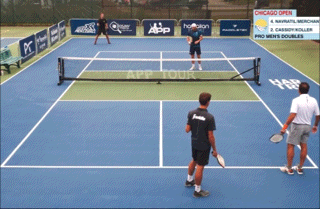 Clean ace. Zane turns to Morgan Evans in the broadcast booth and makes a prediction: "That won't help my case." 😂

Cinematic. Zane and Merchant went on to win that match and advance to the finals where they doubled-dipped Adam Stone (MD 6.489) & Jay Devilliers (MD 6.541) in a four-game, instant classic. The match finished late in the evening due to rain delays, but was worth the wait. The final game, ending at 19-17, was a battle that had emotions running high and produced one of the year's best highlights.

Wind and rain continued to be a factor throughout the weekend and even led to co-champions in mens senior pro doubles after the final was called off. But hey, it's the Windy City, what do you expect?

Susannah Barr (WD 5.842) snagged two golds in womens and mixed dubs, providing an extremely consistent left-side presence to compliment Navratil and Lauren Stratman (let's go Team Electrum!). An excellent defender, Barr can reset almost any shot fired in her direction. But the difference maker was her proclivity to turn that defense into offense, redirecting balls away from attacking opponents and finishing points with dink and volley winners.

Jay Devilliers (MS 6.872) took silver in mens doubles and was unstoppable in mens singles. He wore down Navratil in a three-game final on Sunday to win his 13th gold of the 9 APPs he's played in this year. He has a clear lead for most gold medals on the APP Tour and will likely finish on top.

The Kawamoto twins If you haven't heard of Jade (WD 5.779) and Jackie (WD 5.809) Kawamoto, consider this your wake-up call. The former Dayton collegiate tennis players and twins have burst onto the pickleball scene. Jade upset Lauren Stratman in the winner's bracket final on her way to the top of the podium, defeating Meg Charity in the gold medal match. In womens doubles, Jade and Jackie paired up to win bronze. The double J's play a very composed and precise game that improves with each tournament. Not to mention, Jade is left-handed. Yup, they stack forehands in the middle.

Field hockey to pickleball Amanda Hendry, the star goalkeeper for the 3x National Champion UNC Tarheels team is now setting her sights on pickleball. Though still developing her game, in just her second pro tournament, she managed to put an end to Susannah Barr's triple crown opportunity by knocking her out of the singles consolation.

All player ratings provided by DUPR. Want to know yours? Sign up for DUPR+ today and receive 10% off with code THEDINK.
The APP Chicago Open is taking place September 2nd – 5th at Danny Cunniff Park in Highland Park, IL.