3,2,1…Houston, we have a liftoff. Vivienne David stole the show at the APP Houston Open, by winning two gold medals.
JW Johnson took a gold and a silver; didn't play in singles
Parris Todd returned to APP singles and won silver
Lacy Schneemann bags her first pro singles medal
David was flying high in Space City as she took gold in women's doubles with Jorja Johnson and another one in mixed doubles with Thomas Wilson. Leading with her massive two-handed backhand, David showcased her full range of shots and abilities. In both brackets, David with her teammates derailed the favorites.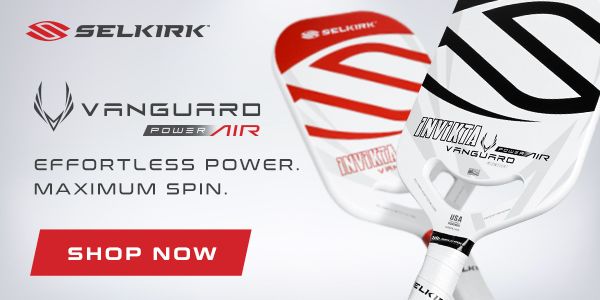 In women's doubles, David and Johnson beat Todd and Anna Bright on Saturday in group play and again on championship Sunday, 11-1, 6-11, 11-8. David/Johnson were the two seeds and Todd/Bright the three seeds, but after Todd/Bright's silver medal performance two weekends ago at the PPA Championships in Las Vegas, many considered them the favorites.

While Johnson is known for her offensive play, it was David that amped up her aggression to get the wins. In both of the matches against Todd/Bright it came down to who was able to pick their speed-ups more efficiently, as both teams wanted to feature that style of play. The number one seeds in Simone Jardim and Andrea Koop took bronze, ending their impressive "gold-medal-only" run as a duo.
Wilson and David Mixed Doubles Champions

David then displayed that same ferocious play style in mixed doubles with Wilson as they triumphed over the favorites in Todd/Johnson 11-1, 6-11, 11-8. Like David, Wilson was red hot and upped his game to feature a more aggressive approach.

Todd/Johnson entered the tournament as a newly formed duo and seemed to have chemistry immediately; I guess that's what you get when you pair two players of their caliber. Though they didn't lock up the gold, I'm sure fans are hoping they will become more of a staple on tour.
In men's doubles, Johnson would not be denied. He and Navratil completed the double dip and the reverse sweep, winning 4-11, 11-8, 11-5, 15-7. In this case, the reverse sweep is when you lose the first game, but come back to win the next three for the trophy.

Hunter Johnson Shines in Singles
With JW Johnson out of the singles bracket, an unrelated Johnson took center stage: Hunter. The former professional tennis player beat Federico Staksrud in the finals, 11-5, 9-11, 12-10. Both of these players are known for gripping and ripping powerful third shots, which is always a fan favorite.
Rafa Hewett continued his impressive run as of late, which include an MLP championship and two gold medals at the last APP tournament, with a bronze in singles and men's doubles.  
Rounding out the weekend was Megan Fudge, who came out victorious over Todd. Todd, who hasn't played in an APP singles event since July, had her legs and strokes behind her, making Fudge's win even more impressive.
Lacy Schneemann took bronze in this bracket, making it her first pro singles medal. There is surely more to come from this Southern California rising star.
Results:
Men' doubles: 🥇JW Johnson & Zane Navratil 🥈Dekel Bar & DJ Young 🥉Kyle Yates & Rafa Hewett
Women's doubles: 🥇Jorja Johnson & Vivienne David 🥈Anna Bright & Parris Todd 🥉Simone Jardim & Andrea Koop
Mixed doubles: 🥇Vivienne David & Thomas Wilson 🥈Parris Todd & JW Johnson 🥉Jorja Johnson & Gabriel Tardio
Men's singles: 🥇Hunter Johnson 🥈Federico Staksrud 🥉Rafa Hewett
Women's singles: 🥇Megan Fudge 🥈Parris Todd 🥉Lacy Schneemann