Ladies and gentlemen, Vivienne David and Thomas Wilson👏👏! Wilson showed an absolutely filthy side of his game at the APP Houston Open on Friday, which got him and his partner David into the mixed doubles finals. They will face Parris Todd and JW Johnson on Sunday, who came out of the opportunity bracket.
Wilson showed another level to his game on mixed doubles Friday, by not only demonstrating his unbelievable repertoire of shots, but the consistency to back it up. In fact, the announcers noted that Wilson played some of his best pickleball they have ever seen. Standing on his side was the very consistent and menacing David, who constantly found a home for her deadly two-handed backhand.
David and Wilson had an extremely impressive run to punch their way into the finals, with key victories over Bobbi Oshiro/Ryler DeHeart, Anna Bright/Zane Navratil, Todd/Johnson and Jorja Johnson/Gabriel Tardio. This team was forced to three games by Bright/Navratil and number one seeds, Todd/Johnson. Then in the winner's bracket finals, David and Wilson defeated the eventual bronze medalists in Johnson/Tardio, 12-10, 11-4.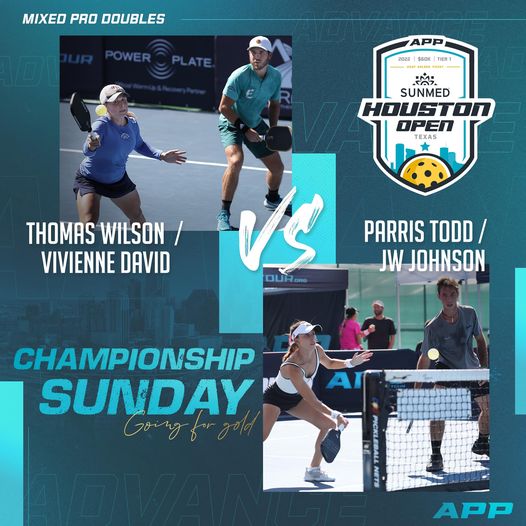 David, who was consistently playing with the Dekel Bar, has shown that her game transfers over extremely well to people not named Dekel Bar. Despite her change in partners, David has remained a threat to mixed doubles teams everywhere. Standing by her side was Wilson, who has showcased a massive evolution in his mixed doubles game. His breakthrough performance came with Yana Grechkina last month on the PPA tour, where they took bronze in mixed doubles.

That individual success by both players in mixed doubles, transferred over extremely well as they teamed up on Friday. They will also have the advantage against their adversaries on Sunday, as they enter their final matchup as the winner's bracket champions. That means that in order for their opponents to dethrone them, Todd/Johnson will have to win the best two of the three game series and the tiebreaker to 15.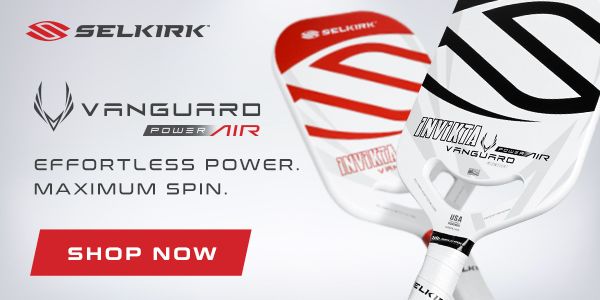 The newly appointed duo in Todd/Johnson had success on Friday, as they too got themselves into Championship Sunday. With the mixed doubles Sunday appearance, Todd will now have two chances to get a gold medal. One in singles against Megan Fudge and now one in mixed doubles with Johnson. Todd/Johnson lost in the semi-finals against the eventual winner's bracket winners in David/Thomas and will be looking for revenge on Sunday.

After the loss, they were dropped into the backdraw where they had to get three wins, including the bronze medal match win against JW's sister, Jorja, and her partner Tardio. In the battle of the siblings, Todd/Johnson won 11-9, 11-2.

Sister Johnson and Tardio started game one off with a nice little run, capitalizing on their ultra aggressive gameplay. However, Todd and Johnson were able to come up with the antidote about midway through the first game and kept that momentum through the second game to win in stylish fashion.

While Johnson/Tardio didn't make it to championship Sunday, they secured their second bronze medal as a mixed doubles duo. Better yet, they have done so in back to back APP tournaments.

Some surprises in the mixed doubles action were number four seeds Bright/Navratil and number two seeds Koop/Bar. Both of these teams had relatively early exits considering their pickleball prowess. Bright/Navratil went 3-2 on the day losing to David/Wilson and Lacy Schneemann/Rafa Hewett. Koop/Bar had an even worse day going 2-2, losing to Lina Padegimaite/Stefan Auvergne.

So in a way, rising star Schneemann and reigning double gold medalist in Hewett played the spoiler role in the opportunity bracket. It has been said before, but Schneemann's rise has been nothing short of amazing, especially without high-level college tennis experience. While she didn't medal in this division, she was within one win of some hardware. Not to mention, she has already struck bronze this tournament in singles.'