The battle of the twins, Parris Todd's APP singles return and a deep run cut short, all struck the APP Houston Open on singles Thursday. In addition, championship Sunday matches were determined as Hunter Johnson will play Federico Staksrud, while Megan Fudge will go up against Todd.

Men's Singles
The battle of the twins was possibly one of the most exciting pickleball matches of the year, with younger twin Hunter coming from behind against his older brother Yates. Despite being twins this face-off was very professional and business-like. With the first two games split at one win apiece, the third game gave fans everything they could have hoped for: big forehands, a little cat and mouse action and a five-point comeback to win.

Hunter had the lead at the side swap at 4-6, but Yates came out on a mission and put together six unanswered points. With a 10-6 lead and the game virtually wrapped up, Hunter steadily mounted his comeback. He got a bit of help from the ref, when he overturned a ball that Yates initially called out. That gave Hunter the tie at 10-10 and the momentum to score the final two points he needed for the win.

From there, Hunter got a win against Staksrud in the winner's bracket final, which will allow him some wiggle room on championship Sunday. The Argentinian, Staksrud, got key victories against Travis Rettenmaier, Ryler DeHeart and a withdrawal victory from Gabriel Tardio. After losing to Johson in the winner's bracket final, he then had to go to the opportunity bracket and beat Rafa Hewett in the bronze medal match.

Speaking of Tardio, the 17-year-old made an outstanding run, but had to pull out in the winner's bracket semi-finals. The word from the commentators was Tardio wasn't feeling well enough to continue, alluding to a possible sickness. Hopefully the Bolivian native will be back in action for mixed doubles and men's doubles on Friday and Saturday, respectively.

The number one seed in the bracket, Zane Navratil (with JW Johnson not in attendance), had a rough go on Thursday. Coming off of his MLP win with BLQK last weekend in Columbus, the spin-serving magician went 2-2 on the day. After a first-round bye and two subsequent wins, he ran into a freight train that was Hunter Johnson. Johnson handled Navratil easily, 11-4, 11-5. Navratil then dropped into the backdraw where he immediately lost against his MLP teammate, Hewett.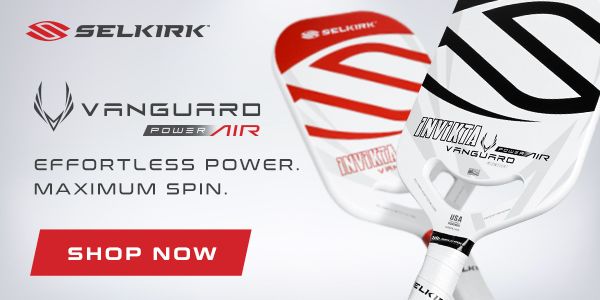 Women's Singles
Todd did not disappoint in her APP singles return, as she came through the consolation bracket to make it to Championship Sunday. While Todd hasn't competed on the APP tour in singles since July, she did play in the bracket on the PPA tour two weekends ago in Las Vegas. In that tournament, Todd made it to the semi-finals, where she lost to Anna Leigh Waters. Now, she is back, but this time in the finals.

It will be an uphill battle for the California native, as she will need to double dip against the winner's bracket winner in Fudge. That means that Todd will need to beat Fudge in a best two out of three match and then in a single game tiebreaker to 15 in order to be crowned an APP singles champion once again.

Not to mention, it was Fudge who ousted Todd in the winner's bracket on Thursday, by beating her 8-11, 11-9, 11-1. Todd had a nice 8-5 lead in game two, but Fudge battled back by outlasting Todd in some rallies and hitting a few unbelievable winners of her own. In game three, it was all Fudge.

Fudge then went on to beat Lacy Schneemann in the winner's bracket final 11-7, 11-9, while Todd took two wins in the backdraw. That set up the bronze medal match between Todd and Schneemann: two Southern California products. Todd took that victory 11-8, 11-6, but Schneemann showed how far her game has evolved.

Schneemann did an excellent job getting to the net and making it extremely difficult for Todd to pass her. While Schneemann showed some nice backcourt game of her own, she didn't possess enough firepower to beat the recently signed Selkirk player. With the bronze medal, Schneemann got her first pro singles medal and her second pro medal overall.

In such little time, Schneemann has come onto the pro scene and contended for medals. This is especially impressive for someone who didn't come from a high-level college tennis background. However, she has been extremely committed to improving her game, constantly playing rec games with elite players, including Jessie Irvine.

Like the men's bracket, the women's bracket also witnessed a short run from the number one seed in Jorja Johnson. Johnson went 1-2 on the day. She lost against Schneemann in the winner's bracket and Alli Phillips in the consolation. Johnson is meant to play Tardio on Friday in mixed doubles, but that is pending Tardio's condition.