Having a reliable and well-designed pickleball bag to carry your gear is essential. Don't you want a bag that fits everything but the kitchen sink while still flaunting a stylish look?
Get ready to turn heads on the court with The Lola bag from Fresh Pickle!
The Lola is Fresh Pickle's original pickleball tote that was made to appeal to people that appreciate fashion and function on the court.
The bag is available in several vibrant colors, allowing you to choose one that matches your personal style.
Whether you prefer a classic black, camouflage, or something more colorful, Fresh Pickle has you covered.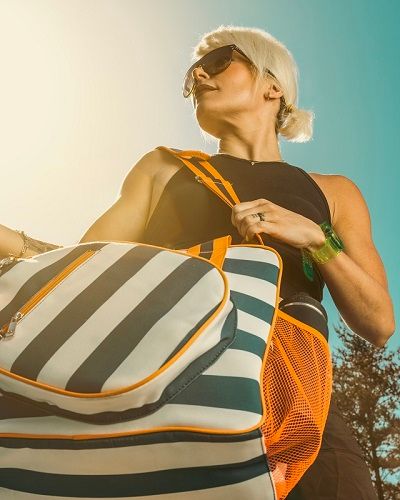 Sleek & Stylish Design
The Lola's sleek and stylish design immediately caught my attention. You can tell these bags were made BY women FOR women! It features a super cute decorative tassel and pickle charm on the zipper on your outside paddle holder!
The designated paddle pockets allow you to fit 3 paddles on the outside part of the bag, while still being able to fit a paddle or two on the inside compartment!
I found the 2 carabiner hooks very convenient as I am a person that does not like to keep my bag on the ground.
You'll be able to keep your pickleball bag dry and clean by attaching it to the court fencing! It makes me feel better knowing my bag will be nearby and safe.
You can use the paddle carry handles to hold the tote or use the shoulder strap for hands-free carrying! Whichever way you choose, you'll be looking great heading to the courts!
This bag is made with 1000D nylon, making them super durable and water resistant! An added bonus, they're machine washable!
Organize Like a Pro
Fresh Pickle really thought of everything when it came to the organizational features.
The smaller internal pockets and dividers allows you to neatly organize your accessories, such as towels and wristbands. My keys and phone fit in the outside zipper with no problems!
I was blown away by how spacious the bag is. This tote has two exterior side pockets that can hold large water bottles.
Your best bet is the taller, slimmer water bottles. The bag also has an inside netting pocket designed to hold your pickleballs. I put this bag to the test and believe it or not, I was able to easily fit 15 balls along with a few snacks, sunscreen, towel and an extra set of clothing! This bag can truly hold it all.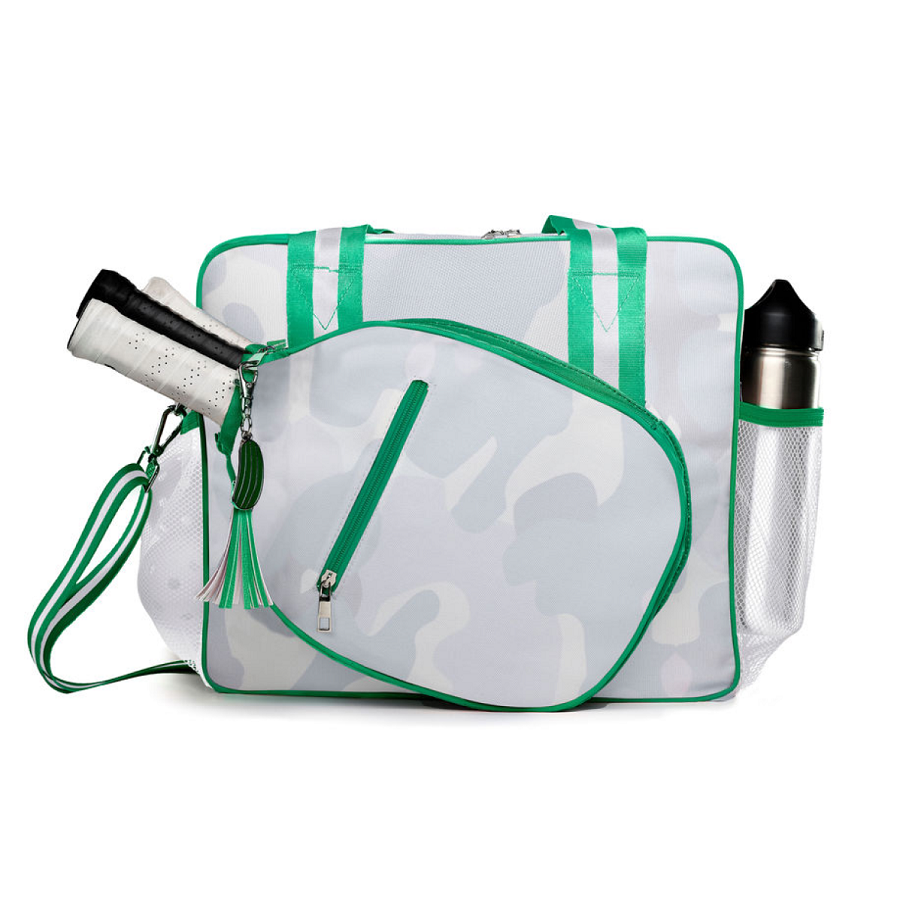 The Lola bag can become a multi-functional bag. For me, I can fit my laptop, charger, headphones without any issues. It's great to be able to have the paddles on the outside compartment of the tote so it keeps my stuff separated.
Clock out of work and head straight to the courts with this tote fitting all the essentials in one spot.
Need a snack to toss in that bag? Check out Why Bars.
If you want to be a pickleball fashionista and want a bag that fits all the essentials, then the Lola is the bag for you! I highly recommend getting this bag for anyone that loves to be stylish on the court.
Fresh Pickle really thought of everything to make this a fashionable and functionable bag for all.
You can get a bag of your own through Amazon. For a limited time, you can use promo code 10THEDINK to receive 10% off all Lola tote bags!
---