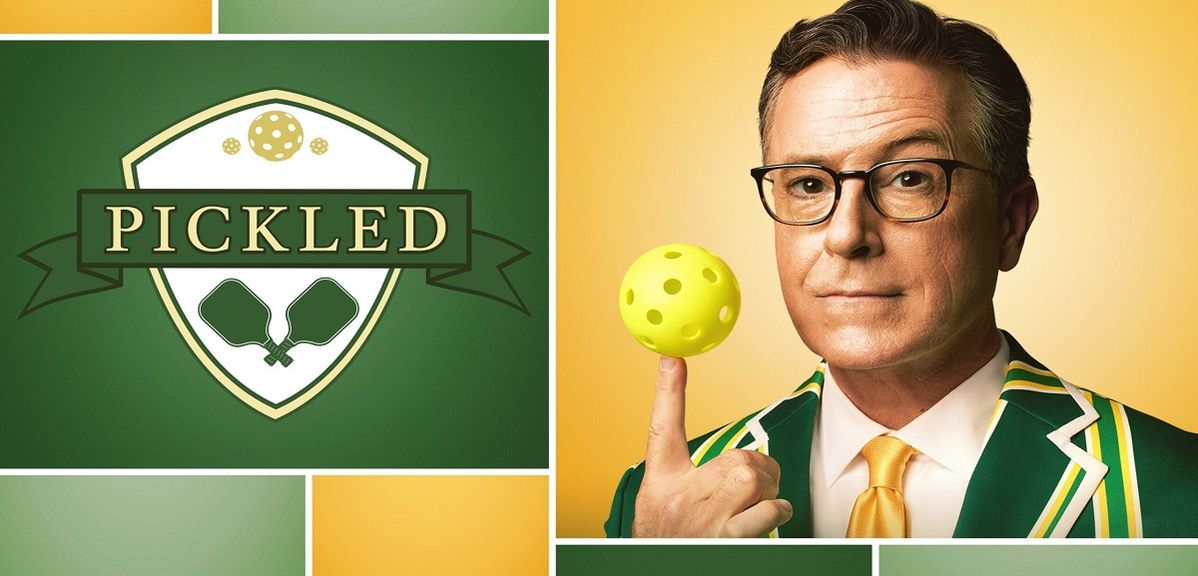 Celebrity Players
Pickled Show Review: Colbert & Friends Go Hard on the Court and the Pickle Puns
As some viewers already pointed out, the CBS Pickled Show starring host Stephen Colbert and various celebrity competitors was kind of a riff on the 1970s show Battle of the Network Stars.
Both brought a variety of faces together to compete for a central cause. In this case, it was a pickleball tournament starring Will Ferrell, Emma Watson, Sugar Ray Leonard, Tig Notaro, Dierks Bentley, and others. Proceeds benefitted Comic Relief US.
I'm sure you have a number of questions about the special. Here's my attempt at answering the most important of them:
Was Pickled funny?
Well, it tried.
Actor Max Greenfield hamming it up for the camera – pretending that serves are made overhead and slamming one out – was genuinely funny. So was Emma Watson's teleprompted "heroic goodbye to family" monologue post-defeat in the finals.
Will Ferrell, whose team was named Party Till You Cuke, quipped that "you can't party unless you're willing to cuke...and we're willing to cuke!"
That earned a modest guffaw.
One of my favorite jokes took a head-on approach to tackling the sport's hot-button issues. In a narrated "State of the Pickle," a straight-faced news reporter told the audience about very serious issues affecting pickleball, such as the takeover of tennis courts and the increasing number of injuries ("many of which...caused by tripping!" * cue dramatic music sting *).
This tongue-firmly-in-cheek segment highlighted the often-ridiculous nature of the critiques lobbed at pickleball.
Meanwhile, Half-Sour Harpie, the mascot going through a separation with its partner...that whole concept fell flat. And while I love a good pun, Pickled had almost too many to count.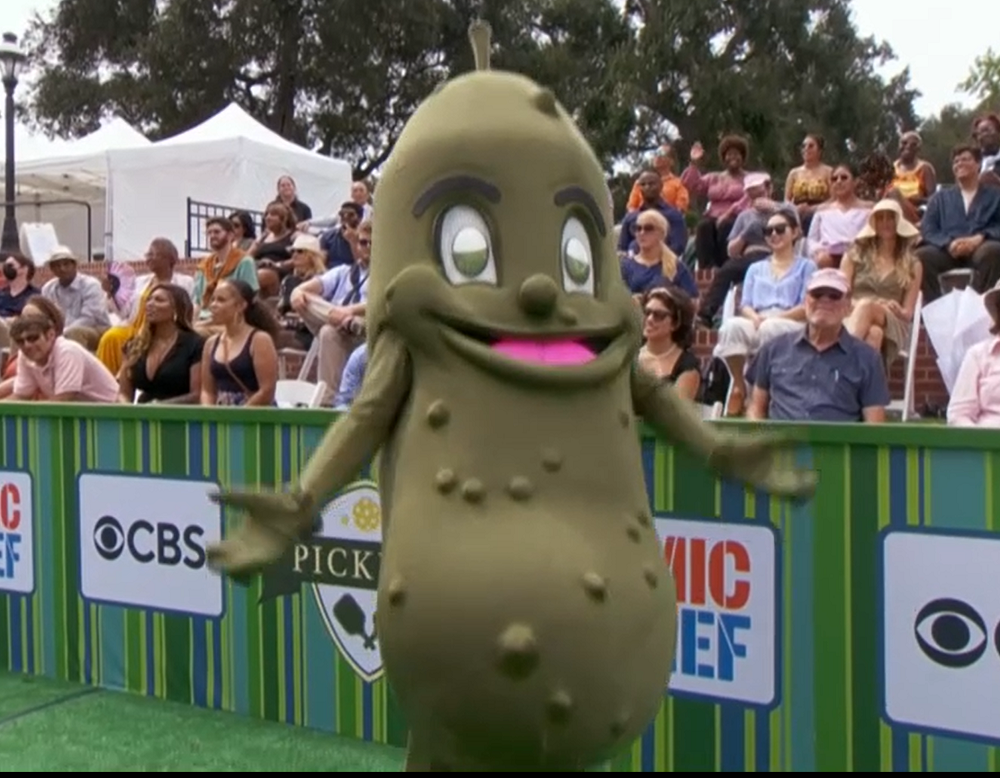 Was there any quality playing to be seen?
Yes, but in very sporadic doses.
The married doubles partners, actor/podcaster Paul Scheer and actress June Diane Raphael, played some decent points. Their opponents tried for sneaky sideline hits and drops, but the duo had better eyes, letting many out balls go.
The team also represented something we see a lot in recreational pickleball: the wife carrying the husband.
An announcer asked Paul post-game, "has your marriage improved since you started playing?" Paul responded, "I don't want to let my wife down, so yes, it did."
The audience crowded around the show's court arguably made the most noise for mega-stars like Emma Watson and Will Ferrell.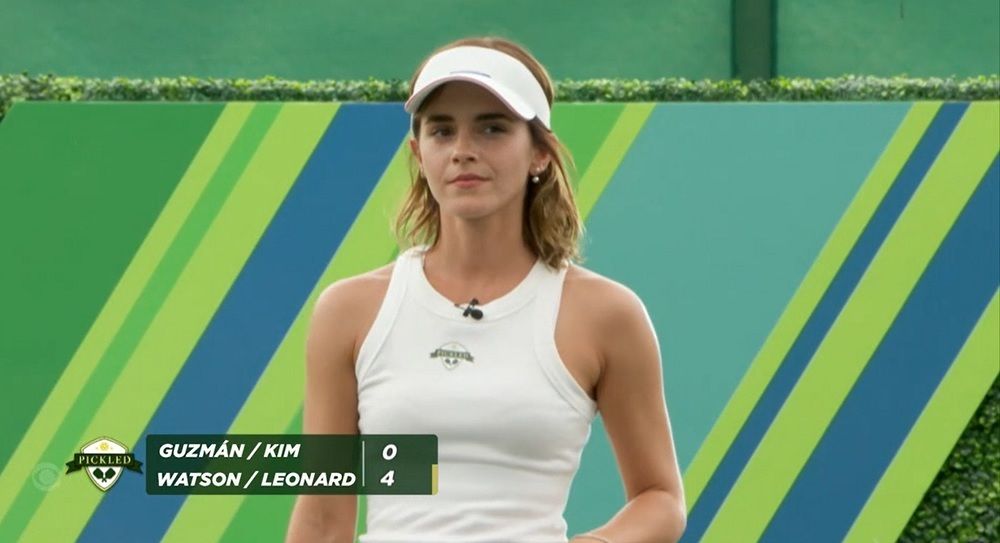 Emma didn't disappoint: what a forehand! And her tournament partner Sugar Ray Leonard crushed a few put aways. The two swept their first game 11-0 but ultimately lost to Dierks Bentley and Phil Keoghan in the semifinals.
Ferrell played about as well as you'd expect a 6'3" guy with decent hand-eye coordination to play, with capable returns and hard drives. He and his partner Tig Notaro made it to the final match against Bentley and Keoghan.
In fact, the final was the first match with any consistent moves to the kitchen, though nobody in the entire competition seemed to understand pace control or dinking.
It was an otherwise uneventful match, though, with Bentley/Keoghan defeating Ferrell/Notaro by a wide margin.
Maybe you'll soon witness country star Bentley sharing the stage with his musical contemporary and fellow pickleplayer Brett Eldredge, who actually had a net and paddles out on the stage last year.
The winners double-dipped television appearances by joining Colbert on a subsequent episode of the Late Show:
Pickleball Community Reacts
Reactions to the pre-taped special varied widely on social media, especially on the Pickleball Forum Facebook group.
Many complained about the comedy, specifically fearing that "cringey" moments will turn newcomers away from the sport rather than draw them in.
But for every critical post, there were many positive replies.
"I think it showed people who are unfamiliar with the game that non-athletic players and players of all ages, sexes, and shapes can play the game together and have fun. Sure, for those of us that take the game very seriously and really know it inside and out, it was pretty cringey, but I think that is from a non-comedic perspective." – Facebook commenter in Pickleball Forum group
At the end of the day, this was pickleball on national TV played by a plethora of celebrities and hosted by an award-winning comedian.
Yes, there were some jokes made at the expense of the sport – some more funny than others – but their tone was one of genuine appreciation for the game; nothing malicious.
The point seemed to be: have fun for charity and make pickleball into even more of a spectacle than it already is. If that was in fact the goal, there's no doubt it was a success.
Pickled is available to stream on Paramount+.