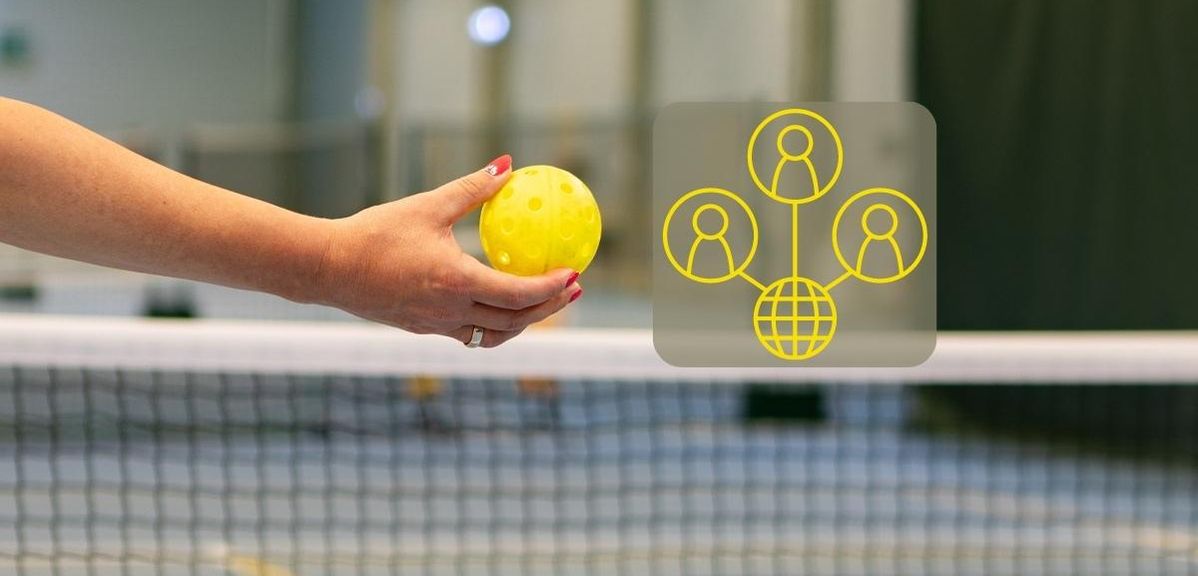 General
Pickleball Networking: Using the Sport to Find Your Next Business Partner
More than a fun way to increase your fitness level, pickleball offers a great opportunity to network and build relationships. With its fast-growing popularity, your chances of making a life-changing connection at your community open play aren't too shabby.
If they play their cards (or drop their third shot) right, the doubles partner you're randomly paired with might just become your new bestie, love interest, or even company co-founder.
Want to measure their potential? Here's what to look for:
A team player
Do they encourage and fire you up?
If they're eager to tap paddles and tell you "we've got this!" when you're down 0-10, you're dealing with someone who can stay positive when powering through the hard stuff off the court.
Look out for the ones constantly criticizing or coaching during the game. Also beware the control freaks who never surrender when you call "Mine!" and insist on taking every ball.
And, of course, a winning partner is able to ditch the ego and take constructive feedback without being defensive or making excuses.
---
If you're trying to play pickleball AND find your next business partner, you'd better stay hydrated.
LMNT's ratio for better pickleball is: 1000 mg sodium, 200 mg potassium, 60 mg magnesium.
Check them out here and receive a free sample pack with any purchase.
---
A strategic and forward thinker
A smart player understands the competition and strategizes accordingly.
Intentional moves and forethought are critical, and this person thinks ahead by preparing for the next shot.
They recognize things don't always go to plan and can flex or reset as needed. While it's smart to play it safe by repeating what's working, they need to be willing to take risks, too.
Patience is key. Can they work through a long dink battle and wait for the putaway shot, or do they screw up their chances by speeding up too soon?
In business and on the court, the win takes time.
A healthy competitor
Honesty is everything. An "Oops, I stepped in the kitchen" confession is usually a sign you're dealing with someone with integrity. And pay attention to their line calls—do they error on the side of generous or super sketch?
You want to feel proud to call this person your partner. Do they show good sportsmanship, or are they rude and nasty to the opposing team?
While humility is one thing, beware the self-sabotager. It gets weird when they apologize after every missed shot or continuously get down on themselves for messing up.
Read Next: The Surprising Connections Between Pickleball and Poker
You're going to need someone with confidence and the ability to put the L's behind them and move on.
Business is one continuous "Ball on!" and having the right partner at your side is a gamechanger.
Next time you're at open play, pay attention to where your paddle lines up in the rack and think about sneaking yours next to the potential partner you'd like to know better.
---
Jaime Schmidt is an entrepreneur most known for founding Schmidt's Naturals, a brand she scaled from her kitchen to a $100M+ acquisition by Unilever.
Jaime is also an investor and co-owner of Color Capital, a fund that invests in in consumer products and emerging technologies.
She is an avid pickleball player who loves to play aggressive at the net and compete in tournaments when traveling across the country. Find Jaime on Instagram and/or Twitter.
---