According to the 2023 APP Pickleball Participation Report, 14% of Americans 18+ played pickleball between August 2021 - August 2022. That equals 36.5 million pickleball players!
The 2023 APP Pickleball Participation Report provides a much needed update to the estimate of players nationwide.
The 2021 number of 4.8 million players has been quoted everywhere from USA Pickleball to the New York Times. It comes from The Sports & Fitness Industry Association (SFIA) 2022 Sports, Fitness, and Leisure Activities Topline Participation Report.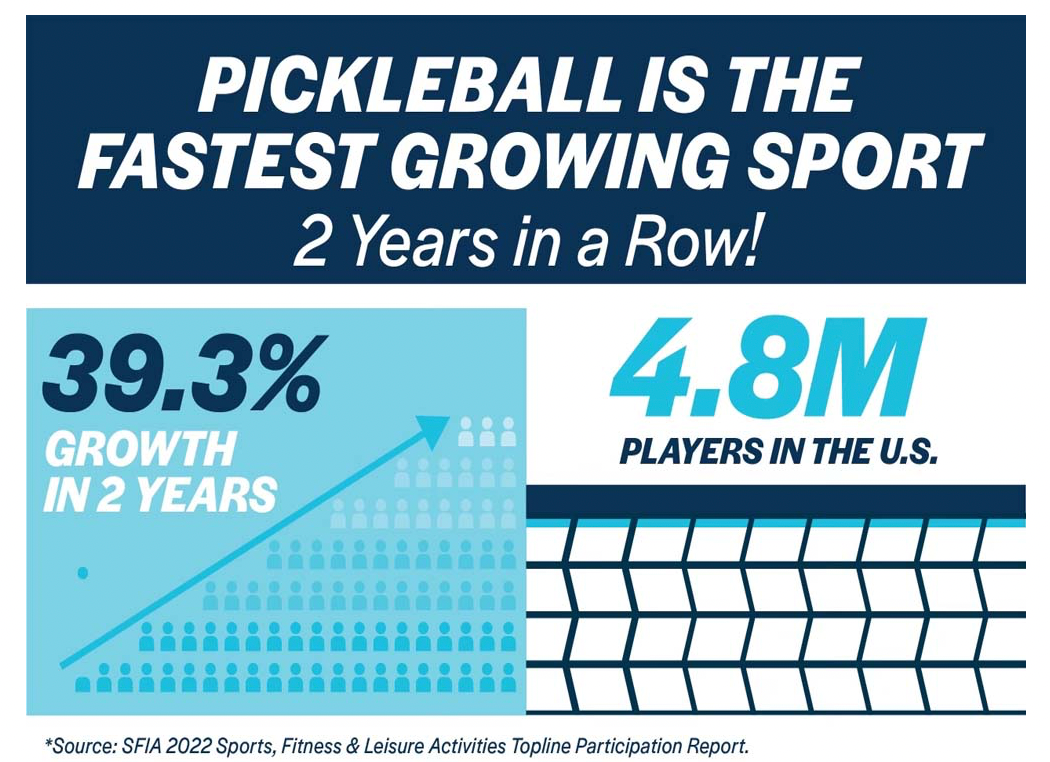 Most estimates anticipated 2022 participation numbers be somewhere in the range of 6-8 million range based on the trend of the past two years.
The number of 36.5 million absolutely blows that out of the water.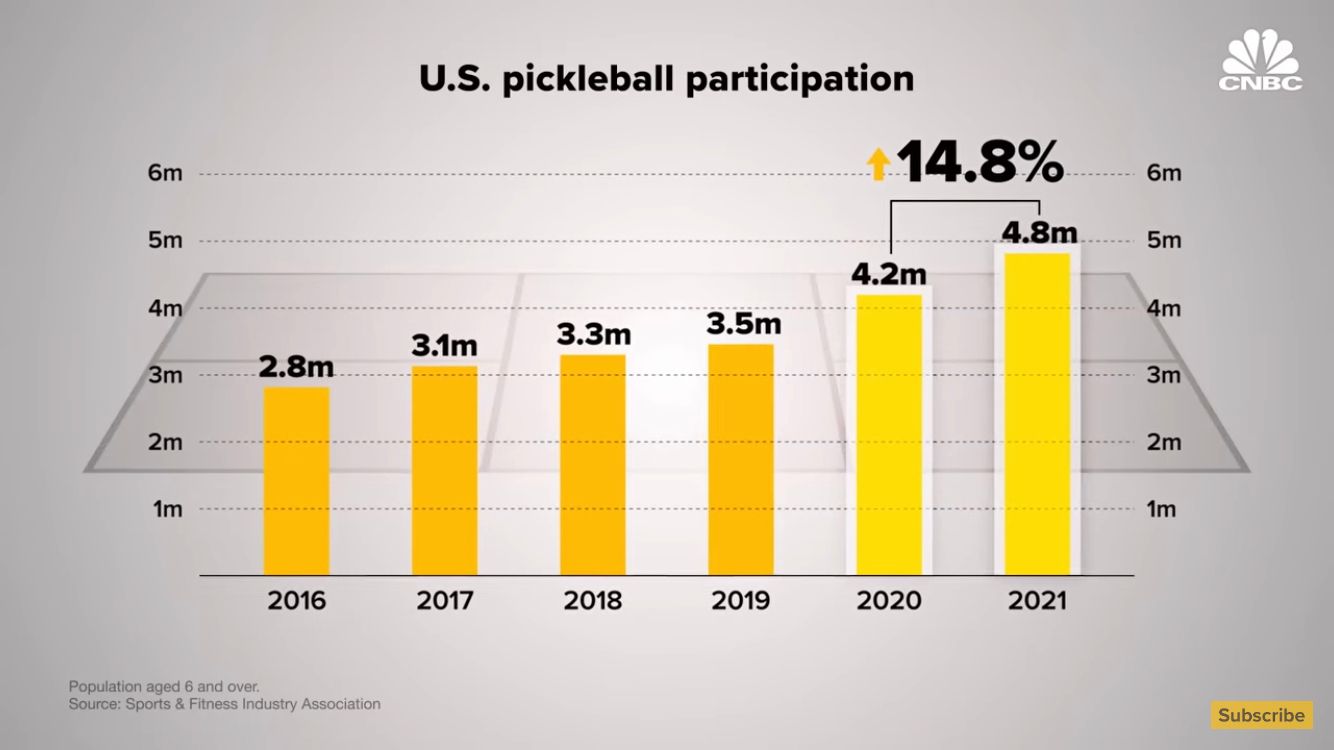 Read Next: Pickleball Growth Explained
There are bound to be some discrepancies between the SFIA study and the newly released APP study. The 2023 study, conducted by YouGov, polled 2,500 nationally representative adults ages 18+ across America.
The estimate of 36.5 million accounts for players that have played at least once between August 2021 and August 2022.  
The study also estimated that 8.5 million of those players hit the court more than eight times in that same period.
Take 20% off your first order from American Giant Pickleball Club with code DINK. Each durable, cotton piece is designed to breathe, stretch, and hold up to your hardest hits.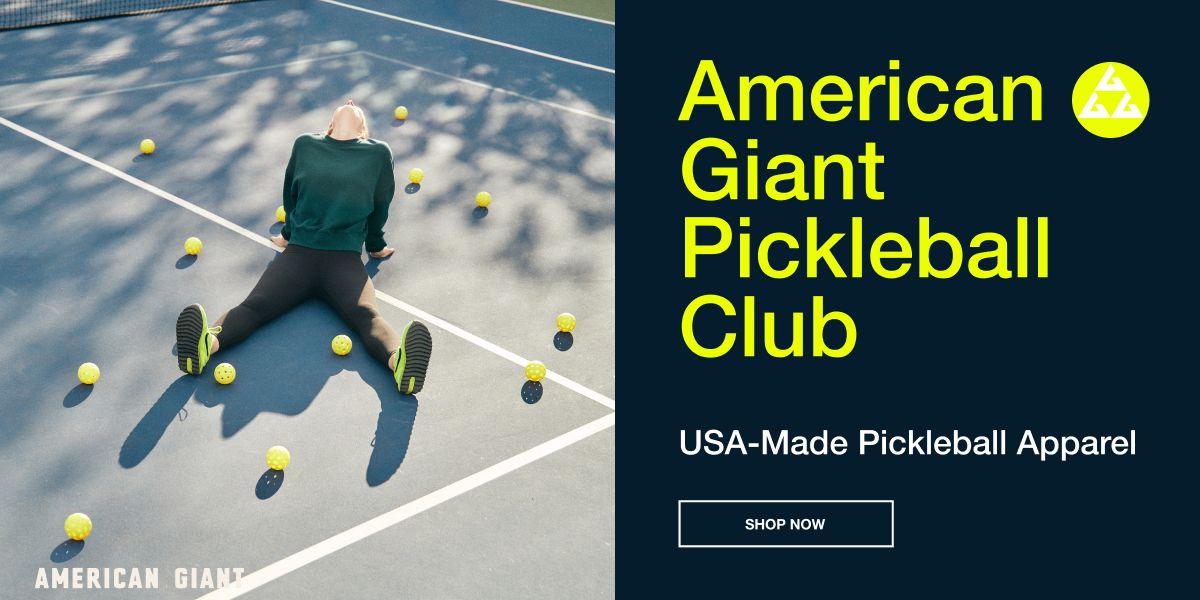 The massive jump in participation is evident at parks and venues throughout the country. Queues to play are commonly 10-20 players deep and many players struggle to find court time because of the high demand.
Public and private entities have rushed to fill the demand for courts. According to Front Office Sports, 66 news places to play are built each month in the US.
The APP Report also notes "The rapid rise of pickleball also looks set to continue, with 45% of the 36.5 million total players saying they plan to play pickleball more often in the next six months than the previous six-month period."
If you head out to a pickleball park in your area, you will see where everyone has been spending time in 2022. Be careful if your going to try it for the first time, chances are you're going to get hooked.
If you want to keep up with everything pickleball, you've got to sign up for our newsletter. We break news faster than anyone in the game. Subscribe below:
The official statement from the APP Tour can be found below.
---
2023 APP PICKLEBALL PARTICIPATION REPORT REVEALS 36.5 MILLION
AMERICANS PLAYED PICKLEBALL IN 2022
America's fastest growing sport continues astonishing increase in participation; 2023 APP Pickleball Participation Report highlights include 14% of Americans 18+ have played pickleball in the last 12 months, creating a total national market of 36.5 million pickleball players; Participation rates look set to continue to climb with 45% of those playing pickleball at least once in the last 12 months also saying they plan to play more in the next six months than they did the last six months
Chicago, IL (January 5, 2023) The Association of Pickleball Professionals (APP) – the original and pre-eminent professional, amateur and recreational pickleball organization in the USA and worldwide since 2019 - has unveiled the 2023 APP Pickleball Participation Report, a study conducted by YouGov on behalf of the APP that shows that pickleball, America's fastest growing sport, has enjoyed even higher growth than previously thought with 14% of adult Americans (36.5 million people) playing pickleball at least once in the 12 month period August 2021 to August 2022; and 8.5 million people playing pickleball eight times or more in the same period. The rapid rise of pickleball also looks set to continue, with 45% of the 36.5 million total players saying they plan to play pickleball more often in the next six months than the previous six-month period.

The 2023 APP Pickleball Participation Report was compiled by YouGov, the international market research and data analytics firm, with the research team polling a sample group of nearly 2,500 nationally representative adults ages 18+ across America. "The first of what will be our annual APP Pickleball Participation Report clearly shows that Pickleball is not only America's fastest-growing sport, it is growing much faster than anyone really thought. Now, pickleball has to be viewed as one of America's favorite sports," commented Tom Webb, Chief Marketing Officer of the APP. "In 2020, a pandemic year, previous reports stated that over four million people picked up a paddle to play pickleball*, with that number reportedly growing to over five million in 2021*. Those numbers appear to have been conservative, but what the APP's report shows is that the popularity of pickleball has exploded. Pickleball courts continue to be built and installed nationwide, and people from coast to coast are trying the sport for the first time, and immediately falling in love with pickleball. The APP is honored to represent the millions of people coming into the sport at all levels – from elite-level, professional athletes at the top of the game, players who are rightly gaining in status and awareness as the incredible athletes they are, to the amateur players who are playing such an important role in the growth of the APP and the sport overall, right through to the millions of recreational players who find so much enjoyment from a sport they can pick up easily, which costs very little to play, and which rewards its participants from the first time they play."

"I fell in love with pickleball the very first time I played, and now I have the honor of being able to compete across America, and internationally, in a sport that is so quickly becoming part of our culture," added Megan Fudge DeHeart, professional pickleball player. "As the sport grows, so does the recognition of what it takes to be a pro, and that's hugely rewarding. The number of fans at our events increases with almost every competition, and now we know just how big the sport is, that will only continue to increase. I'm excited for the future of our sport – for the players today, for those who will continue to flock to pickleball, and for my children who also love the sport, and have a lifetime of playing pickleball ahead of them."
About the APP
Founded in 2019, the Association of Pickleball Professionals (APP) elevates the sport of pickleball by providing elite platforms for the best players in the world, right through to the millions of people picking up a paddle for the first time. Serving professional pickleball players, senior professionals, amateurs and recreational players in the fastest growing sport in the USA, the APP is the first and only tour officially sanctioned by USA Pickleball. The 2023 APP Tour slate has 16 tournament stops planned, in addition to International and Collegiate Series events. The APP also prides itself on developing the next generation of champions through its Next Gen Series and other youth initiatives. Follow the APP via APPTour.org, on Instagram, Twitter, Facebook, LinkedIn and YouTube.

About YouGov
YouGov is an international online research data and analytics technology group. Our mission is to offer unparalleled insight into what the world thinks. Our innovative solutions help the world's most recognized brands, media owners and  agencies to plan, activate and track their marketing activities better.  At the core of our platform is an ever-growing source of consumer data that has been amassed over our twenty years of operation. We call it Living Data. All of our products and services draw upon this detailed understanding of our 22 million registered panel members to deliver accurate, actionable consumer insights. Find out more by visiting business.yougov.com.

APP Media Contact
Daniel Sagerman – E: dsagerman@intersportnet.com | C: (+1) 847 800 8182