A recent UBS report says $250-500 million of medical costs will directly result from playing pickleball in 2023.
Large media companies have already hopped on the bandwagon, with Forbes, Bloomberg, CNBC, and Fortune summarizing the data.
Fortune couldn't help but point out that shares for health care insurance companies have dropped in recent times, drawing a parallel between pickleball participation and rising injury-related healthcare expenditures.
Let's break down the numbers in the UBS report:
Seniors comprise nearly one third of the 22.3 million people expected to play pickleball this year
Injuries associated with playing pickleball among players aged 60+ have increased rapidly over the last few years
Pickleball may cause "67,000 emergency department trips, 366,000 outpatient visits, 8,8000 outpatient surgeries, 4,700 hospitalizations and 20,000 post-acute episodes"
Those medical costs will total $377 million

Responding to the report
Beware any source which tries to convince you to empathize with insurance companies.
The key takeaways from the UBS report appear to be that pickleball is a considerable reason for big health insurance companies' shares falling this year, and that injuries affecting seniors will continue to rise as a result of playing the sport.
While we never wish for injury (and even provide tips for avoiding them), there is an element of the absurd in these numbers.
Even Fortune Well said in their article that these conclusions "may seem like a lose-lose for those looking to stay active" and cites the importance of "the physical and mental health outcomes of being outside, getting exercise, and interacting with others..."
---
One way to keep your body in fighting shape? Cold water. Yes, we mean it. Click below to learn more about Cold Plunge: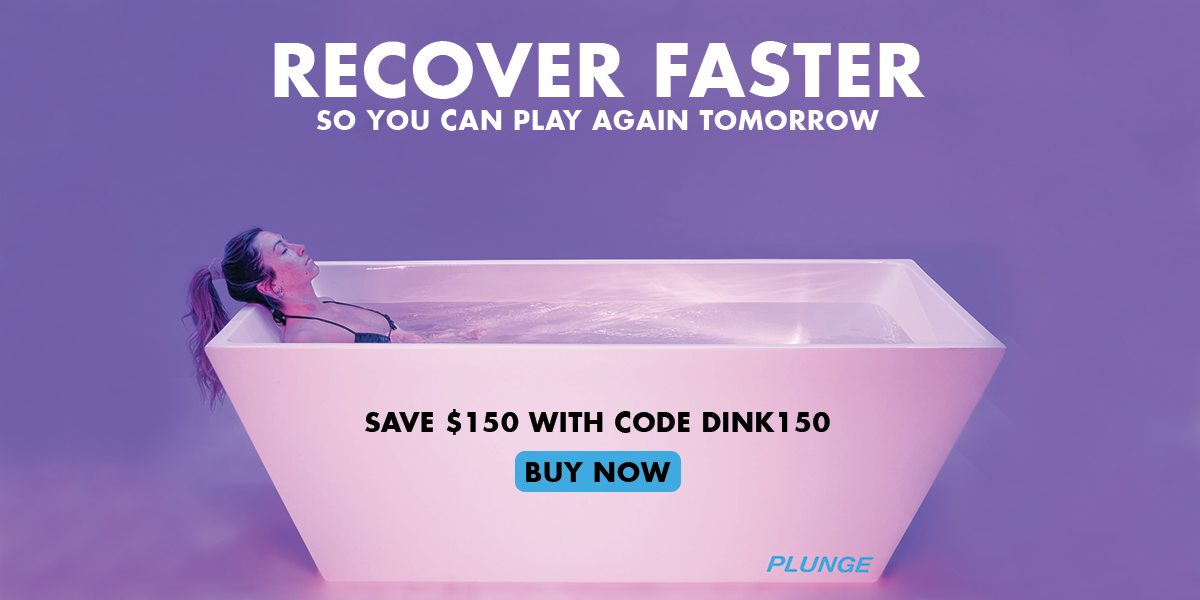 ---
It's important to put these seemingly-shocking numbers into their correct context.
Consider that 14% of Americans 18+ played pickleball between August 2021 and August 2022, a number that's surely higher now in mid-2023. Let's assume it's at least 15%.
The $377 million in health expenditures those players are projected to accrue only accounts for 0.01% of annual national health expenditures, as this shrewd Twitter user pointed out:
That's like 0.01% of total annual national health expenditures.https://t.co/Np7HSHvhnB

— David Dayen (@ddayen) June 26, 2023
If anywhere between 9 million and 36 million Americans are only causing 0.01% of the total annual spend on health, that's not too alarming, especially considering the total American population is somewhere around 331.9 million.
According to another report, injury related to youth sports in schools often costs parents over $600 annually per family. Surely there are more players of school sports than total pickleball players?
It may cost more NOT to play pickleball
Consider the many mental and physical health benefits of consistent exercise, never mind the social aspect pickleball is known for:
improved cognition
reduced short-term anxiety
weight maintenance
reduced risk of cardiovascular disease
reduced risk of type 2 diabetes
bone and muscle strengthening
increased life expectancy
What's more, the World Health Organization says that "Almost 500 million people will develop heart disease, obesity, diabetes or other noncommunicable diseases attributable to physical inactivity, between 2020 and 2030, costing US $27 billion annually, if governments don't take urgent action to encourage more physical activity among their populations."
Needless to say: $27 billion > $250-500 million.
If some of the physical activity we take to combat that results in injury, consider it a growing pain towards overall health and wellness. The more popular pickleball becomes, the more best practices will emerge that make it safer for everyone to play.
Read Next: Rating Yourself in Pickleball, Made Easy
---