Dylan Frazier almost secured the triple crown over the weekend at the APP Los Angeles Open, winning gold in mixed and men's and silver in singles. He managed to toss his name in the men's best all-around player hat. Yes, there is a hat, and not many names are in it. Frazier's is now officially in that hat. He played with Anna Bright to start the tournament off, beating the Johnson siblings in the finals, narrowly avoiding the double dip. Then he teamed up with JW Johnson in men's to absolutely obliterate the field. The closest score any of their opponents had on them was 8, which is solid. The next closest score was 4. So yeah! They won all but 1 of their games by 7 or more points. Unreal!

Gabriel Joseph, a southern California product, was the only person able to stand in the way of Frazier's triple crown conquest, by double-dipping in the gold medal match, winning the best 2/3 games and the tiebreaker to 15. Joseph proved to the pickleball world that he is still a baaad man when it comes to singles, winning his 1st gold medal in over a year. After the match he said tournaments are his practice, alluding to his busy schedule. He made sure to quote Allen Iverson, "Practice?? Practice?"

Back to Back Brascia
Mary Brascia goes back to back, winning her 2nd straight singles gold medal over Anna Bright. Brascia lost the best 2/3 games in the first 2 games, 1-11, 10-12, but came back in the tiebreaker winning 15-4. It could have been the long wait between the winner's bracket final and the gold medal match, Bright's stellar play or a combination of the 2, but once Brascia found her groove in the tiebreaker, she was unbeatable.
New Arrivals from LOTTO. Up your shoe game and protect your feet with the selection at fromuthpickleball.com. Use code 10DINK for 10% off (some exclusions apply).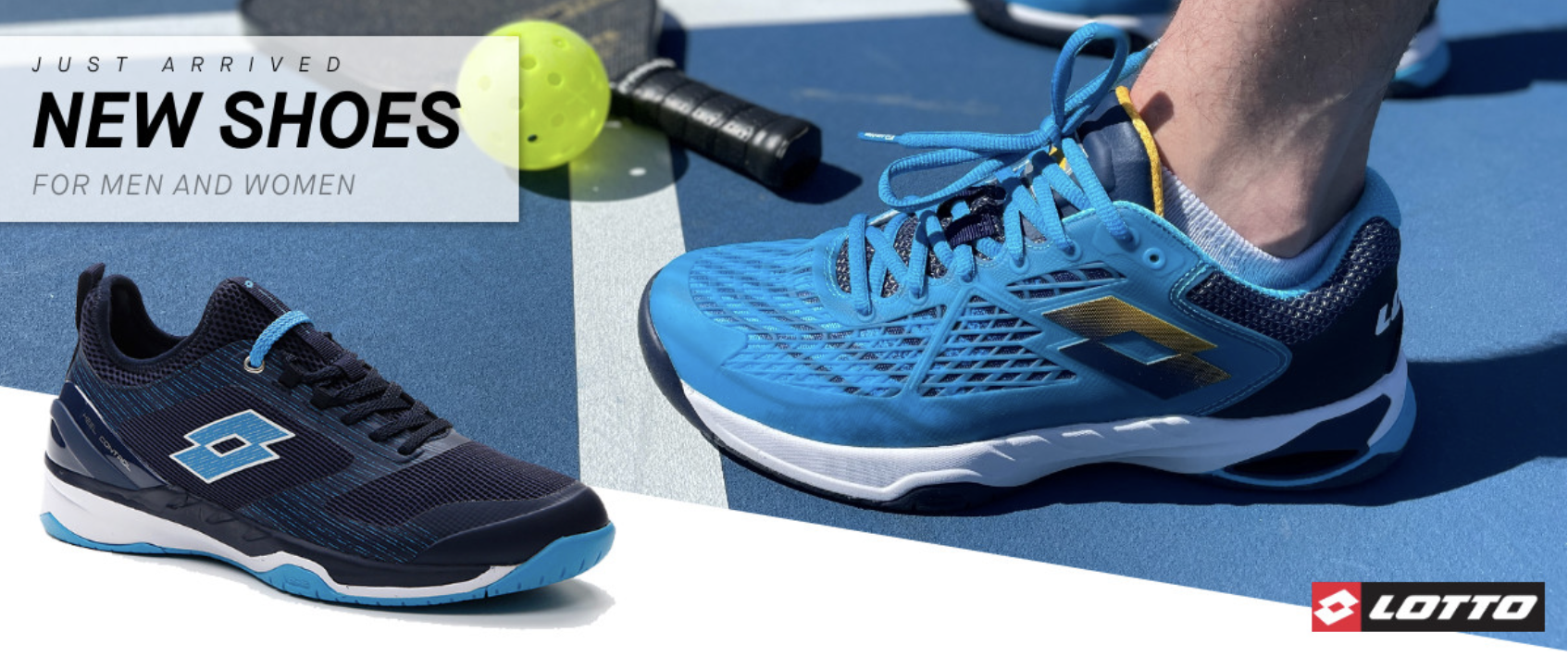 Earlier in the Weekend
Jorja Johnson and Lauren Stratman were on another level in women's doubles, showing that firepower is a huge skill at the top of the food chain. While all the medalists processed some level of aggression, these 2 women had more. They beat Parris Todd and Michelle Esquivel in the finals 11-1, 11-8. Johnson and Stratman had a challenging run to the top, getting taken to 3 games by multiple teams. Their toughest opponents were Susannah Barr and Etta Wright (who has only been playing for about a year). The eventual gold medalists squeaked by the 4th-place finishers in the 3rd game 12-10.

A day earlier, Stratman got her first medal with partner Julian Arnold, as they won bronze in mixed. Arnold took that same aggression and yelling into he and Hayden Patriquin's silver medal run on Saturday, beating DJ Young and Thomas Wilson in the bronze medal match 11-6, 15-13. With the help of Jeff Warnick cheering Patriquin and Arnold on from the sidelines, this team proved that last week's bronze wasn't a fluke. Arnold was the key difference in their matches all day. His ability to speed up shots at the net and finish the show were essential in their run.

The best point of the tournament came via Arnold/Patriquin vs Young and Wilson, with Wilson staying in the point with an unbelievable diving dink.

The best match of the tournament came from Pesa Teoni/Daniel de la Rosa vs Moo Venkatesan/Warren Tamanah. Teoni/de la Rosa vs Venkatesan/Tamanaha ended 15-14 by retirement from Teoni calf cramps, but the match until then was tight and extremely dramatic towards the end.

At 15-14-2 Venkatesan/Tamanaha lost their serve and gave Teoni and de la Rosa a chance to come back, but that's when the calf spasms and cramps kicked in. After a 15-minute medical timeout, Teoni and de la Rosa tried to score on their 2 serves, from de la Rosa 3rd shot rips, but it didn't happen. When Venkatesan and Tamanah got the ball back, Teoni retired. Venkatesan and Tamanaha finished in 4th, their best finish yet.
Results
Mixed Doubles: 🥇Dylan Frazier & Anna Bright 🥈JW Johnson & Jorja Johnson 🥉Julian Arnold & Lauren Stratman
Men's Doubles: 🥇JW Johnson & Dylan Frazier 🥈Hayden Patriquin & Julian Arnold 🥉DJ Young & Thomas Wilson
Women's Doubles: 🥇Jorja Johnson & Lauren Stratman 🥈Parris Todd & Michelle Esquivel 🥉Anna Bright & Regina Franco Goldberg
Men's Singles: 🥇Gabriel Joseph 🥈Dylan Frazier 🥉Federido Staksrud
Women's Singles: 🥇Mary Brascia 🥈Anna Bright 🥉Rosie Johanson