Pro Pickleball
Tennis' Legendary Bryan Brothers in Serious Talks to Pursue Pro Pickleball
Sources tell The Dink that tennis' all-time winning doubles team and global ambassadors, Bob and Mike Bryan, are in serious talks to sign a long-term deal with Major League Pickleball (MLP) and the Pro Pickleball Association Tour (PPA Tour).
The 45 year-old identical twin brothers, who are widely regarded as the most accomplished tennis doubles team of all time, announced their retirement from tennis in 2020, but not before racking up an insanely impressive resume:
World #1 doubles team for 438 weeks
16 Grand Slam doubles titles
119 Tour Titles
Davis Cup Champions (2007)
Olympic Gold Medalists (2012)
Voted Fan Favorite 14x
1,000+ career match wins
So after all that winning, why not just sit back and enjoy the spoils of a successful career?
Simple answer: they yearn for competition.
---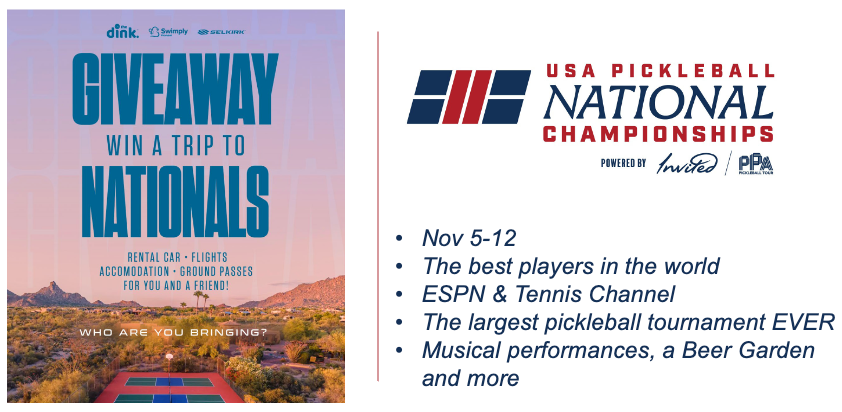 It's basically a massive pickleball party. And we want to send you and a friend. All expenses paid. Enter here.
---
Tennis to Pickleball: Not Always Successful
Now of course, we've seen tennis converts before. Singles specialist Sam Querrey notably made his transition last year, only to go undrafted in the most recent Major League Pickleball season. And don't make us rehash Noah Rubin's quick stint in pickleball.
Jack Sock recently announced his retirement from tennis and subsequent commitment to the Pro Pickleball Association Tour for 2024 and beyond. Sock made pickleball waves when he secured a gold medal alongside Anna Leigh Waters in his first pro mixed doubles outing.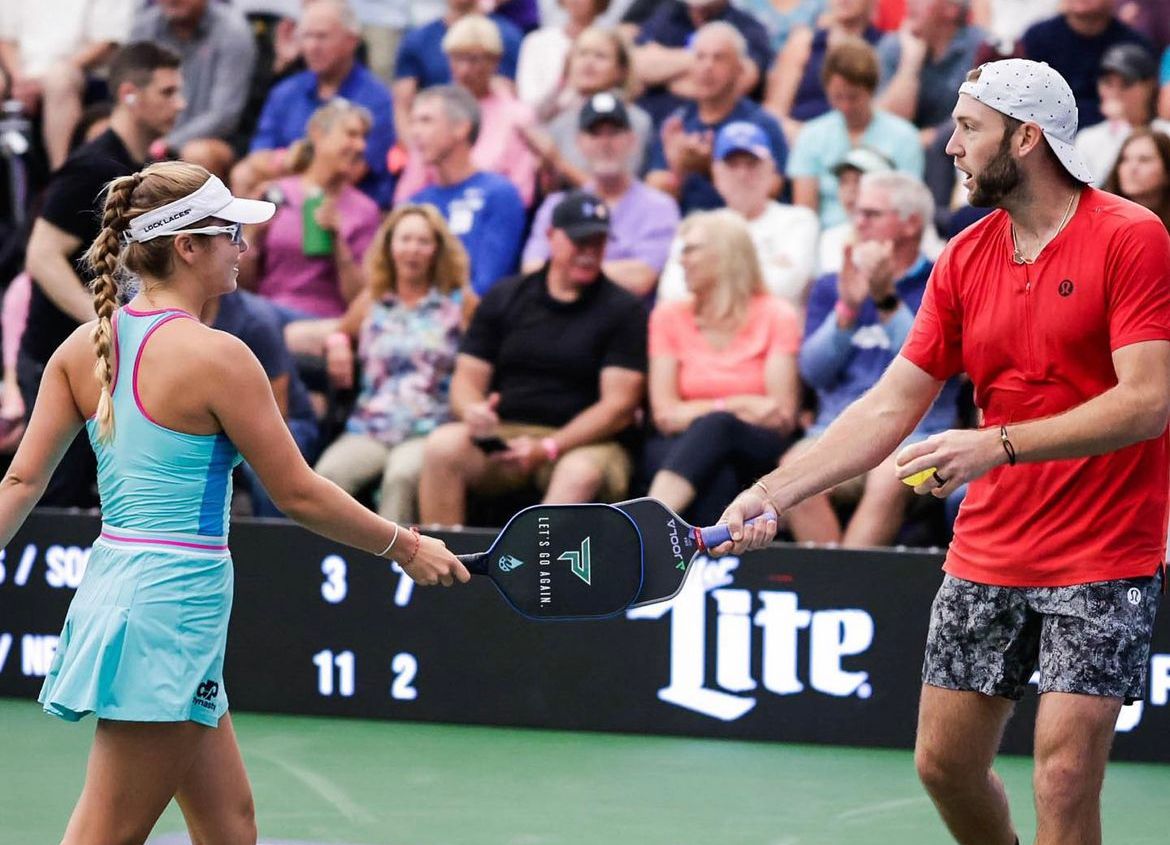 But his Men's Doubles debut wasn't as successful. He and partner Tyson McGuffin suffered a loss to a relatively unknown duo. So the jury is still out on Sock's future in pickleball. Fun fact: he actually has two tennis Grand Slam titles alongside Mike Bryan when Bob was sidelined with an injury.
Watch: PicklePod - is Jack Sock good or bad for pro pickleball?
On the women's side, Tina Pisnik has recently cruised up the rankings and was eventually drafted to the Challenger Level of Major League Pickleball. Her highest achievements in tennis include 3R Wimbledon appearances and rankings of #29 and #60 in singles and doubles, respectively.
Genie Bouchard is debatably the most famous tennis player to convert to pickleball, which the PPA Tour announced recently. But as far as anyone can tell, she has picked up a paddle only a handful of times.
In contrast, the Bryan Brothers have made it crystal clear that should they come to an agreement with Major League Pickleball and the PPA Tour, it won't just be for show. The goal is to win.
In fact, we hear that a number of producers are interested documenting the entire journey under the premise of all or nothing. While the twins are humble enough to understand that it won't be an easy road, their goal is to ascend to #1, and they're willing to put in the work.
As we pickleball junkies know, they'll need to go through the Johns Brothers to get there. But if they do, and admittedly that's a big "if", it's the perfect Hollywood script. The most prolific tennis duo in history faces off against pickleball's GOATs for a shot at #1. Step aside, Drive to Survive.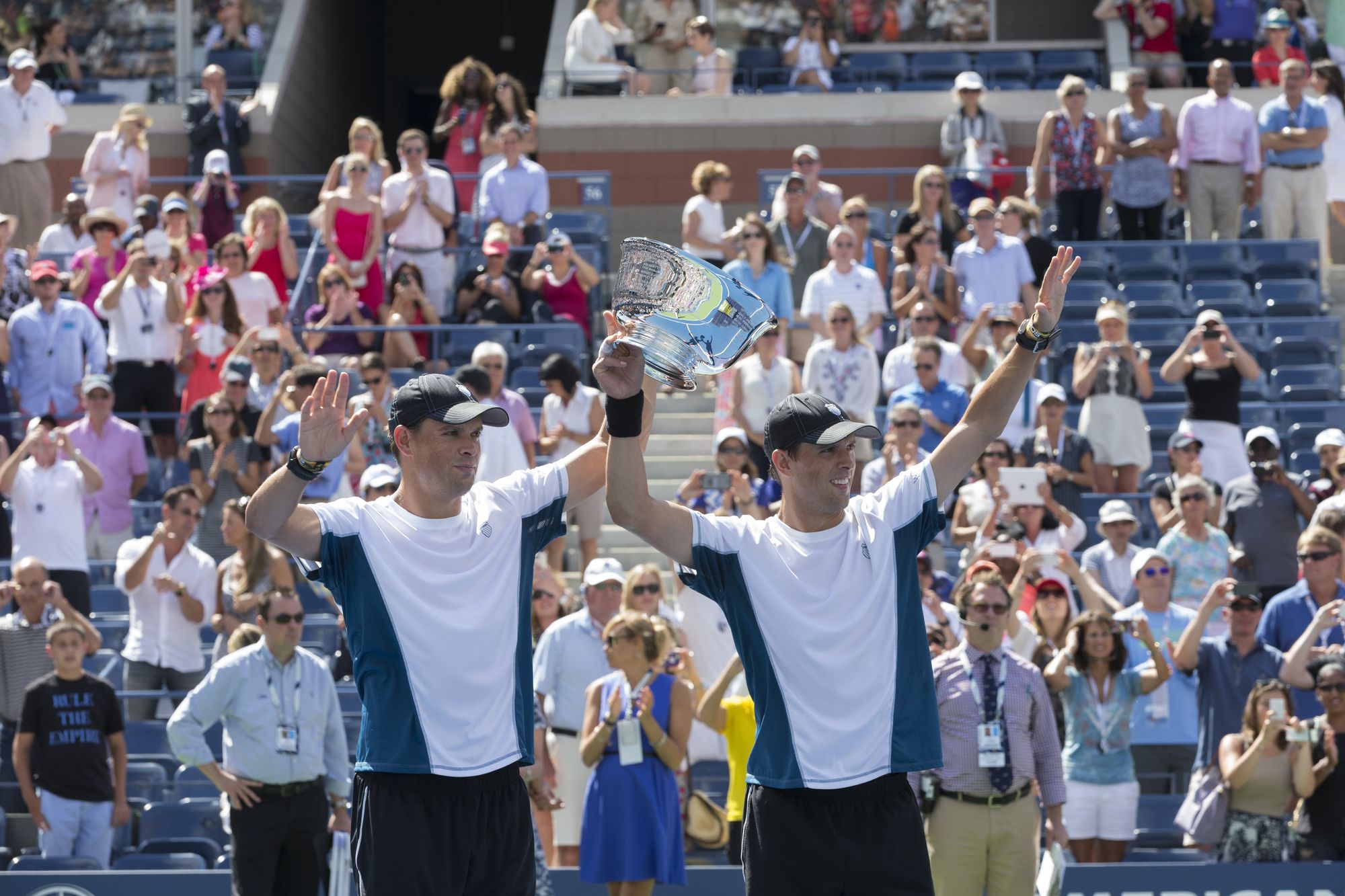 Grow the Game
The Bryan Brothers aren't just interested in medals, though. The two have outlined a number of initiatives to aid in growing pickleball's market share in the sports landscape:
Increase pickleball's competitive credibility
Validate and encourage the transfer of top tennis pros to pickleball
Lobby for college and olympic pickleball
Build local leagues, national tournaments and celebrity pro-ams
Attract new sponsors, celebrities and notable figures to the sport
Encourage and grow youth pickleball with an emphasis on providing a pathway for inner-city youth
Hold national fundraisers to raise money for the sport's growth, including parks & rec, courts for municipalities and communities, etc.
But why should we believe that the Bryan Bros are capable of all of that? Well, according to the New York Times, they literally "saved doubles" tennis.
💡
During their first United States Open title run, in 2005, the twins darted into the middle of a legal fray: They
sued the ATP Tour
.
The move from a tennis court to a court of law was a bold strategy to save doubles from extinction.
"Our backs are against the wall right now," Mike Bryan said after he and Bob were named lead plaintiffs in a federal antitrust lawsuit against the ATP, the governing body for professional men's tennis, which represents both players and tournaments. "If we don't unite, there may not be a game of doubles."
"A decade later, doubles is an integral part of the men's game, purses have nearly doubled, and doubles-only players continue to make a decent living on tour." Wrote the New York Times.
It's safe to say that the Mike and Bob Bryan aren't content with simply showing up for matches. The pair has a proven track record of having an impact on and off the court.
We're not saying pro pickleball needs saving, but as a sport in its infancy, it needs all the help it can get when it comes to ambassadors and advocates for a spot in the mainstream. If Mike and Bob can apply the same grassroots marketing and promotional tactics they used in tennis, the sport will stand to benefit.
Long-Term Vision
Our sources tell us that the Bryan Brothers are focused on securing a long-term partnership for five years or more. They want to be considered partners, not just players.
It's worth noting the brothers' family isn't exactly thrilled with the idea. Their legacy is one of winning. To gamble their reputation as perennial victors on a new sport where wins are far from guaranteed is as risky as it gets.
But Mike and Bob understand the risk, and embrace it. If they decide to pursue pro pickleball, they want to be the best. Is it realistic? Only one way to find out.
Thinking about making the jump from tennis to pickleball, too? Get 10% off pickleball equipment at fromuthpickleball.com with code 10DINK.
For more stories like this, tips and strategy, and everything else pickleball related: