It was only a matter of time before PCKL hopped on the carbon-based paddle trend. But would the results speak for themselves?
In the Pro Series 13 and 16, this reviewer feels they do.
PCKL Pro Series 13 & 16 specs:
Weight: 13mm: 7.8 oz; 16mm: 8.1 oz
Thickness: 13mm and 16mm, respectively
Handle Length: 5.5 inches for both
Core Construction: Foam-injected, thermoformed body with honeycomb core
Key Material: Carbon fiber
Shape: Elongated
Price: $159.99
Swing weight: 13mm: 106; 16mm: 115 (more info on swing weight here)
Paddle Maturity: Low/medium
A note about paddle maturity
I'd like to coin a term called "paddle maturity." This term can refer to any of the following:
how many paddles you've tried
how familiar you are with different paddles' surfaces and materials
how in-touch you are with different paddles and their relationship to your own play style (do they work for you, and do you give them a chance to?)
In my opinion, this new set of PCKL paddles does not require much paddle maturity, and that's a good thing considering their target audience.
PCKL is noted for bringing pro-level paddles to a somewhat lower price point, making high quality paddles more accessible.
Likewise, this new set seems to target players in the 3.0 to 4.0 range who might not have the most paddle maturity, but have the desire to take a step up in quality for less than you'd pay for other brands' premium carbon-based paddles.
You'll notice I ranked these paddles as low to medium paddle maturity – referring to the amount of it needed to appreciate the paddles' finer details.
This is a good thing. I explain why below.
Pro Series 13 & 16 Design Differences
If you don't know too much about getting used to a new paddle or what to look for to match your play style, then PCKL has done much of the work for you already.
They've created a lighter paddle (the 13mm) which makes up for its light weight with intense spin capability so you don't have to put as much power as you might think into your strokes.
This is great news for those seeking a light paddle but don't want to sacrifice power and spin capability. It even has more pop than the heavier 16mm version – an unusually dialed-in aspect in this series.
Those who don't have as much strength may enjoy something like this which considers their needs and provides extra spin from the get-go.
The 16mm, however, also takes these factors into consideration. It's at a sweet-spot weight for those with more strength (some might even say it's still light for those with lots of strength), and it performs in a level-headed way.
It won't send the ball flying with pop. Instead, the 16mm is great for soft game players who have more control.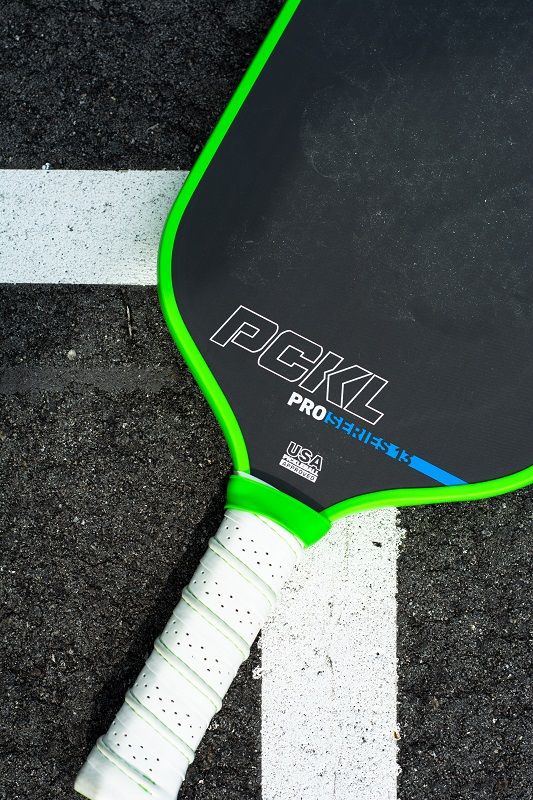 Who are these paddles for?
Like many premium, carbon-based paddles, the Pro Series 13 & 16 require a somewhat developed sense of touch and calibration.
Therefore, I'd recommend them for players in the 3.0 to 4.0 range who are looking for a step-up in terms of overall build quality.
They are especially good choices for players who've played with pop-heavy paddles. There will be slightly less pop than they may be used to, but I'm betting this will actually help, not hinder their game.
Find out more about them here. Dink readers get 15% off.
Check out our other PCKL reviews:
👋
Adam Forziati has been a primarily recreational player since 2018 but hopes to enter the competitive arena this year. He channels his natural curiosity and passion for pickleball when writing content for The Dink's website and newsletter.
---