It is finally here! It's Major League Pickleball week. The inaugural MLP Season and Festival is happening in Dreamland.
The schedule of events has been released and tickets are on sale now. Each team will play two teams per day starting on Friday, November 5 – Sunday, November 7.  Each day is divided into two 6.5 hour sessions, the morning session starts at 8:00am CT and the evening session starts at 3:00pm CT. On Monday, November 8, teams will play their last match in the morning and the two teams with the best record will compete in the first-ever DUPR Bowl to win the Pritchard Cup.
Get your session pass or whole weekend pass now and get down to Dreamland to see all of the action in person.
You can also play alongside the pros down in Dreamland in the accompanying amateur tournament happening the same weekend. You can find out more and register for that event here.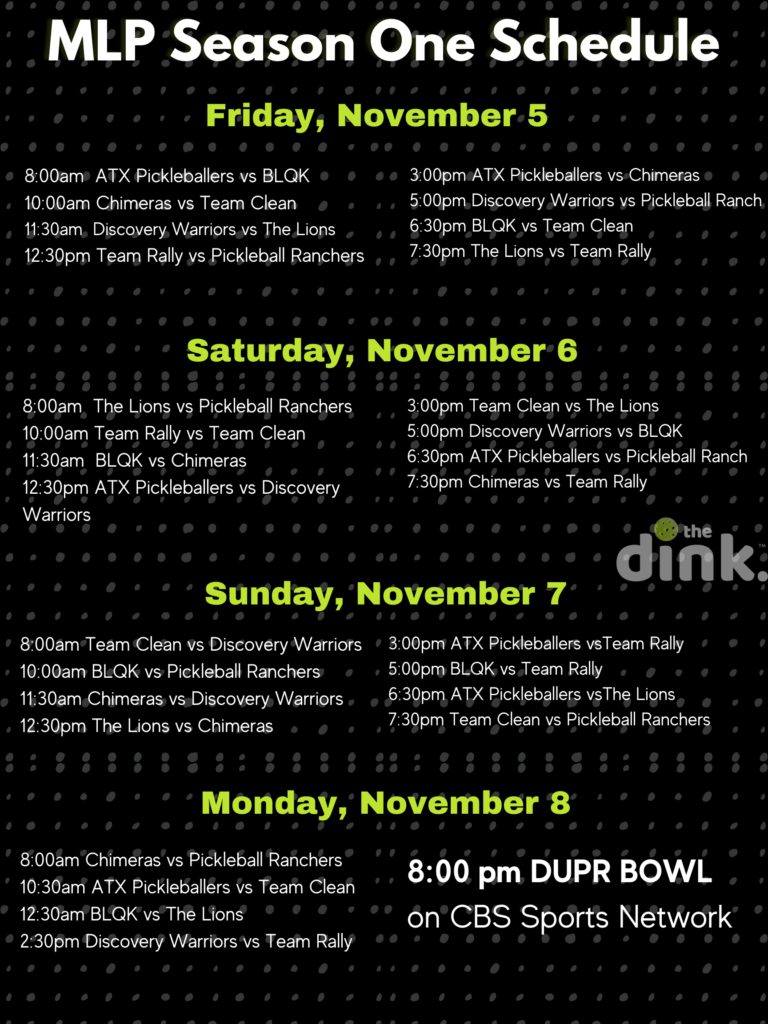 The first two picks in the draft will be kicking off season one of MLP. Catherine Parenteau and the ATX Pickleballers will take on BLQK led by Ben Johns, bright and early Friday morning. We will also get a good look on how draft strategy comes into play on day one in the matchup between the Discovery Warriors and the Pickleball Ranchers.
The Ranchers have a team of mostly doubles specialists with the Newmans and Leigh Waters. While the Discovery Warriors have Tyson McGuffin, Zane Navratil and Lea Jansen on the their squad, who are all top 3 singles players in the men's and women's divisions. You would have to favor the Warriors if there was a tiebreaker situation, but will the Ranchers even let the match get that far.
In this match we will see the return of Andrei Daescu who is one of the biggest question marks in the competition. Pairing with Riley Newman and Leigh Waters gives him the potential to beat anybody in the field, but how will his game stack up against the all of these pros that have vastly improved during 2021.
We also get a little partner vs partner mix up that makes MLP different from tradition PPA tournaments. Riley Newman and Tyson McGuffin who played most tournaments together in 2021 will be on opposite sides of the net for this matchup. Can you tell we're excited for MLP?
Look for more matchups and the full preview to hit our blog later this week. If you can't make it to Dreamland this weekend, tune into the broadcast on the MLP YouTube and CBS Sports.