These rental homes all have their own pickleball court!
The best way to make a vacation even better is to add more pickleball. Get you friends and family together and live the dream of having a court in your own backyard. Take a look at the listings below.
Richardson, TX
Pickleball is blowing up in Texas. Austin and Dallas are exploding with new courts everyday. Plan your trip to the Lonestar state and stay in this 4 bedroom, pickleball haven.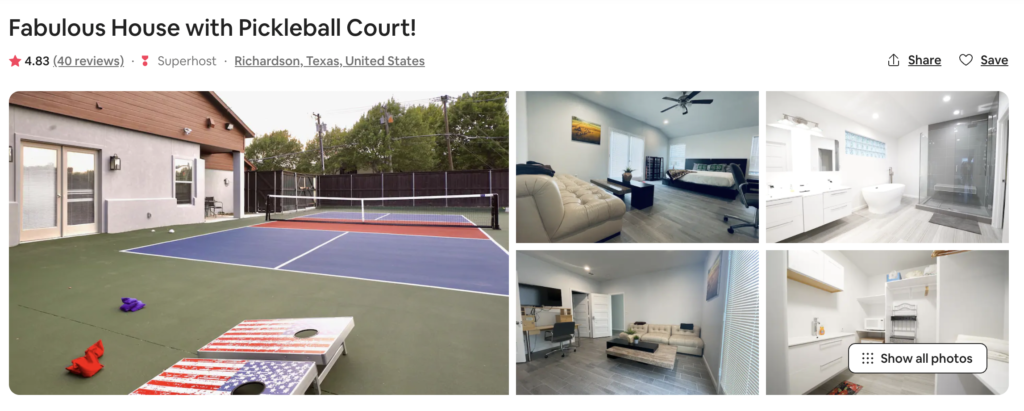 ---
---
2. Leavenworth, WA
This one of a kind rental is near the birthplace of pickleball. It sleeps 12 guests which is perfect for your next 6 team tournament.

---
---
3. Paso Robles, CA
One of the original pickleball home courts. Now with a fresh coat of paint. Get yourself to California and stay at this awesome Airbnb.

---
---
4. Hurricane, UT
Utah has become the place to be for pickleball. This home has modern finishes, a pool, hot tub and turf field to go along with the pickleball court.

---
---
5. Phoenix, AZ
Featured in The Dink Newsletter, this massive AZ home has the backyard that dreams are made of. A professional pickleball court, amazing pool and more.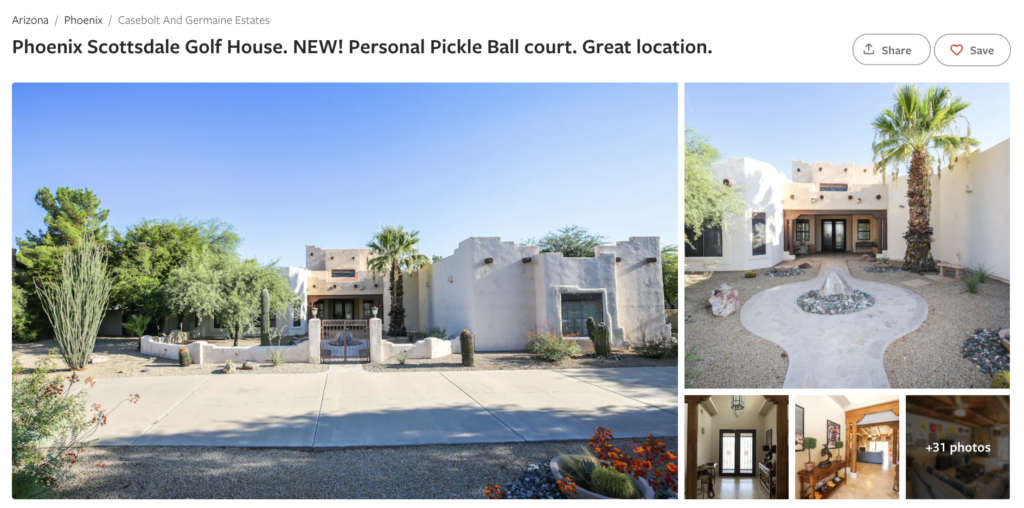 ---
---
6. Scottsdale, AZ
Another gem in AZ. There is a ton of great play in Scottsdale. Check out the public parks or jumo into a big tournament with your own private practice court.

---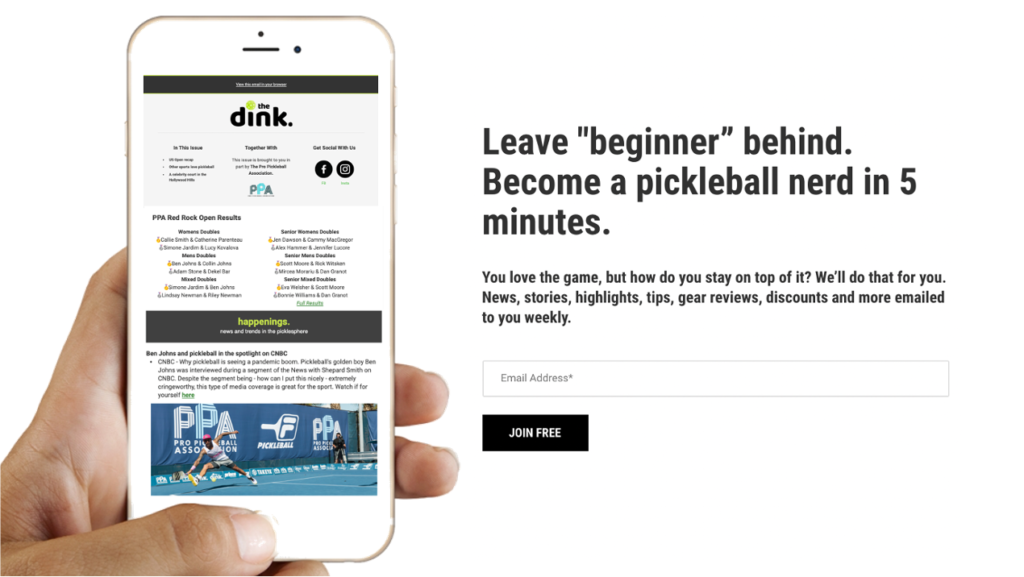 ---
7. Nokomis, FL
Dink the winter blues away with a trip to Florida. 5 minutes from the coast so you can get go catch a sunset after the last game of the day. If I had to guess you won't be making it to see many sunsets because everyone always wants 1 more game.

---
---
8. Rancho Santa Fe, CA
This beautiful getaway is located near San Diego. It is definitely in the running for top of the list. Check out the view from the pool.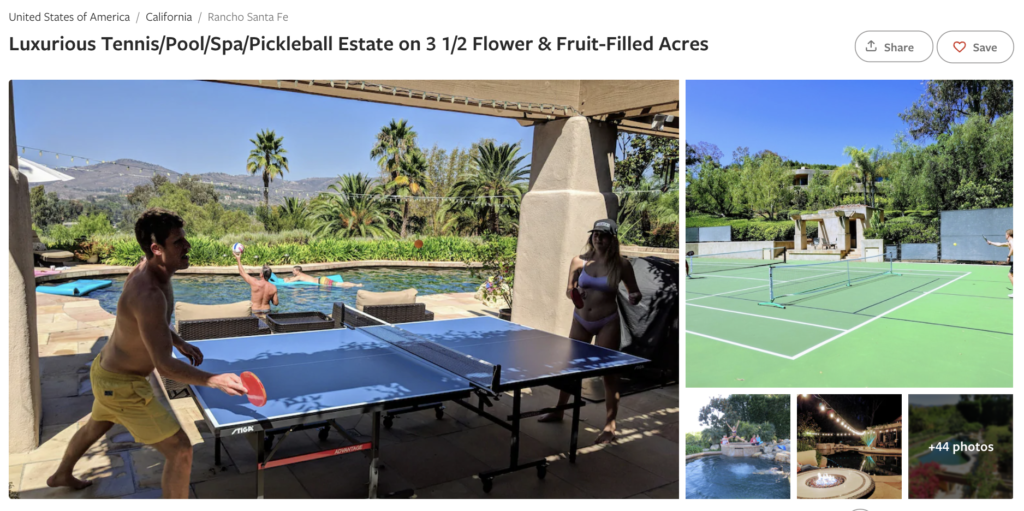 ---
---
9. Corona, CA
There's no better place to stay in Southern California. One of the best looking courts in the game. This one has a luxury pool and outdoor kitchen.

---
---
10. Scottsdale, AZ
Another great choice in Scottsdale. I've got the feeling were going to start seeing more courts pop up in backyards in this area. Suitable for 16 guests this home is one of the largest on the list and you can pretty much bring your whole ladder league with you.

---
---
11. Palm Springs, CA
Palm Springs hosts major tournaments every year. You can stay close to the venues and have your own practice court. If you're just in the game for fun, this is one of the most spectacular homes on the list and has everything you need for a getaway.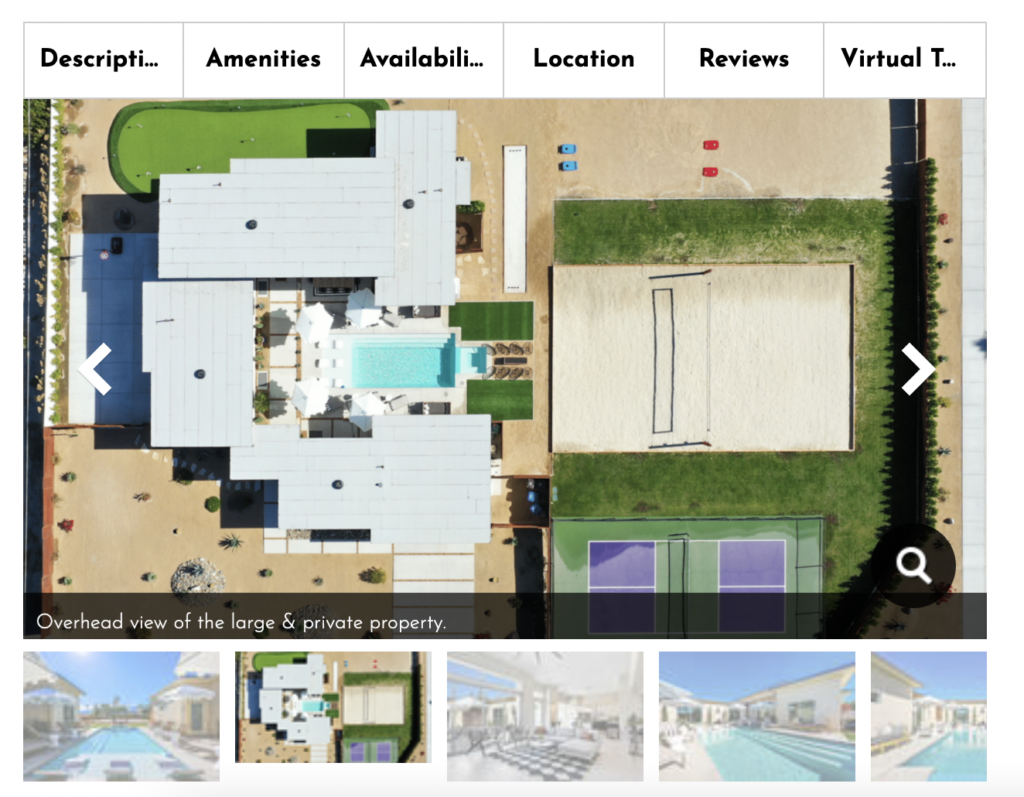 ---
---
12. Temecula, CA
Another one of the OG rentals. This one has been on the bucket list for many pickleball addicts. So make it happen and tell us how it went because this one looks awesome.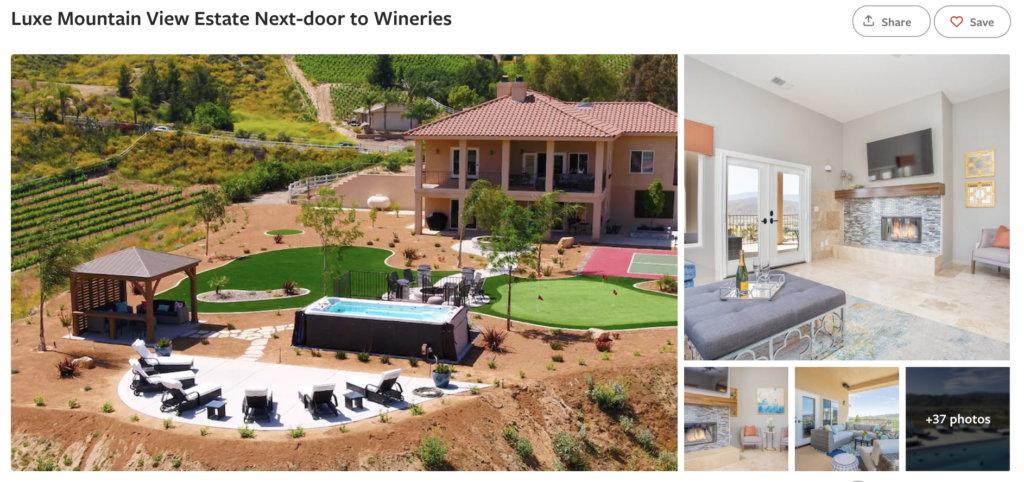 If you have one that didn't make the list, send us an email, [email protected].
Did you enjoy this list of 12 Airbnbs for Pickleball Addicts? Then check out our Homecourt Havens section for more houses with their own pickleball courts.