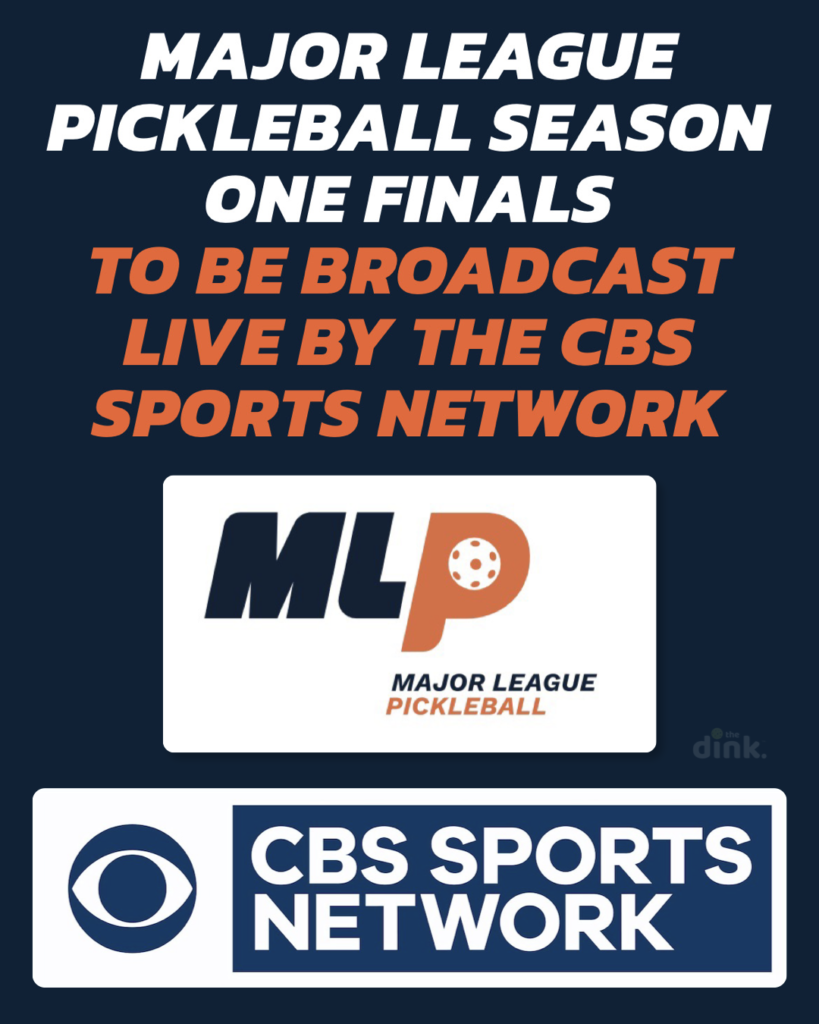 Big announcement out of Austin this morning. The finals of Major League Pickleball will air live on CBS Sports Network. This means professional production for the inaugural event and the ability to reach a national audience.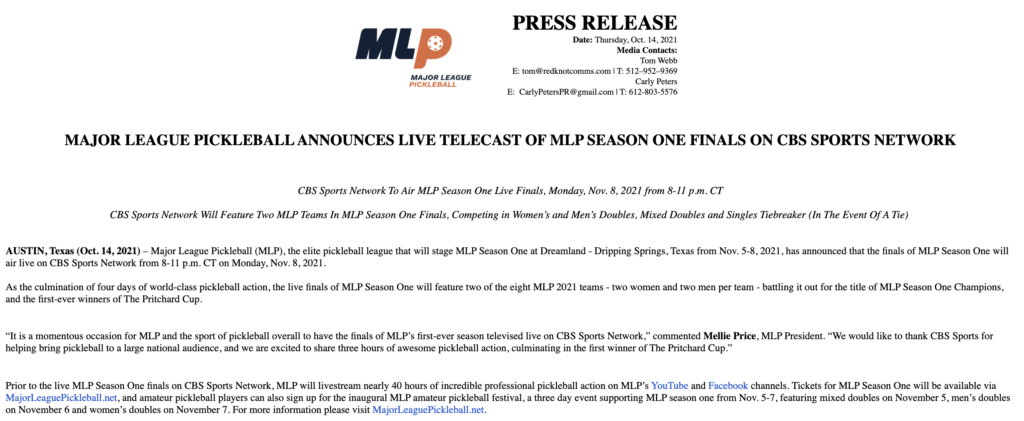 The entire event prior to the finals will.stream on the MLP YouTube and Facebook starting on November 5. Teams will battle it out over the weekend for a chance to play on the live nationally televised final on Monday November 8. The finals will air from 8-11pm CT.
The live draft for the league took place two weeks ago in Rockwall, TX. The coverage of the draft can be found in our recap or on the
MLP Website.
You can also read the full press release below.
Tell us in the comments what team you're rooting for and who you think will play in the final.
MAJOR LEAGUE PICKLEBALL ANNOUNCES LIVE TELECAST OF MLP SEASON ONE FINALS ON CBS SPORTS NETWORK



CBS Sports Network To Air MLP Season One Live Finals, Monday, Nov. 8, 2021 from 8-11 p.m. CT

CBS Sports Network Will Feature Two MLP Teams In MLP Season One Finals, Competing in Women's and Men's Doubles, Mixed Doubles and Singles Tiebreaker (In The Event Of A Tie)



AUSTIN, Texas (Oct. 14, 2021) – Major League Pickleball (MLP), the elite pickleball league that will stage MLP Season One at Dreamland – Dripping Springs, Texas from Nov. 5-8, 2021, has announced that the finals of MLP Season One will air live on CBS Sports Network from 8-11 p.m. CT on Monday, Nov. 8, 2021.

As the culmination of four days of world-class pickleball action, the live finals of MLP Season One will feature two of the eight MLP 2021 teams – two women and two men per team – battling it out for the title of MLP Season One Champions, and the first-ever winners of The Pritchard Cup.
"It is a momentous occasion for MLP and the sport of pickleball overall to have the finals of MLP's first-ever season televised live on CBS Sports Network," commented Mellie Price, MLP President. "We would like to thank CBS Sports for helping bring pickleball to a large national audience, and we are excited to share three hours of awesome pickleball action, culminating in the first winner of The Pritchard Cup."
Prior to the live MLP Season One finals on CBS Sports Network, MLP will livestream nearly 40 hours of incredible professional pickleball action on MLP's YouTube and Facebook channels. Tickets for MLP Season One will be available via MajorLeaguePickleball.net, and amateur pickleball players can also sign up for the inaugural MLP amateur pickleball festival, a three day event supporting MLP season one from Nov. 5-7, featuring mixed doubles on November 5, men's doubles on November 6 and women's doubles on November 7. For more information please visit MajorLeaguePickleball.net.
— MLP —
About Major League Pickleball
Major League Pickleball is the exciting, new elite pickleball league that will see 32 players — 16 women and 16 men — compete in eight teams for the title of Major League Pickleball Champions, with the 2021 title awarded after a four-day event at Dreamland – Dripping Springs, Texas, Nov. 5–8, 2021. Major League Pickleball aims to use its global platform to create the highest level of competition for professional female and male pickleball players worldwide, and to spread the joy and love of pickleball, attracting new entrants into the sport. For more information on Major League Pickleball, go to MajorLeaguePickleball.net and follow Major League Pickleball on Facebook, Twitter, Instagram, TikTok, Pinterest and YouTube.
About Pickleball
Pickleball has been called "the fastest-growing sport in America" by The Economist, with more than four million people playing pickleball in 2021, and a 21% increase in pickleball participants from 2019 to 2020.
Media Contacts
Tom Webb – E: tom@redknotcomms.com | T: +1 512 952 9369
Carly Peters – E: CarlyPetersPR@gmail.com | T: +1 612 803 5576
Tom Webb
Head of U.S. Operations
T: +1 512 952 9369 | E: tom@redknotcomms.com | LinkedIn