40 million players by 2030.
The participation trends suggest that it's possible, but what about the pro game? What % of those participants will actually tune in to watch the pros? Ah, the golden question.
First things first. Let's build something that's worth tuning in for...which leads us to…Major League Pickleball. There's nothing like it.
Last weekend showcased the second rendition of MLP and we saw firsthand that our 2021 Dink Award winner for Event of the Year proved not to be a one-hit wonder. Fans held their breath, tension boiled on-court and camaraderie ascended to new heights.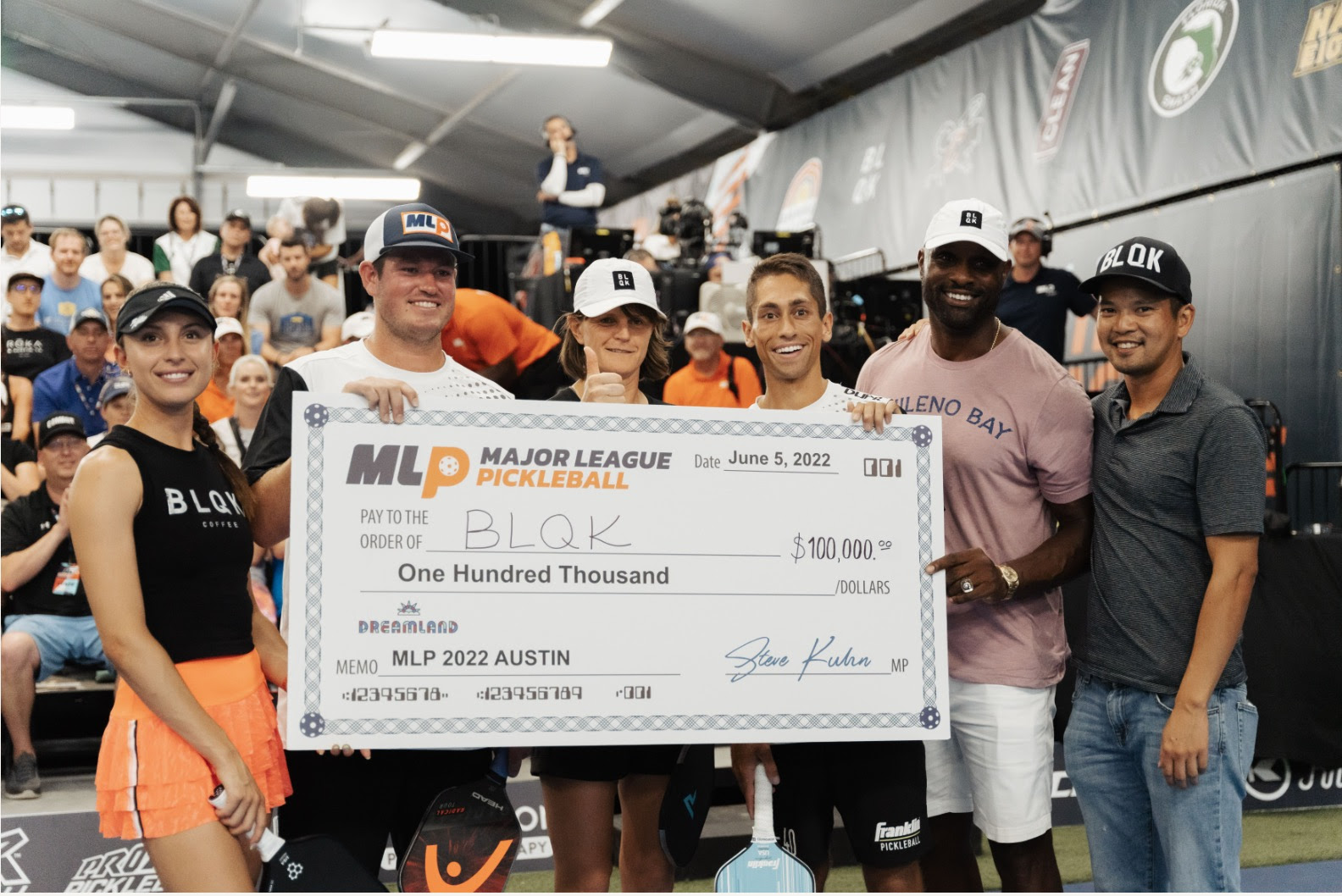 The team dynamic lent to trash talking, chest bumping and a palpable energy that left even the least knowledgeable pickleball fan feeling like something important was unfolding. The Sunday night final came down to two teams playing one match for $100K. The largest ever payout in pickleball.
Super Bowl Champ Drew Brees stopped by to take in the action and PGA Legend Sergio Garcia warmed up the crowd with an exhibition match.
Fans were reminded that the Dreambreaker, a singles tiebreaker used to decide ties, remains the most electric thing in pickleball.
To put it simply, it felt like a spectator sport.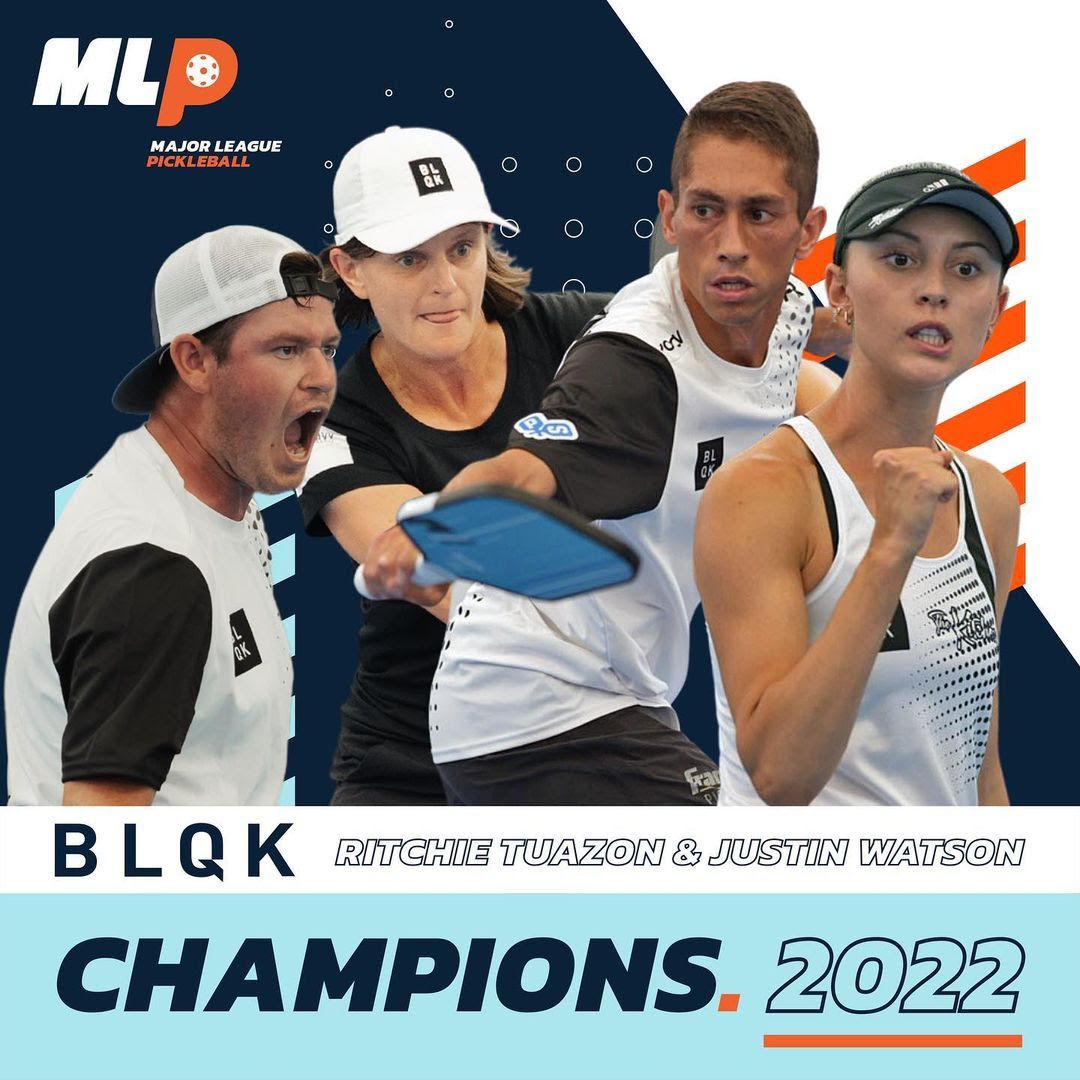 Team BLQK dropped the mic as they clinched their second straight Pritchard Cup. The only returning player? Irina Tereschenko, the first ever back-to-back MLP Champ.
In the championship match, Rafa Hewett and Zane Navratil mounted a massive comeback from 20-16 to defeat the formidable JW Johnson and his partner/owner Travis Rettenmaier. This earned BLQK a 2-0 lead heading into mixed doubles where Tereschenko and Hewett battled through extra points to close the match out in three games.
Singles specialist (or so we thought) Parris Todd paired with Navratil as the second mixed doubles squad that ultimately wasn't needed in the final given the three-game sweep.
Todd and Navratil are both coming off 3 straight APP Tour singles titles and can now add MLP Champion to their resumes. Not a bad way to kick off the summer.
• Lina Padegimaite for The 5s was a perfect 8-0 in doubles on the weekend. She helped lead The 5s to the top spot in pool play.
• The 5's came up just short of the finals losing to Florida Smash in a Dreambreaker semifinal
• In the other semifinal, BLQK got revenge against the ATX Pickleballers who they had lost to earlier in the weekend.
JW Johnson of Florida Smash had a dominant performance throughout the weekend taking over in both doubles and singles. Team owner/player Travis Rettenmaier proved he belonged in the league and took home the sportsmanship award. Lee Whitwell put together more Dreambreaker magic and had the crowd on her side all weekend. She won MVP of the event for the second consecutive year.
The ATX Pickleballers, led by Dylan Frazier, proved to be the unexpectedly heavy favorites heading into Sunday. Frazier, Sarah Ansboury, Altaf Merchant and Jade Kawomoto went undefeated in pool play, earning a bye and spot in the semifinal.
Talent Woes Turned to Talent Wins
Let's address the elephant in the room. The PPA's top contracted players weren't allowed to participate. Many thought this would hinder MLP. Who wants to watch if the top players aren't there?
Well, it turns out, a lot of people do. And the "lack" of talent, if you want to call it that, proved to be irrelevant. In fact, it opened up the opportunity for lesser knowns like Lina Padegemaite, Maggie Remynse and Hayden Patriquin to shine on the big stage.
It also meant that the outcomes would be less predictable (at least it seemed unpredictable, more on that later) and teams seemed pretty evenly matched across the board. It created a more intriguing product overall. I felt more invested. I found myself rooting harder for players I had never seen play before. It was awesome.

It's also worth noting that PPA contracted player Lauren Stratman decided to buck the restrictions and participate anyway. So far, no consequences, and she'll have the chance to compete for that $25,000 twice more this year. One has to wonder how some of the other PPA players are feeling right now, but I digress.
In my opinion, this is the optimal scenario. Eventually the leagues will have to unify for the good of the sport and the professional game in particular. But until then, it's beneficial for as many players as possible to get their shot at breaking into the pro circuit.
I mean, look at the APP. They also held a tournament over the weekend, and it gave players like Gabriel Tardio and Arielle Butler an opportunity to medal in a pro event. I love it.
And all the while, outside of Stratman, the PPA gets to maintain their player exclusivity and continue to position themselves as the premier tour. Win, win, win.
Here's what else is interesting…
Not So Predictable?
Before the first ball was served, DUPR had accurately predicted the overall winner and the top four finishers using the combined singles and doubles strength of each player.
1st Place: BLQK (25.019) | 2nd Place: Florida Smash (24.650) | 3rd Place: The 5s (24.649) | 4th Place: ATX Pickleballers (24.784)
Out of every professional male player, Zane Navratil and Rafa Hewett had the most improved DUPR doubles rating in the last four weeks (+.444 for Hewett, +.371 for Navratil).
10 matches went to a Dreambreaker (45%)…that's DUPR Neutral matchups at their best.
MLP will have two more events this year: Newport Beach, CA (August 5-7) and Columbus, OH (October 14-16).

Each will feature another $100,000 prize for the winning team.
For more, subscribe to our free twice weekly pickleball newsletter!