And not just Lebron, but fellow NBA Champions Draymond Green and Kevin Love will be a part of the ownership group as well. Via ESPN:
LeBron James and Maverick Carter's LRMR Ventures is headlining a new ownership group in Major League Pickleball.
The group also includes investment firm SC Holdings, NBA champions Draymond Green and Kevin Love, the SpringHill Company CMO Paul Rivera, and Relevent Sports Group co-owner and CEO Daniel Sillman.
Is this big news? Just kidding. But how can we even phrase how wild this is?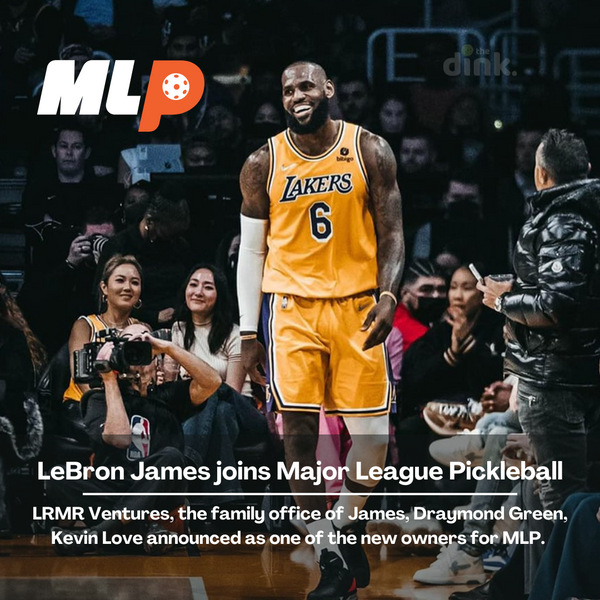 We saw it first on CNBC and ESPN. Here's an excerpt from CNBC:
Major League Pickleball announced Wednesday that James and his business partner, Maverick Carter, will join its ownership ranks, along with NBA champions Draymond Green and Kevin Love and others. In recent months, the sport's popularity has attracted several celebrity investors and become a big business.
The all-star ownership group's interest in the sport came from playing it together over the past couple of years, according to MLP.
It's worth noting that the venture firms alone are highly impressive.
From Founder Steve Kuhn:
"Having SC Holdings, LRMR Ventures, and their incredible group as owners and investors in Major League Pickleball is not just great for MLP, it's a watershed moment for pickleball in general," said MLP Founder Steve Kuhn. "Pickleball is the fastest-growing sport in the country, building communities in cities and towns all over the world. This investment and the platform that this group provides will significantly help us with our goal to reach 40 million pickleball players by 2030."
But do we need to even say it? You have to wonder what the PPA is thinking right now. You're move, guys!
If you want to read Major League Pickleball's full press release, click here.