Yahoo Sports recently published an article profiling the Pro Pickleball Association and Major League Pickleball's messy breakup and subsequent spending war.
It's safe to say they glossed over some key details, made some assumptions and generally aren't in the know when it comes to pickleball. However, they did uncover some super fascinating anecdotes.
1) A Young Entrepreneur Scrambles to Save his Business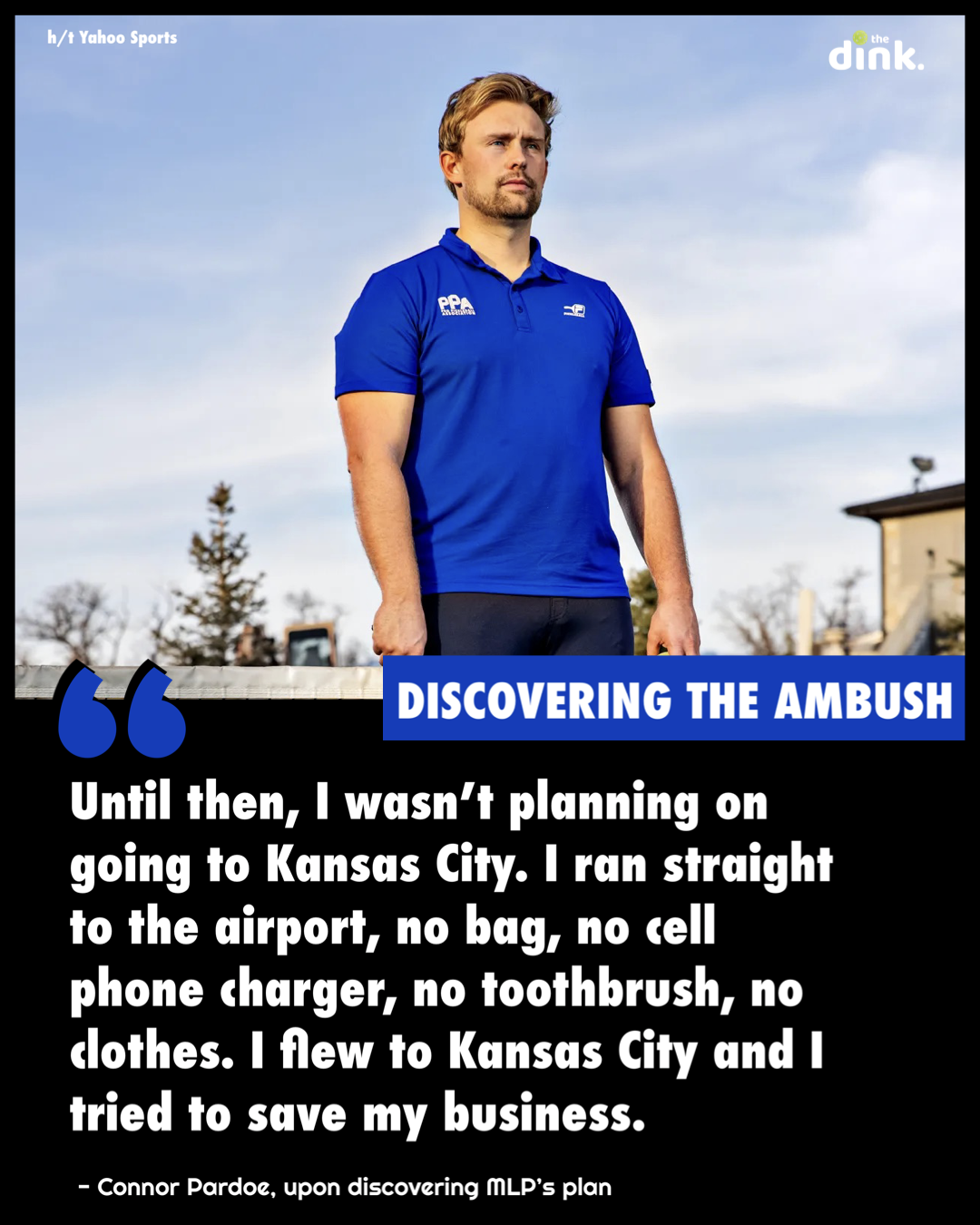 It's a powerful visual. A young entrepreneur, still in his 20s by the way, drops everything upon learning that his company is under attack.
Everything he's built over the past five years is in jeopardy. What does he do? He drops everything and heads to the airport. And on the way there, he calls every player he can...
Pardoe spoke to as many elite players as he could on his way to Kansas City. Then he and his executives redoubled their efforts once he got there. They pleaded with players not to sign with MLP without giving the PPA the chance to match or surpass the contract offers.
2) High Stakes, and High Pressure Tactics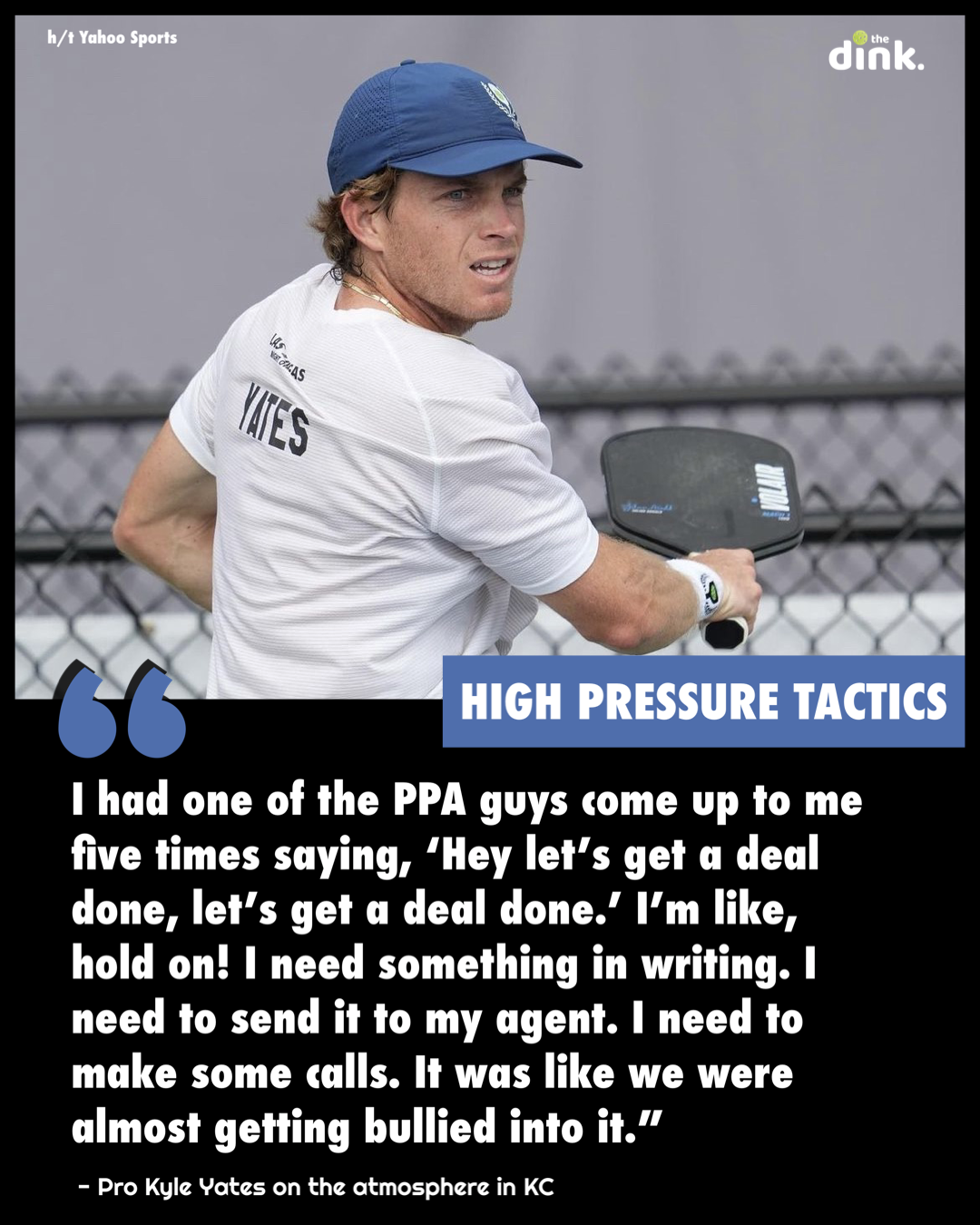 When Kyle Yates entered the pickleball circuit 10+ years ago, could he have possibly foreseen this?
A scene straight out of a movie:
Players who were in Kansas City last Thursday and Friday describe a surreal scene in the player's lounge. The sport's biggest stars spent their downtime between matches confiding with their agents in quiet corners of the room, their phones pressed to their ears and their voices hushed.
I love that they quoted Yates here, because he's a true veteran of the game. He was Ben Johns before Ben Johns; the wonder kid. Since then, he's been a main stay on the pro circuit.
But apparently, his tenure and status didn't matter to the PPA, which ultimately swayed his decision:
"I had one of the PPA guys come up to me five times saying, 'Hey let's get a deal done, let's get a deal done,' " veteran pickleball pro Kyle Yates told Yahoo Sports. "I'm like, hold on! I need something in writing. I need to send it to my agent. I need to make some calls. It was like we were almost getting bullied into it."
3) Loyalty, or Lack Thereof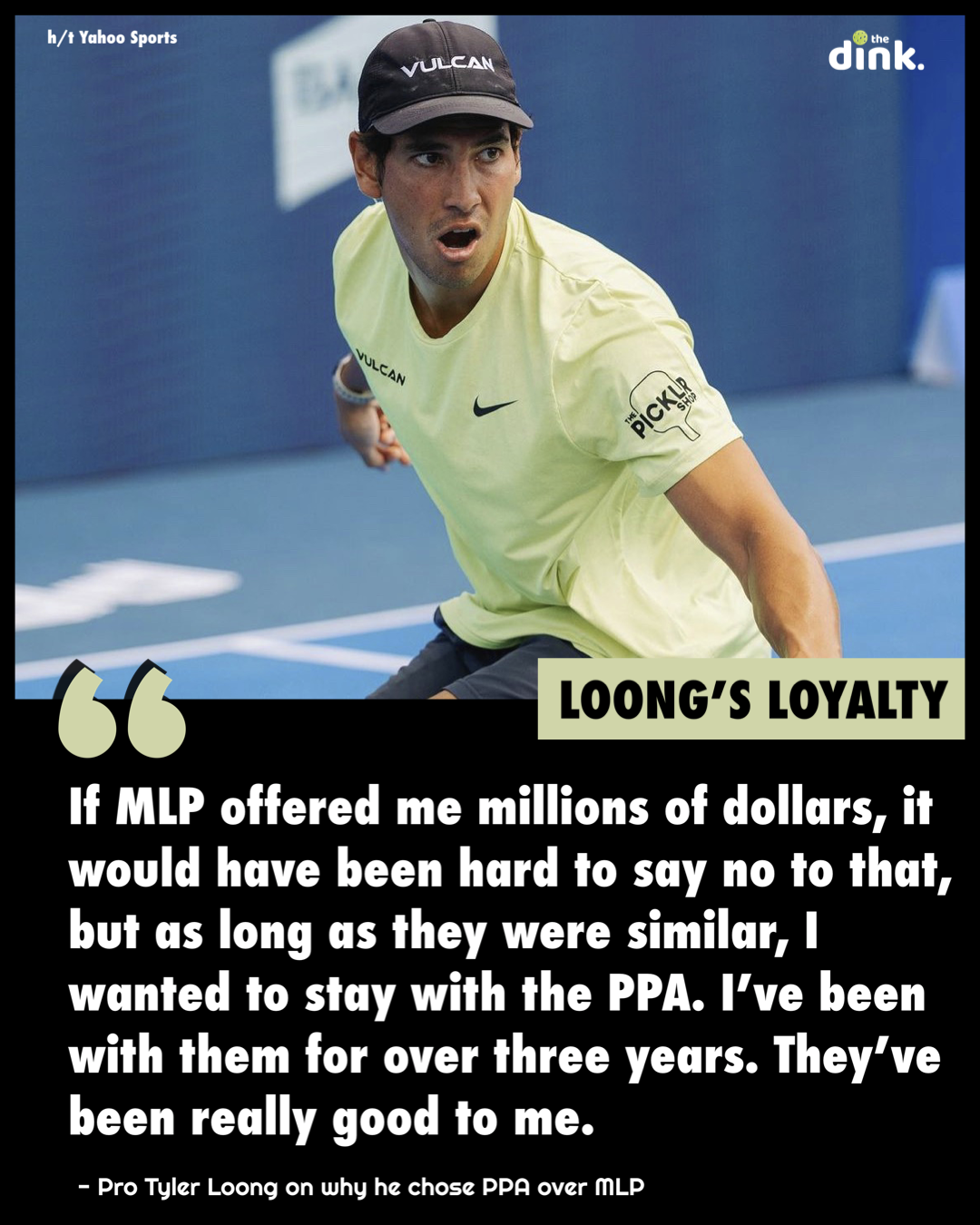 It's important to contrast the two perspectives here.
On the one hand you have players claiming they weren't paid on time, weren't paid at all, and in some cases, like Yates', weren't even acknowledged.
On the other hand you have players like Loong, Catherine Parenteau, Ben Johns and Anna Leigh Waters who claim that the PPA has always taken care of them and treated them well. 'PPA til they die'.
4) Willing to Negotiate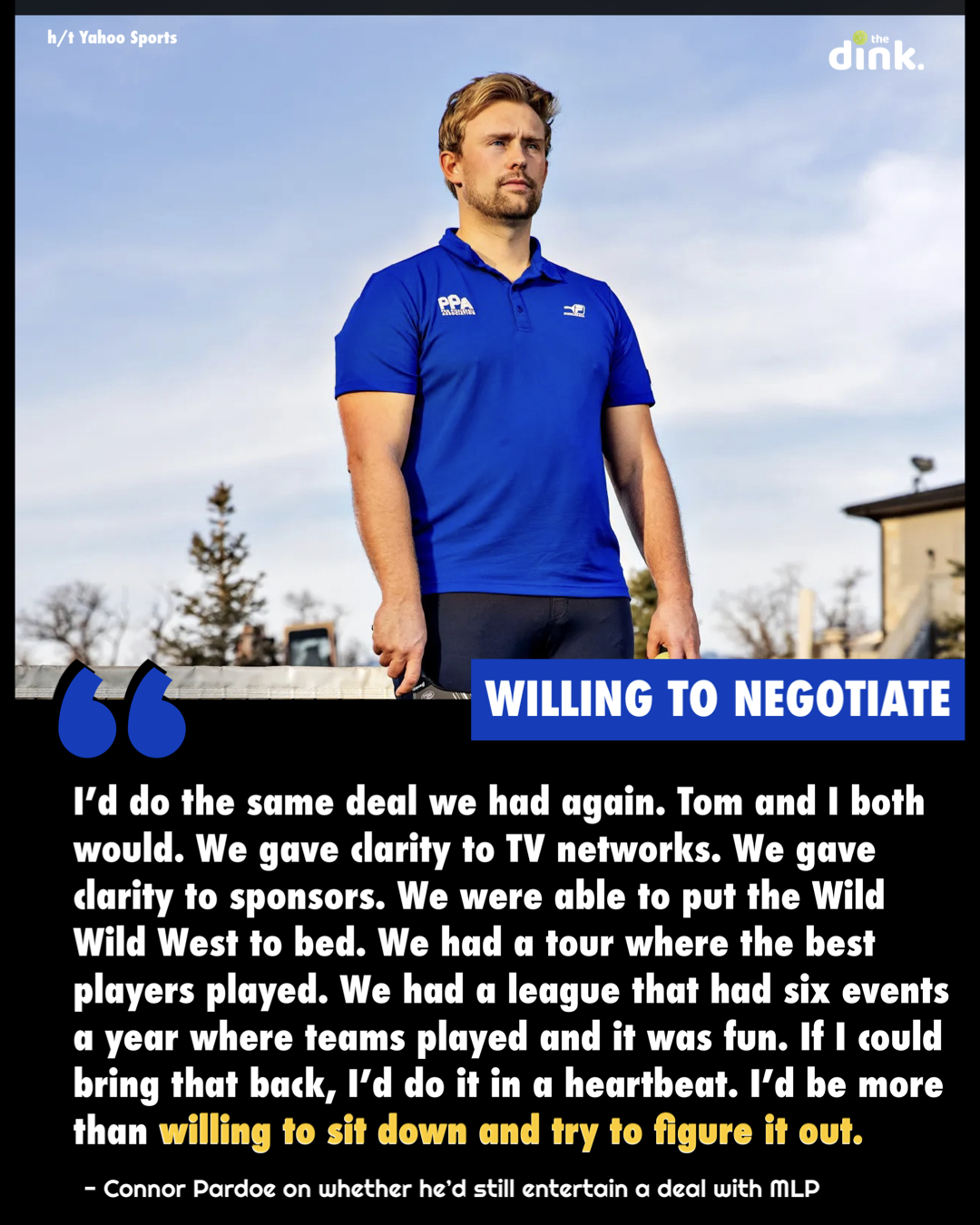 Despite everything, Pardoe remains willing to make a deal. And not to mention, he was willing to say this to a reporter publicly.
So one has to wonder, is this:
1) PR to create the appearance of 'the good guys'
2) A waving of the white flag. 'Ok guys, I'm ready to negotiate' (though it's not like he couldn't just call Kuhn...he wouldn't need this public forum)
3) Genuine. Simply saying the truth: he IS willing to make a deal
Who knows...
Could the two organizations every really work together. Is that even possible? Imagine the paranoia.
You can read the full piece here.
To stay on top of it all, subscribe to The Dink Newsletter and join 100s of thousands of other pickleballers who like to stay in the know and improve their games.