The Dink Contributor, Alex Neumann covers his new drill regiment and a local tournament.
Since getting back from my first few pro tournaments, I've changed everything about my pickleball blueprint. I found out pretty quickly in Atlanta that there were some clear things I needed to improve in order to reach pro doubles level, and knew I wasn't going to get there playing pickleball the same way I have been. My partner Matt and I did a complete overhaul of our training regimen – we cut out all rec games and casual play, and replaced it with individual drilling focused on doubles fundamentals.
The difference in our practice schedule and our level of play is night and day. Before this month, I'd only ever played pickleball casually – dropping by group play sessions to play with whoever showed up, or at the very best organizing higher level play and just playing practice games for hours. Because I was always playing games, I had internalized the strategies that helped me win points quickly in rec games. These instincts (hard drives, constant speed ups, rare dinking) are the exact opposite of what you need at the pro level, and I only improved to the extent I ever encountered better players that challenged my game style.

Matt and I now spend 1-2 hours before work doing nothing but drilling. We set up our temporary net on our Manhattan courts (painted as paddle tennis courts) and warm up dinks and drops, and then spend most of the session going through drills focused on dinks, 3rd shots, transition shots, resets, and quick hands. To keep things competitive, we make games out of drills so we stay locked in the entire time. Most days we also spend the last chunk focused on a specific shot one of us is working on (for me, my weak backhand drive volley and letting more "out" balls go at the kitchen line). I've probably hit 100x the reps in terms of dinks, volleys, and 3rd shots than I'm used to getting in one whole month of rec play.
After just a month of drilling, we've both seen crazy improvements in our game. By far the biggest shift is our shot selection and general instincts. Before this month, our mental reflexes were to drive most 3rd shots, instantly rush to the kitchen line, and speed up as soon as possible in dink rallies. Now, without thinking about it, I find myself hitting 3rd shot drops and taking my time to get to the kitchen. When I see an opponent prepare to hit hard, I start preparing to reset rather than load up to hit their drive back harder.
The new shots and better technique have come naturally with the change in strategy. We've both developed really consistent dinking techniques and are generating put aways with better dinks, not just hard-hitting power. We lose a lot fewer points on serve due to bad 3rd shots and make a ton more resets. And with so many reps, we're starting to master the nuances of higher level doubles – subtle adjustments that make all the difference in winning or losing a point at the kitchen at the pro level. For instance, Matt can anticipate when I'm about to hit a forehand speed up from the middle and starts getting ready to put the next ball away.
Of course, all this practice doesn't mean anything if it doesn't carry over into competition, and luckily we've noticed the same improvements in actual match play. After playing in our first tournament last month and getting gold, we entered another local 5.0 tournament at the Bethpage Tennis and Pickleball Center in New York. Some of the best teams from Connecticut, New Jersey, and New York made the drive and gave us the best doubles competition we've experienced together so far.
RAPIDLY IMPROVE YOUR GAME OR YOUR MONEY BACK WITH PICKLEBALL MASTER COURSE! GET 10% WITH CODE THE DINK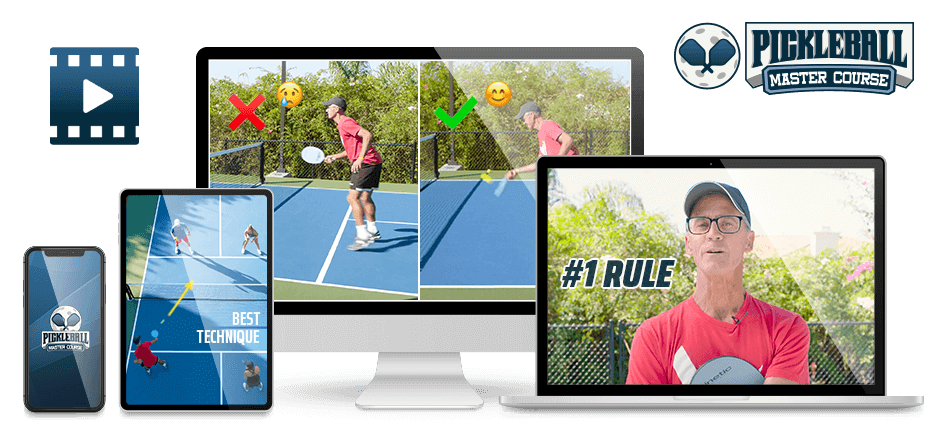 In a terrible turn of fate, Matt suffered a neck injury the night before the tournament and could barely move his neck or shoulder the entire day. We fought through a very deep field to get the bronze and as happy as he looks in the photo below, Matt could barely stand up after the last match. His injury forced us to rely on fundamental doubles strategy and play very patient pickleball. Despite all our recent drilling and strategy improvements, we both still play our best when we're playing aggressive pickleball and it was a great test for us to stay patient.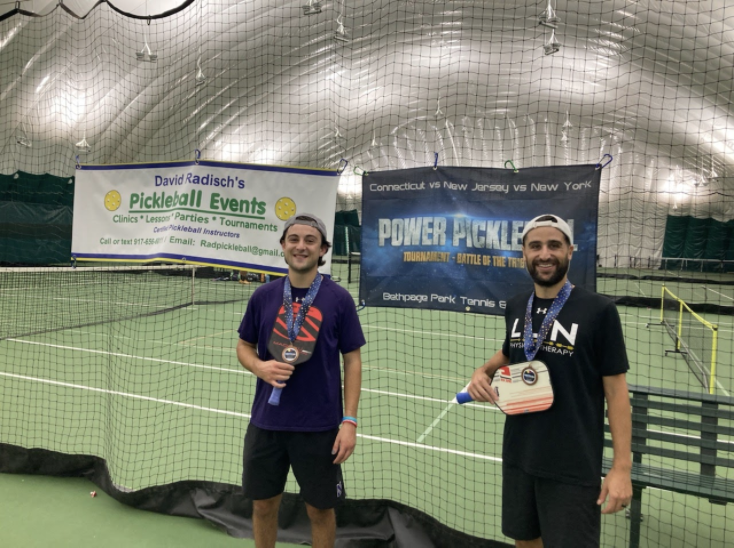 Matt hit beautiful 3rd shot drops all night without missing, played like a wall from the kitchen line, and reset almost every hard ball that came his way (an incredible fact considering 2 months ago neither of us could hit a drop). I took the middle more than usual and tried to speed things up first, relying on Matt's defense to bail me out and keeping the points short for his sake. It was awesome to see our new instincts kick in on the court and also know that my aggressive, tennis-based strengths like quick hands and speed ups can still be weapons in higher level doubles games. We were psyched to do well despite Matt's injury in such a crowded tournament and it was super validating to see our training pay off.
Up next, I'm headed to Miami, FL for a work trip through December and hoping to get in lots of training with all the great players there. My next tournament will be the APP's first "Next Gen" Tournament in Texas next month followed by the APP World Pickleball Open in Port St. Lucie, FL, Matt and I's first pro tournament together.
Message me on Instagram if you're in Florida and want to get some training in!