And just like that, we have our first official fine for on-court behavior in pro pickleball.
The precedent is set. You can't just get away with anything these days.
If you aren't up to speed, this video offers a good synopsis. If you're feeling particularly adventurous, check out the comments. Link to video on Twitter below as well.
Quick Summary
Match point, DJ Young & Jay Devilliers vs Federico Staksrud & Pablo Tellez, winner heads to Championship Sunday
DJ Young hits a ball long and the match ends
DJ spikes his paddle in frustration
It takes a wicked hop into the crowd
DJ retrieves paddle and apologizes to the crowd
DJ later issues apology via Instagram
Speaking of paddles, 10% off paddles and more at Fromuth Pickleball with code 10DINK.
Pickleball Community Split
Some fans and pros alike weigh in...
Pros and commentators Matt Manasse & Scott Golden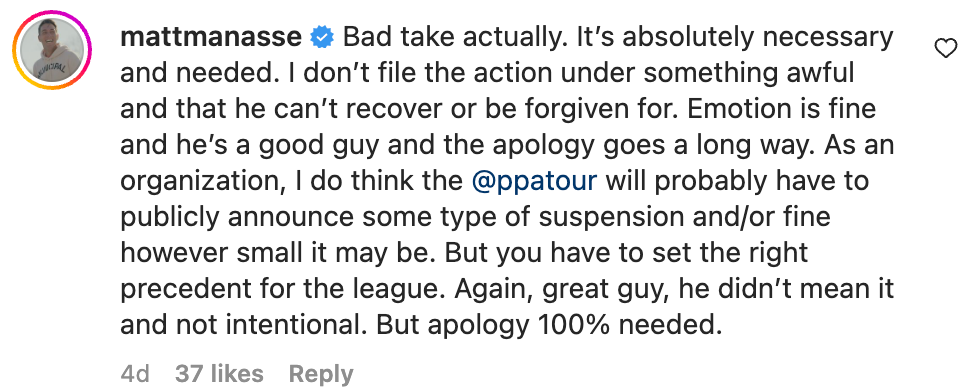 Fans offer their thoughts


PPA Tour Statement
The PPA Tour announced following the Vulcan Indoor National Championships that Darrian (DJ) Young had been fined for his errant paddle throw that bounced off the ground and ricocheted into seated fans courtside on Saturday, February 25th.
The event took place after the final point of the men's doubles semifinal between DJ Young/Jay Devilliers and Pablo Tellez/Federico Staksrud.
Young immediately checked on fans who were near the paddle's trajectory and gave the following statement after the event:
"I want to apologize to all the people who were affected by this. There are a lot of emotions going out there when you're playing pickleball professionally. There are no excuses, but I'll be better. Again, sorry to everyone."
No fans were injured during the incident.
A representative at the PPA Tour responded to the event saying:
"We understand that playing professional sports and caring about match outcomes brings a great deal of emotion and passion with it. While the PPA is supportive of the process of self-expression on-court, we cannot tolerate any behaviors that put the safety of others in danger."
DJ Young's full statement regarding the incident can be found here.
For the latest in the world of pickleball and tops to improve your game, subscribe to The Dink Newsletter.
If it doesn't make you laugh, we'll give you your money back. Oh wait, it's free...