Every recent US tennis legend plays Pickleball
Once upon a time, in 2018, a few legends met on the pickleball court and it went largely unnoticed in the picklesphere. Well, luckily we stumbled upon the video recently, and man, what we would have given to have been present for this…
Did you watch? If you did, you're probably having as much fomo as we are. Internet personality Gary Vee mixed it up with two US tennis legends in Andre Agassi and Andy Roddick. Beasts.
Oh, and turns out they were accompanied by a bunch of pros including Irina Tereschenko, Corrine Carr, Ryan Sherry, Ben Johns and more. Have you listened to our podcast, PicklePod?
We recently had Irina Terschenko on and asked her about the match to see if she'd provide the backstory. You can listen to that episode here. Fast forward to the 32-minute mark.
If you read our weekly newsletter (subscribe here), then you're probably remembering a number of other pieces we've written on US tennis pros getting after it on the pickleball court. Here's what we wrote back in July:
"Former pro tennis player Mardy Fish has issued an 'unofficial' singles pickleball challenge to world #1 Ben Johns. Will Ben accept? We can only hope…
Ben recently took on top tennis pro Sam Querrey and pickleball pro Wes Burrows in a doubles match alongside partner Randall Emmett. While Burrows and Querrey took the first game, Johns and Emmett were able to take the next two after a minor strategy adjustment (and by minor, we mean Ben took 85% of the court). But props to Randall, he held his own on that 15%! "
So where does that put us? Roddick, Agassi, Fish, AND Querrey either play or dabble in pickle. And we aren't done yet apparently, because it looks like John Isner was playing with golf pro Hank Haney not too long ago.
That's like, an US tennis dream team.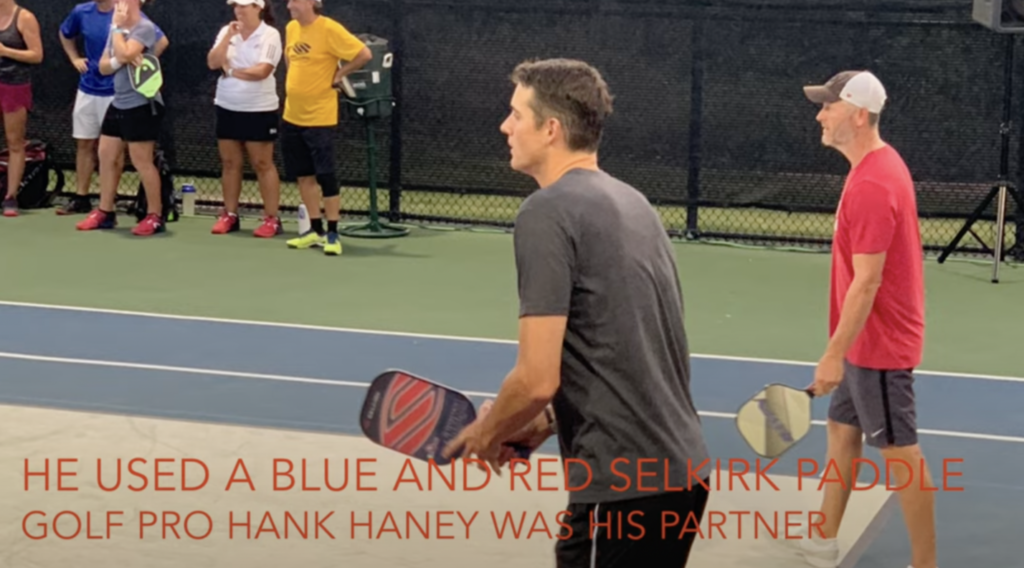 Did you enjoy reading A Legendary Match here at TheDinkPickleball.com? Be sure to follow The Dink on Instagram for up to the minute updates.