Welcome to my very first blog post with the Dink. Finally, some content worth subscribing for. Well, in my weekly blog post, I'm here to answer the hard hitting questions that nobody asked, starting with "Who are the players to watch in 2022?" Now, I'm here to talk about the players that you may not have heard of. I'm considering the following players to be 2021 breakout players, so I'm not going to include them here:
AJ Koller
JW Johnson
Dylan Frazier
Here's who I'm betting on for 2022:
Gabriel Tardio – Before I saw this kid play, I thought that I had the best power/weight ratio in pickleball. Gaberiel's two handed backhand is a bazooka, and the rest of his game isn't bad either.
According to pickleballtournaments.com, Gabriel started playing tournaments at 4.0 this year, and made his pro debut at the National Indoors in June, where he took third.
Gabriel had an impressive showing at APP Next Gen where he took 3rd in Men's Doubles and 3rd in Men's Singles with a nice win over Jack Foster. Gabriel is a beast, and look for him to keep improving quickly in 2022.
---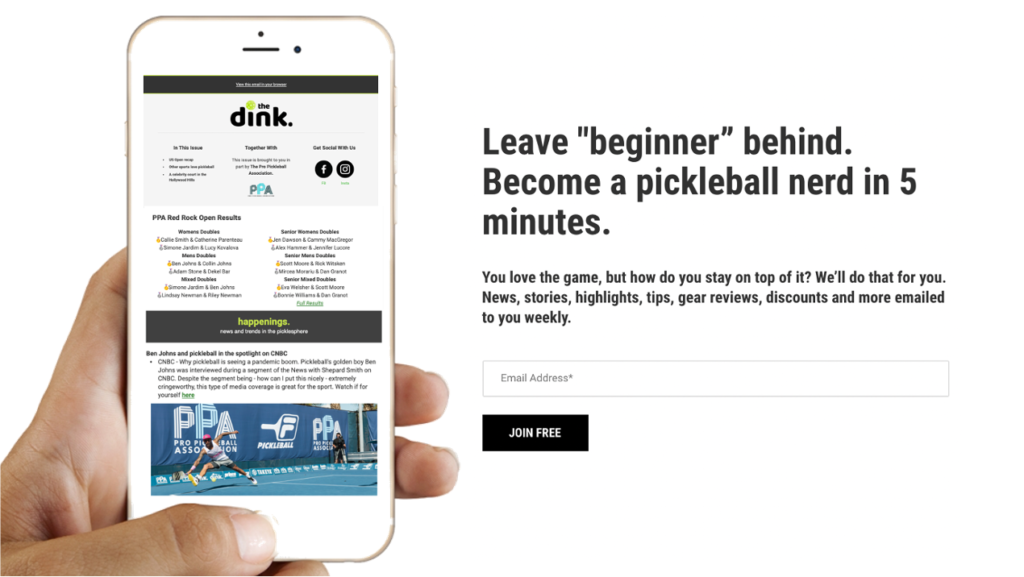 ---
Jack Foster – Jack is a grinder. We've played six times this year, and Jack keeps improving each time. Noticeably, he's put in work on his two handed backhand, his volleying, his cat and mouse game in singles, and, channeling his inner Jay Devilliers, his tweeners and behind the back shots.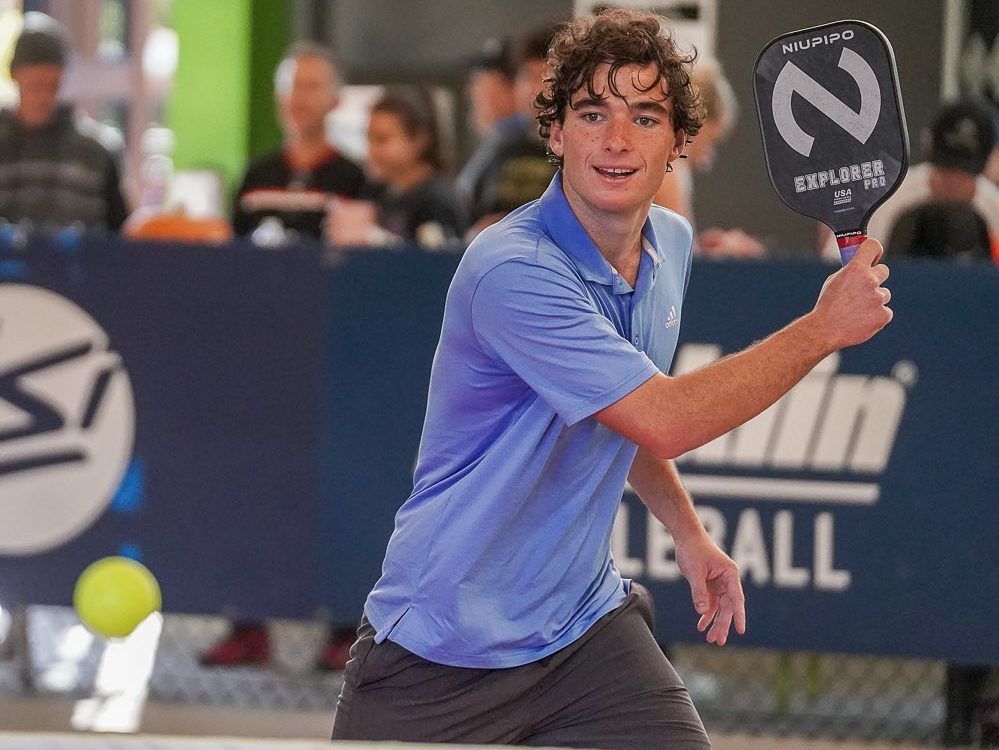 Many people may know of Jack's singles game, where he's had wins over Jay Devilliers, John Cincola, JW Johnson, Kyle Yates, AJ Koller, and Dylan Frazier, but I'm going to shout out his doubles game as well.
Jack has recently started entering into pro doubles events and is giving good teams some trouble. Watch out for him in singles and doubles next year.
---
John Cincola – I'm pretty high on John Cincola because he has a phenomenal hitting partner 😉 I get to see John's game first hand multiple times per week, and he's really improving his consistency. He's had great singles wins over Tyson McGuffin, Jay Devilliers, Jack Foster, and Dylan Frazier. He's also blown big leads against Ben Johns multiple times, but then again, who hasn't?
What I like about John's game is that he takes the paddle out of his opponents' hand. His offensive style means that his execution dictates the match. When his shots are falling, he's going to win the match. When they're not, he's going to lose. Recently, his shots have been falling more and more consistently. He's getting more consistent in doubles, and I'm excited to see how he pairs with Thomas Wilson in 2022.
---
Thomas Wilson – This guy is just sickeningly nice unless he's playing against Altaf Merchant, but nobody likes losing to 48 year olds with their shorts pulled up to their belly button. Thomas has been around the game for a bit, but with the recent influx of high level players to Austin (he lives ~45 minutes away), I'm expecting him to keep building on his natural talent and have a breakout 2022.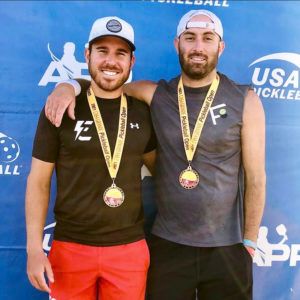 Thomas is another triple threat player. He's quick, scrappy, and plays very intelligently for somebody that hasn't played a whole lot of elite pickleball. In my experience, Thomas sees the court very well, meaning that he can pinpoint when opponents are off balance or committing to a certain shot.
Not too many people talk about court vision, but it's one of the most important skillsets in pickleball. Boom: Another reason to subscribe, follow me on Instagram, and follow me on Facebook. Wow, that was shameless.
---
Julian Arnold – So, I really just wanted to shout out Julian so I could say this: In his first match in his first-ever tournament, Julian beat Dink founder Thomas Shields in mixed. Suck it Thomas.
Julian didn't play many tournaments this year, but he's got the tools. He's quick, he's got good strokes, and he's a competitor, and his "Vamos" can be heard from miles away. Julian played tennis at UCLA, and while it's no UW-Whitewater, I'd say it's a decent program. It might take some time for Julian to land some higher level partners because players schedule themselves out so far in advance, but I'm thinking his results will show up in the second half of 2022.
---
GUARANTEED TO RAPIDLY IMPROVE YOUR PICKLEBALL GAME OR YOUR MONEY BACK! GET 10% OFF WITH CODE THEDINK

---
Andrei Daescu – I'm putting my money where my mouth is with this one, as I'm playing with Andrei in several events next year. Andrei played serious tennis at Oklahoma (Again, its no UW-Whitewater, but I'd say its a solid program) Andrei is not a newcomer to pickleball. In fact, he took Bronze at Nationals in 2019, however, he didn't play much in 2020, and only a bit in 2022. The fact that Andrei has managed to stay near the top of the game without much play is encouraging. He's routinely strolled into tournaments looking…rough in the first couple of matches, but finishing the day looking like a stud. Andrei is playing full schedule next year and he has a talented and good looking partner 😉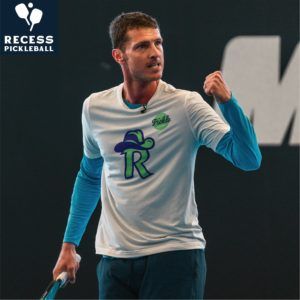 ---
Ille Van Engelen – Who? Yeah, Ille is my long shot pick here. Ille is a former Ohio State tennis player, and he just picked up paddles for the first time in 2021. He's like 6'4, fit, quick hands, athletic, etc. I'll quit before it sounds like I have a man crush on the guy.
Ille has played six tournaments to date with partner Tim Mullane (Another ex D1 tennis player fro Arizona), and his career highlights would include almost winning a game off of me and Altaf and body bagging me in rec play. Ille has the skillset to be an elite pro, but he also has twin boys on the way. If Ille dives in, he will be a force, but I think we've all heard that story before.
Next week we will reveal the Women's Players to Watch in 2022. Who do you think is on the list?
If you enjoyed reading Zane Explains: Men's Players to Watch in 2022, then sign up for the dink newsletter and get the best pickleball content delivered stratight to your inbox.