We are days away from Major League Pickleball 2023 Season 2 Draft in NYC. The hype train is chugging!
On the men's side, I listed out five players who had played MLP in 2023, but didn't end up on a roster at the end of Season 1 (See all of MLP Draft predictions here).
However, on the women's side, that isn't as big of a deal. There were four women dropped from MLP Season 1 due to injury, childbirth, and/or poor play.
Three of those players didn't apply for Season 2 and the 4th is mentioned below.
Without further adieu, here is my list of women's players who didn't play Season 1, who could be on the radar for Season 2. T
These women are in one of four categories:
THE LOCK
Very Interesting
Intriguing
Long Shots
THE LOCK
Parris Todd
Age: 25 Doubles DUPR: 5.92 Singles DUPR: 6.03
I would be SHOCKED if Parris wasn't picked by Round 3 of the Premier Level draft on Wednesday. Coming into this pickleball year, Parris tried to get a pay day from multiple tours and ended up not signing with MLP in Season 1, and lost out on signing with the PPA. So she has been playing mostly in the APP - and winning everything. She played in the PPA a couple times, with Riley as her mixed partner. Parris is tied for the 5th best female doubles player and is the 4th best singles player, according to DUPR. Now, going from the APP to MLP Premier Level is going to be somewhat of a shock. The question is this: Is Parris a top 5 female, or is she more of a top 15 female? Or somewhere in between? Hopefully MLP Season 2 will shed some light on this.
Very Interesting
Monica Paolicelli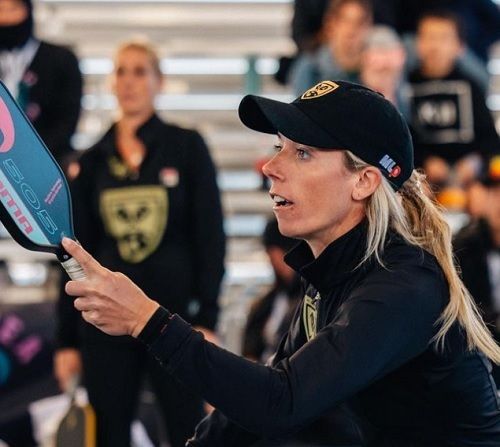 Age: 32 Doubles DUPR: 5.75 Singles DUPR: 5.2
Paolicelli was drafted to the DC Pickleball Club for Mesa. They were at a disadvantage the entire Season 1 with Querrey being picked number 1 overall. Yes, Querrey is getting better, but he is still not a dominant guy in mixed and unfortunately, Monica was let go after Mesa. She won one game with Shelby Bates, but lost both games she played with Sam. Monica is a former D1 soccer player with no tennis background and a big plus is, she is a lefty! She played a bunch of APP tournaments with Alix Truong, but hasn't played much in the last six months. Hopefully she is healthy and ready to get back at it. If so, I think she definitely gets a look in Challenger.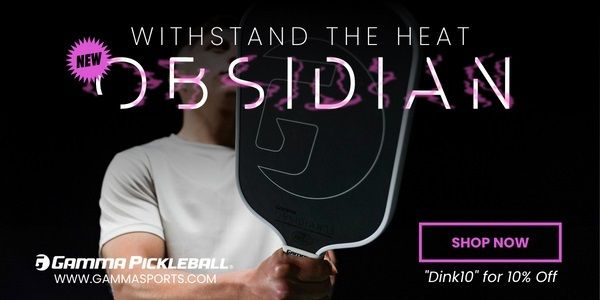 Rachel Rohrabacher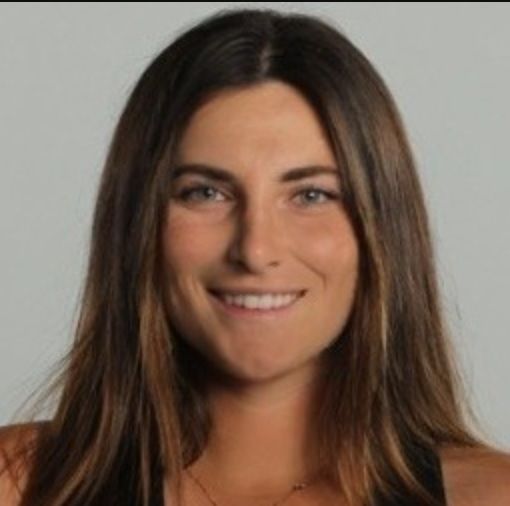 Age: 25 Doubles DUPR: 5.74 Singles DUPR: N/A
Rohrabacher played D1 college tennis at the University of South Carolina. She was on the second doubles team her senior year when they won their NCAA Super Regional and made it all the way to the NCAA Championships. Since then, she has obviously picked up pickleball. She doesn't have many singles matches, which could hurt in a dreambreaker. But she's done well in the APP in women's doubles and has had mixed results in mixed (pun intended). The biggest question mark is that Rachel has also been a grad student at USF in Social Work. If she is committed to full time pickle, the Challenger Level GMs need to give her a look this upcoming season.
Intriguing
Claudia Stepien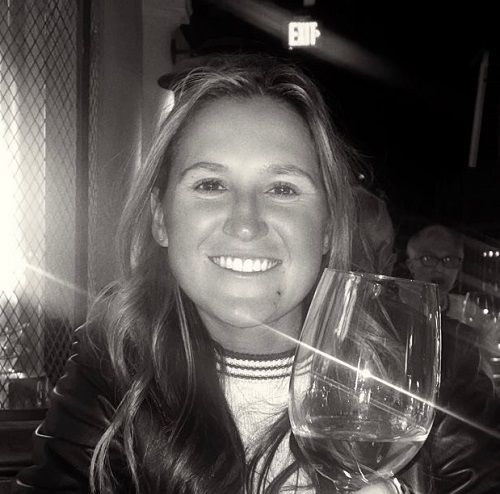 Age: 23 Doubles DUPR: 5.60 Singles DUPR: 5.20
I had to do a lot of research on Claudia when I saw her name in the applicant list. She is listed as the 38th ranked woman in the pool, according to doubles DUPR. It looks like she played tennis at a community college and then committed to Portland State for 2019, but I couldn't find her playing there. Since then, she has taken up pickleball.
Her DUPR is largely from playing some PPA 4.5-5.0 matches in late 2022 and then playing in a local MiLP So Cal DUPR 20 league. If a GM knows the So Cal pickleball scene and has seen her play, she could be a bright up and comer if she meets their criteria for a second woman in the Challenger Level. BTW - I think this is how the "up and comers" will be found as pickleball continues to grow. Major League Pickleball forming the MiLP was a big step to start some regional pro level leagues for more exposure to better games and viewership.
Barbora Vykydalova
Age: 34 Doubles DUPR: 5.6 Singles DUPR: N/A
The Czechian played college tennis at University of North Texas and is now a tennis pro and certified personal trainer in the Dallas area. Her singles DUPR is nearly non existent, but she just started playing singles in PPA tournaments to try to get that going.
She has played in some points draws and some open draws in the past few months, mostly in PPA tournaments. She hasn't done particularly well in mixed or women's doubles, but has had some good matches that show improvement and potential. Her best win in 2023 came in the back draw of the Onix Austin Showdown against Lacy Schneeman and Rafa Hewitt. Figuring out if Vykydalova has what it takes to be consistent enough on the MLP stage is what GMs are looking at.
Audrey Banada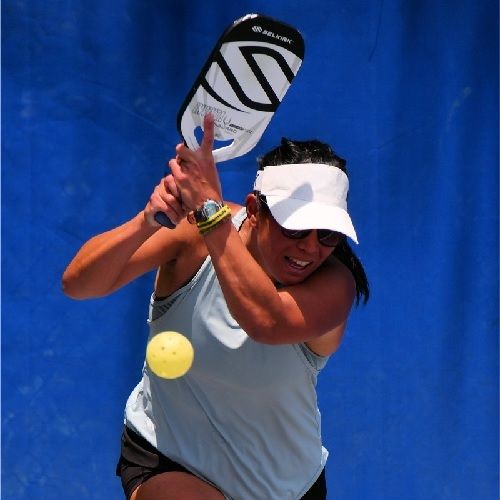 Age: 38 Doubles DUPR: 5.57 Singles DUPR: 5.38
Banada was a four year letter winner in women's tennis at the University of Miami. She does a ton of coaching in the Baltimore/DC area and all of her social handles are under pickleballmama. Looks like she is another fringe player on the PPA tour, along with Barbora. She has had some mixed results in points draw brackets and qualifiers in both women's and mixed. A GM is going to need to know her game and pair her with the right people if they are going to draft Banada into the Challenger Level.
Allison Harris
Age: 30 Doubles DUPR: 5.59 Singles DUPR: N/A
Harris and Andre Mick recently made a Silver run at the APP Newport Beach Open. Besides that, I cannot find a lot of info on her. Harris has not played a pro level singles match that I can find… EVER. So she may be a liability in singles, who knows? Most of her matches have been played at the 5.0 level, but she did play some pro PPA events with little success. The Silver at Newport Beach could bring some recency bias into the heads of some MLP GM's.
Salome Devidze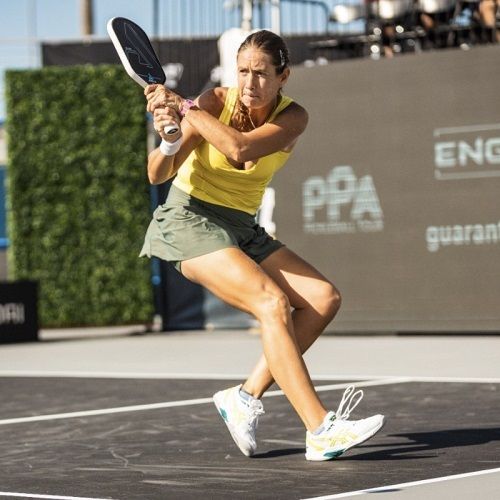 Age: 37 Doubles DUPR: 5.34 Singles DUPR: 5.86
Salome has been a pickleball staple for years. She is the 9th rated singles player in the world, according to DUPR. Salome has a very fiery attitude and has a history for making…questionable line calls. If someone wants to draft her they need to support her with the right personality and reel in her energy to keep it more positive. She is a very solid right sided women's player who can hold up in mixed and is very good at singles.
Long Shots
Glauka Carvajal Lane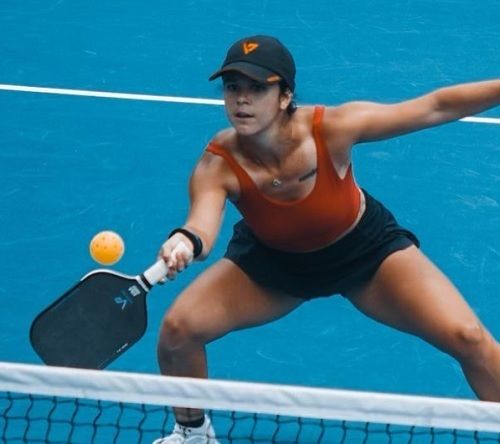 Age: 24 Doubles DUPR: 5.22 Singles DUPR: 5.27
Glauka is making some waves in recent months. She has been playing with Judit Castillo and training a lot. The Spaniard played NAIA college tennis at Reinhardt and was their number 1. Her senior year got cut short due to COVID. It seems like she is all in on pickle now and although her DUPR is low, she seems like a very promising up and comer.
Dominique Schaefer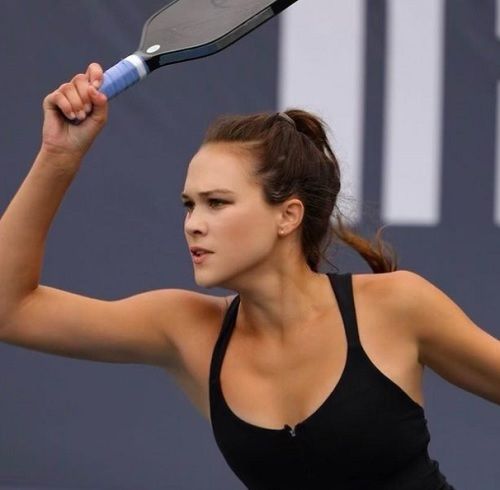 Age: 24 Doubles DUPR: 5.17 Singles DUPR: 5.53
I wanted to give you a very long shot who is ranked outside the top 100, according to doubles DUPR score. Dominique fits the bill and then some. The 22nd ranked singles woman in the world seems to be taking pickleball VERY seriously. The Peruvian has played women's doubles recently with Hurricane and done well. In mixed doubles, she hasn't had any top level partners so we don't really know how consistent she can be. If she is playing and training nearly as much as Hurricane, she may be on her way to MLP sooner rather than later.
Listen: PicklePod Ep 58 - A Foolproof Strategy to Beat the World's #1s
That is a list of ten women to keep an eye on in Wednesday's draft, who didn't play in 2023 MLP Season 1.
Like I said in the article about the men's newcomers, the GMs in the Challenger Draft have a hard job, as there are so many fringe players out there. Do you go with upside, consistency, a combo? We shall see Wednesday!