Hello again pickleball fans, it's the traveling picklers reporting back to you with an exciting update: we have just played the first ever pickleball game (both singles and doubles) on this amazing island nation! Well, this can't be fully confirmed, but we are fairly confident that we have just held the first pickle session in Iceland. And we are happy to report back that the sport that we have all come to love was a great success amongst Iceland's first picklers! Before we explain to you how the introductory clinic went, we wanted to showcase the path to the first pickleball game.
Documenting The Journey
The beginning of our time in Iceland was kickstarted with quite an experience of some type 2 fun (i.e. not very enjoyable in the moment, but looking back on it, a comedic experience) that is likely common amongst travelers. We had some slight issues communicating with our taxi driver about the location of our Airbnb - he was convinced that the location we were showing him was on Aðalstræti street when in reality, it was actually on Auðarstræti street. How could he mix up the two?!
As a result, he dropped us off a mile away from our apartment and quickly zoomed off, leaving us stranded in downtown Reykjavik with all of our personal luggage and two massive 50lb bags full of pickleball gear (all of our paddles, nets, balls, etc.). Unable to navigate the bus system very effectively, we began the trek uphill, navigating in between lots of locals and visitors on the streets that were likely very confused as to what in the world these foreign boys were doing. Below is a picture of us taking one of many needed breaks during this 40 minute adventure finding our way home.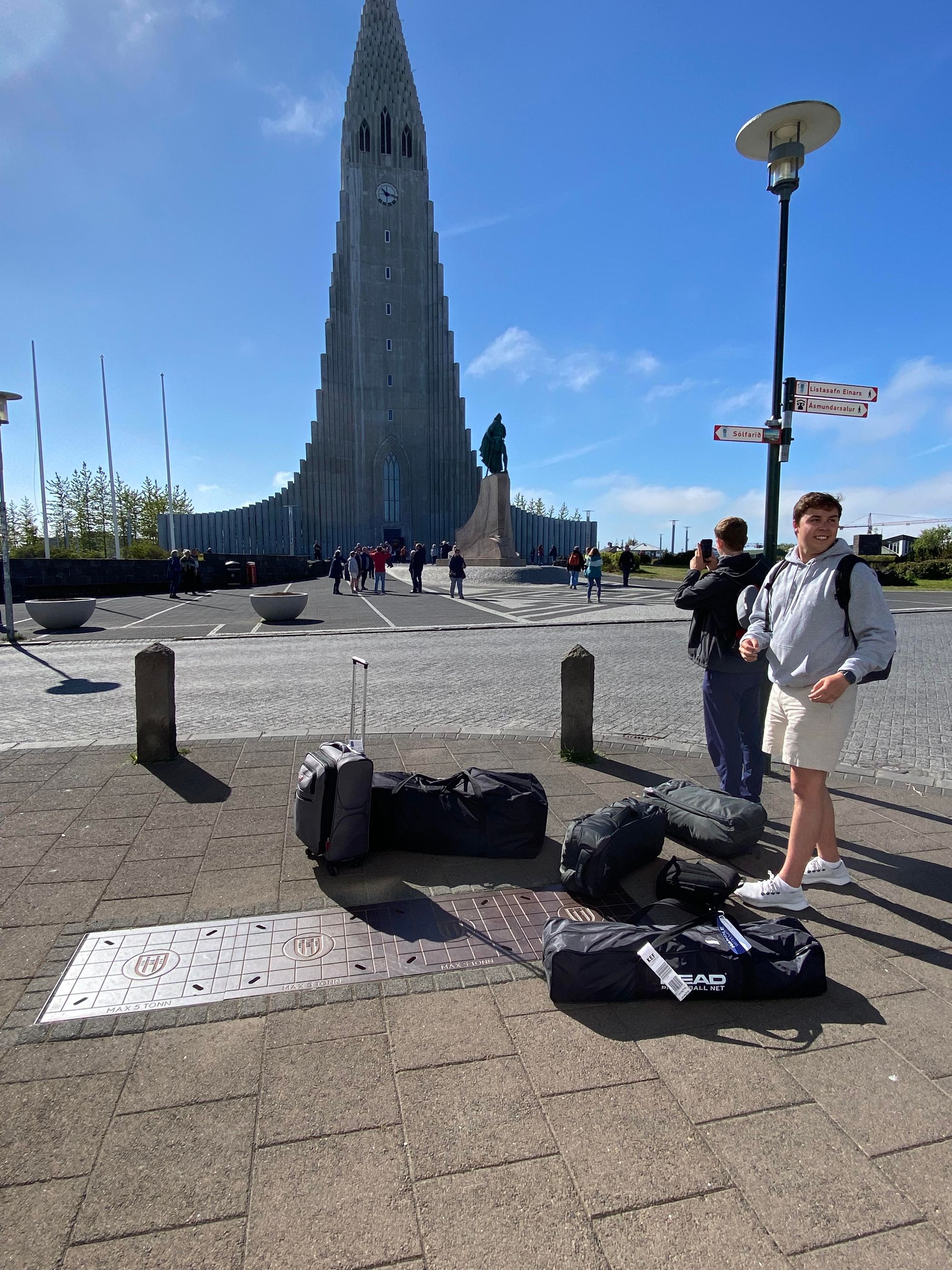 After finally making it to our apartment, we spent the day settling into our new home for the next two weeks and getting our bearings of Reykjavik. By going on runs and walks around town (which is very beautiful!) over the course of the first two days, we were able to scope out various public parks where we would be able to put down some lines on a flat surface to begin playing pickleball. We also reached out to the various contacts that we had interacted with back in the States, hoping to lock down some clinic sessions and plan next steps.  
Trusting In Serendipity
When all four of our team members had made it into town, we decided to go to one of the public parks we had found near our house, Klambratún, hoping to simply put down some lines of tape on the basketball court for future play. After setting up the court and net, however, we were itching to play and decided to begin the first ever game of doubles in Iceland (again, we're pretty confident that it was the first 😅). After playing a couple of points, we noticed something quite interesting.
Much to our surprise, a group of individuals seemed to have their curiosity piqued and was gathering to watch us play this game that they had never seen or heard of before. The basketball court is also located next to an outdoor gym and frisbee golf course and we noticed folks that were partaking in those activities (or those simply going for a walk in the park) would often stop to inquisitively watch us play. They all seemed genuinely interested by the new sport!
Almost simultaneously, we all looked at each other and knew that we should host an impromptu pickleball clinic for the spectators that were interested. It felt almost like a movie scene to be honest, and within 5 minutes, we had gathered a group of 12 teens and adults to teach them how to play pickle! The hour-long session was wonderful, with groups rotating in to learn the rules of the game, how scoring works, and ultimately, get some practice in and hone their skills.
After the culmination of this serendipitous clinic, we were very pleased to hear that everyone had a great time learning the game and they certainly would want to play again very soon. We initially thought that maybe they were simply being polite, but after a couple of hours, we received a direct message on our Instagram account @travelingpicklers from one of the student's youth groups asking us to host a clinic for the entire youth group. They truly had enjoyed the sport!
Check out our most recent Instagram post here to see some pictures and videos of how the clinic went.
There's Pickleball in Iceland's Forecast
Apart from the first clinic that we just hosted, we have also been engaging with various locals around town (i.e. at the public heated thermal pools, which are perfect to relax the joints after a tough pickleball session 😀). They have all been very interested in what we are doing here, want to learn more about pickleball, and are excited to see what comes from this project. Additionally, we will soon be hosting clinics with local tennis, badminton, and table tennis clubs to introduce the sport within the racquet-sport playing demographic. Oh, and we'll be hosting clinics for the youth clubs of course - they are the first picklers in the country after all!  
With the positive feedback that we have gotten and planned events coming up, we are not only excited for the future of this sport in Iceland, but also the growth of pickleball all over the world. That's it for now, but stay tuned for some exciting updates on the traveling picklers journey - happy pickling to you all!
-Traveling Picklers
Follow the journey on Instagram @travelingpicklers