Yesterday was exhausting but fruitful. I refreshed the FanDuel site maybe 500 times throughout the day. You can see those results here.
Today should be a little easier to follow. It's mixed doubles day so there is only one bracket. I'm willing to refresh FanDuel another 500 times if I can get a line on Ben Johns and Anna Leigh Waters.
To start the day there are two matches available to bet on. They're both a coin flip in my eyes.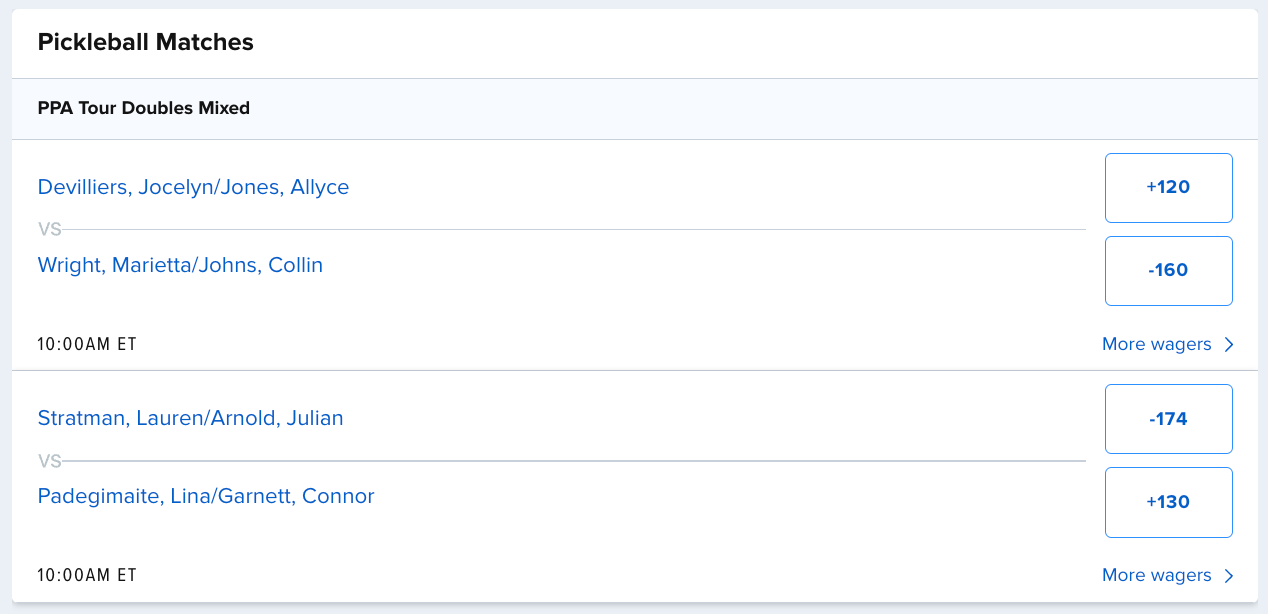 The point spread on each match is also 3.5. Taking the underdog with the points lowers your odds to -114 for Jay and Allyce and -106 for Connor and Lina.
Unfortunately, yesterday's breakfast parlay was voided by an AJ Koller withdrawal so let's make up for it with a parlay today. Give me the underdogs with the points and hope both matches go three games.

This bumps the odds up to a respectable +264.
While we wait for matches to start find yourself a new paddle and shoes and save 10% with code 10DINK here.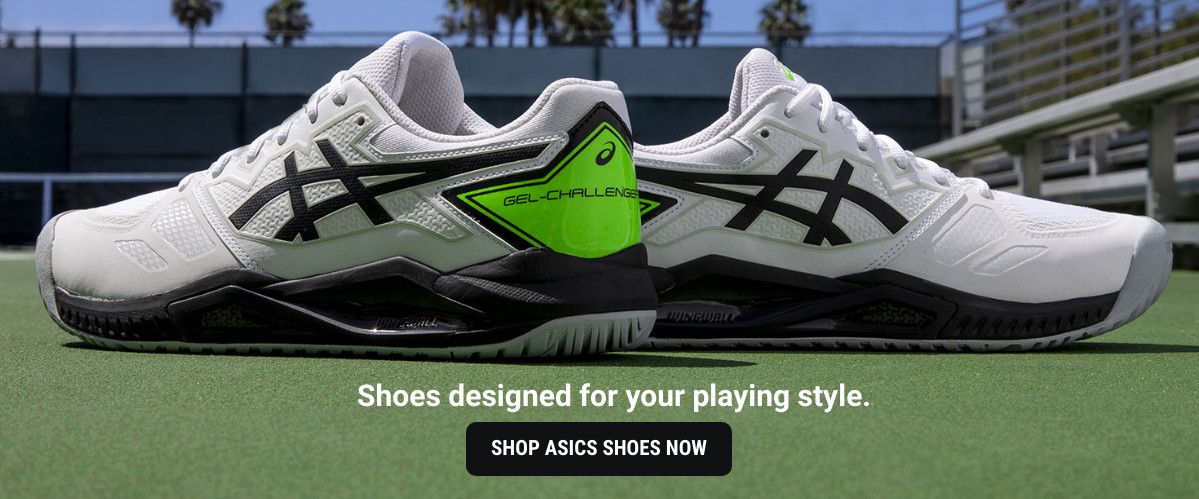 UPDATE:
Well, that was a flop. I was way too low on Arnold Stratman. They totally controlled the match from the jump making it impossible for Padegimaite and Garnett to get comfortable. Flush that one down the drain.
The next round of bets are live. I was late to the Koller/Scheemann vs Koop/Alshon match and had to catch a live line. Koller/Scheeman were down 4-1 in game one and I took them +148.

Matt and Lucy were briefly available pre-match. I put 3 units on them to cover the -5.5 spread against Collin Shick/Brooke Buckner.

UPDATE:
It's been a rough start to the morning. Friendly reminder to gamble responsibly. Matt and Lucy went down early but came back strong in game 1.
I am still sweating out this Koller/Schneemann vs Koop/Alshon match. We're in game three tied 4-4.
In the meantime, Dylan Frazier and Callie Smith popped up at a -3.5 line against Jay and Allyce. I'm hoping to see Frazier show his stuff in this match and take over. Taking him and Callie against the spread.

UPDATE:
Yikes. Matt and Lucy will probably go on to win their match but there is no way they cover. They lost game two 1-11! Ouch.
Ultimately it is inconsequential for them. They still advance. But a loss like that destroys the spread. It may be one of the rare instances where the winning team actually loses in point differential.
AJ and Lacy squeezed out the win to help steer us back in the right direction. There is still a lot of ground to make up.
I was shocked to see the Johnsons, JW and Jorja at -108 against Arnold and Stratman. Maybe I am underestimating them again but I took the Johnsons big and hope to get back on top.

UPDATE:
Shout out to the Johnsons for saving my day. A BIG bet on them got me into black again. Frazier and Smith were the cherry on top. They closed out an extremely close game three.
There was a brief pre-match window to get money on McGuffin/Parenteau vs Black/Hewett. I rushed into two bets on them. I took them -4.5 then took them again on the money line.


Riley Newman and Jessie Irvine had  -125 odds going into the match vs the Johnsons. I grabbed a piece of that and am excited to watch that one.

UPDATE:
Tyra and Rafa pull off the big upset against McGuffin and CP. That one hurts because it felt like McGuffin and CP had it closed out in game two. Hewett and Black staved off a couple of game points then took over in game three. Good for them bad for my bank account.
Riley and Jessie softened the blow a little bit. That match also changed dramatically in game two. The final on that was 11-2, 7-11, 11-9.
FanDuel is still not letting you touch the Ben Johns/ALW combo, even headed into the quarterfinal match.  
UPDATE:
I wasn't able to get a bet in on Bright/Iggy vs Staksrud/Jansen. I will try to find a live line but this match has been locked down.
Hewett/Black are taking on Vivienne David/Thomas Wilson in the next round. They looked great earlier so I am riding with them again.

UPDATE:
Live betting opened up during game three and I got in on Bright/Iggy. I also bought in on the over 51.5.


I definitely get the appeal of the O/U after this match. The match was hovering right around 49 total points late in game three. Staks/Jansen got one point to reach 50.
The game score was 10-6, not very close, but I was on the edge of my seat. I needed one more point from Staks/Jansen for a sure winner.
Unfortunately, they gave the ball back and it was all over. 51 total points, 1 point away from a win, SMH.
UPDATE:
Alright, rocky day overall. Hewett/Black burned me again and dropped the match to Wilson/David.
One more match to bet on today. That's Wilson/David against Newman/Irvine. Going to lay the favorites in this one to close the day.

GAMBLING PROBLEM? Call 1-800-270-7117