Alright, folks, pickleball betting is here. Did it arrive with the big splash that we anticipated? No. The rest of the pickleball world was caught up in the Tour Wars which overshadowed the debut of pickleball betting last month.
But we won't let that rain on our parade. We're here to lose money to the game of pickleball. We don't need another paddle. And new shoes will have to wait. It's time to gamble responsibly on America's fastest-growing sport.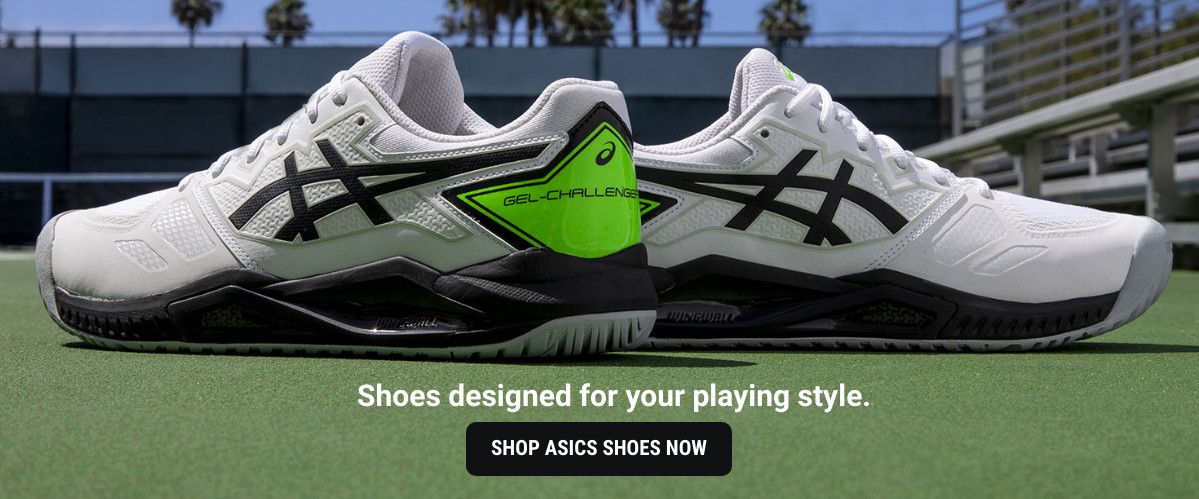 It's time to upgrade your shoes. Save 10% at fromuthpickleball.com with code 10DINK.
Last month in Kansas City, the first match where bets could be placed was Tyler Loong vs Rafa Hewett in singles. Hewett upset Loong in two games in that one. Somehow, Loong is in the first match available again this week.
Side note - It is a little annoying that the bracket does not come out further in advance and the pre-match betting window is extremely time-constrained.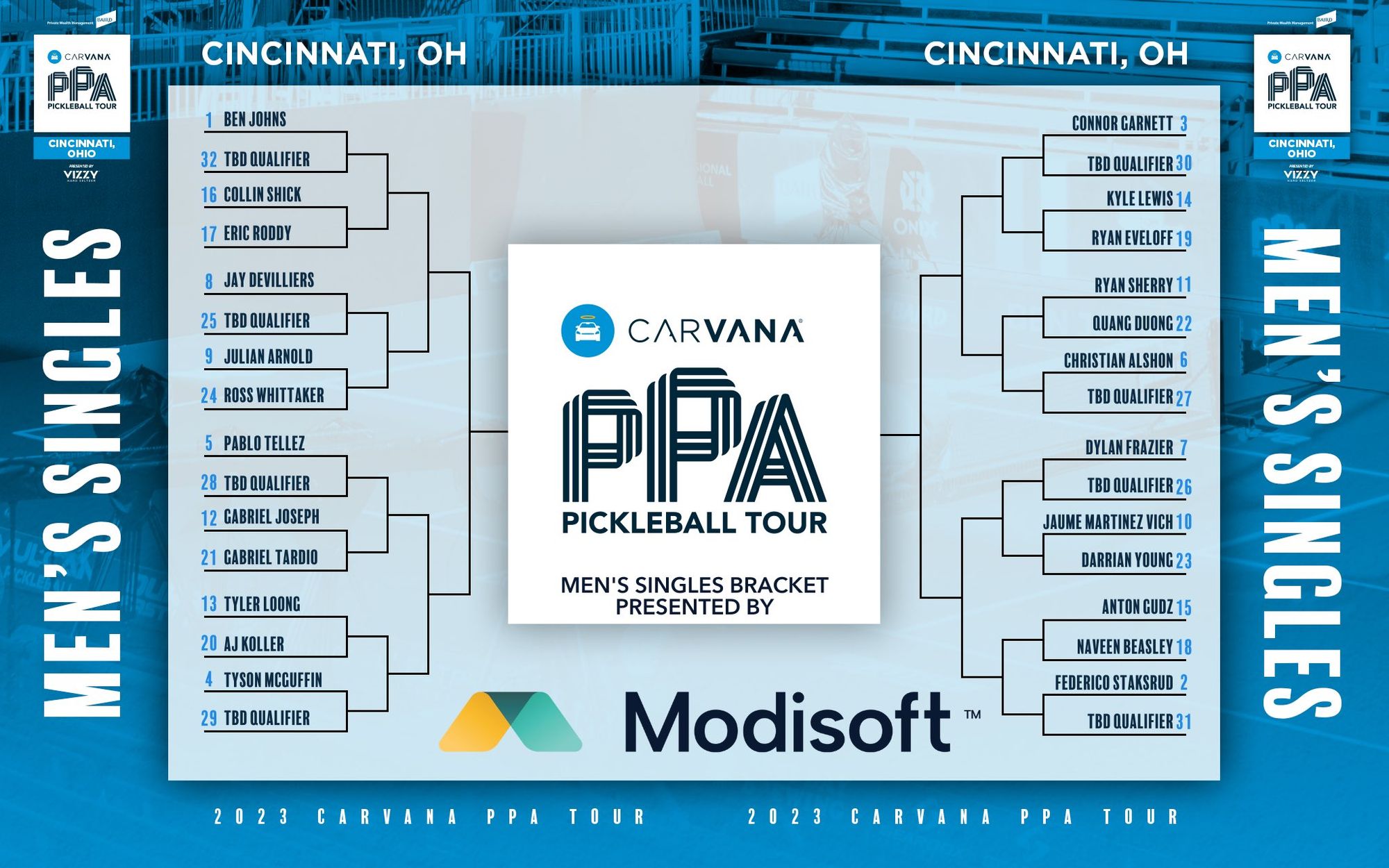 The PPA Tour is in Cincinnati this week and Loong is taking on AJ Koller this time around. I have to imagine Loong is hurting from the first-round KO in KC and will not drop this one. He is favored at -210 so not much value there.
Instead of taking him straight up, let's start the day with a yogurt parfait and a breakfast parlay.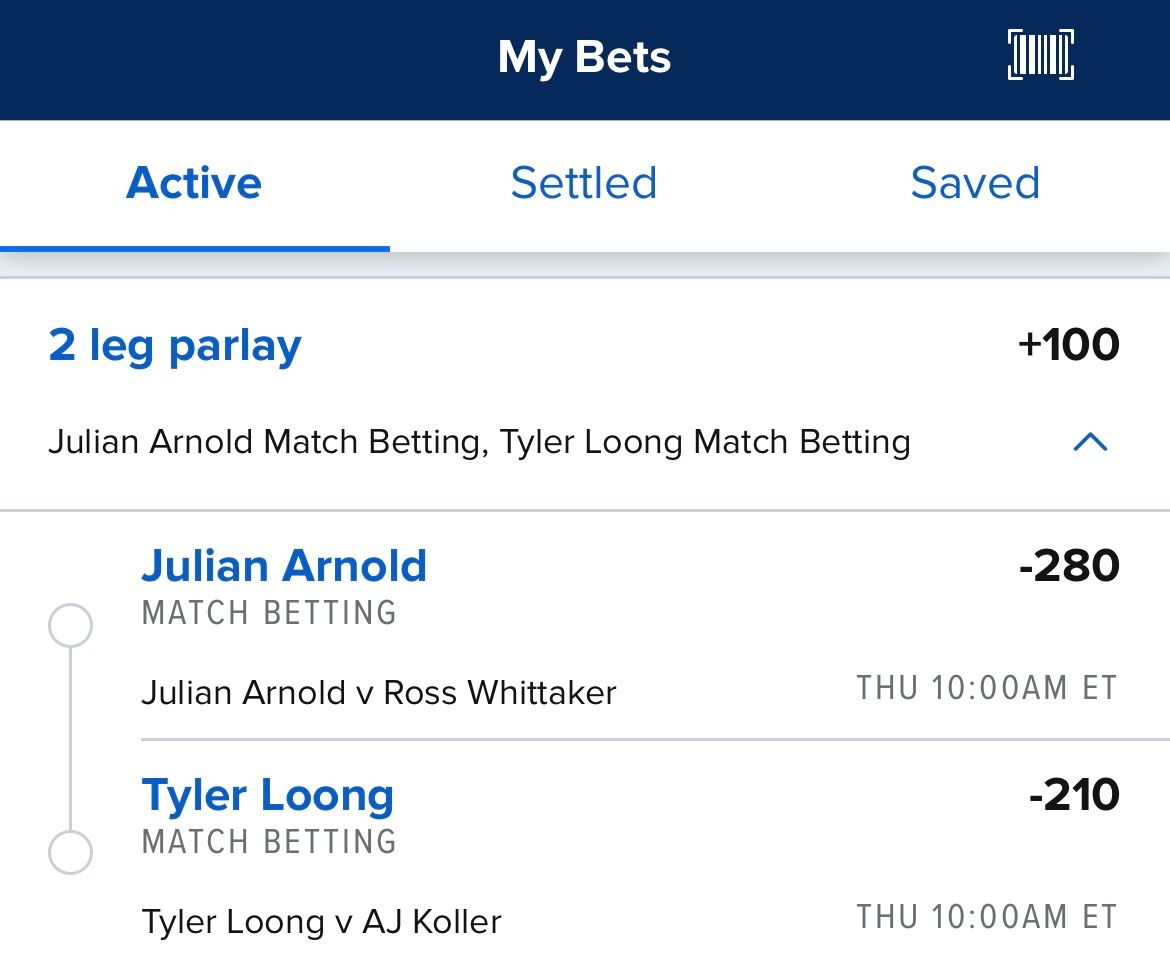 I'm adding Julian Arnold at -280 over the quickly improving Ross Whittaker. There is something about Whittaker's recent success and those odds that has me questioning the decision but now is not the time for second-guessing.  
Curiosity got the better of me and I went back to the book. I'm taking the under to put a little more confidence behind Mr. Andiamo, Julian Arnold.

Print the tickets. Staple them to the wall. We are starting the day on top.
Follow along for more bets. ALL WEEKEND LOONG.

UPDATE:
AJ Koller withdrew from singles. That voids half of the parlay and turns it into a single bet. A little anticlimactic but I also bet the under in the Julian Arnold match so we still have a combo going.  
UPDATE:
Pickleball betting is easy. Cash it. Arnold wins 11-7, 11-1.
Next up on the docket, Tyson McGuffin vs Tyler Loong
The line is bouncing around on this one pre-match. I nearly locked in McGuffin at -230 but had to settle for -250. The line then shot up as high at -480. It appears to be settling in closer to -300.


While this one shakes out I also managed to grab the GOAT Ben Johns at -186 against Collin Shick! Sure Shick gave Ben a run in Daytona but Ben is about as close to a sure thing as you can get in pickleball. I added Ben to cover the spread -4.5.


The line on Frazier vs Martinez was a bit surprising. Frazier getting no respect these days in singles. That being said, I still locked in Martinez Vich at -225. Martinez Vich won the APP Chicago Open over the weekend and is quickly rising up the singles ranks.

UPDATE:
Ben won. Ben covered. Car, car, house, lock of the day.
I have been leaning to a little hard on the favorites but things will bet more interesting as we enter the quarterfinals.
Tyson McGuffin is a heavy favorite (-650) against Marshall Brown. I skipped the moneyline and took the under -36.5. This will depend on Tyson closing it out in two games which seems like the obvious choice.

I am actively refreshing FanDuel to try to get in on the Staksrud vs Martinez Vich match but no luck thus far.
The same goes for the Duong vs Garnett matchup. It would be worth throwing a couple of units on Duong who has been on fire this morning.
UPDATE:
I was able to get in on Martinez Vich +172. Had to see how life feels as an underdog. If he gets up big I may sprinkle some on Fed for the comeback, just need to see some positive odds on the slip.

Tyson won big against Brown 11-6, 11-1. He easily cleared the under -30.5 ✅ and would have crushed the -8.5. I regret not biting on that one.
UPDATE:
All of the sudden FanDuel is acting like they've never heard of pickleball. No bets to be had on the site. Martinez Vich is still alive up 10-6 in game 2 and looking to force a third.
The right play in that match is obvious now. It had the highest O/U of the day at 39.5. I was leaning that direction but did not pull the trigger. Chalk that up as an L.
It would have been nice to get in on the Johns vs Arnold quarterfinal. Johns went down 4-0 to start the match and would have been prime for a live bet in his favor.
UPDATE:
Staksrud closed out Martinez Vich in game 3. Let's count this one as a double L. Should have skipped the money line bet and hammered the O/U. The final score was 11-7, 6-11, 11-5 or a total of 51.
The sportsbook is back from lunch and new lines are on the board. The women's draw has started and is available for betting.

I have not heard of Victoria Helmuth so I hope she's not the breakout player of the day. I'm taking the Rohrabacher minus the point and half. It will be incredibly rare that a player wins and doesn't cover a one-point spread so the money line doesn't make sense here.
The other match coming online features Ekaterina Biakina who upset Mary Brascia. Biakina is listed as the underdog again but is facing Ava Ignatowich who advanced because of an Anna Bright withdraw.
This looks like a value play that you can hop on immediately.

UPDATE:
Currently grinding out a couple of women's matches, the one above and Catherine Parenteau pushing the limit of the under -38.5 against Taylor Garcia. Things were looking dim for both bets but we are still alive.
CP won 12-10 in game one. Ouch. But got back on course in game two and is up 9-3. If she can keep Garcia under 7 points we will be just fine.
Meanwhile, the infamous Johns vs McGuffin matchup went live. Johns - 174 seems too good to be true, but the smart play is probably to hit the spread again. Take Johns -3.5 if you still have time.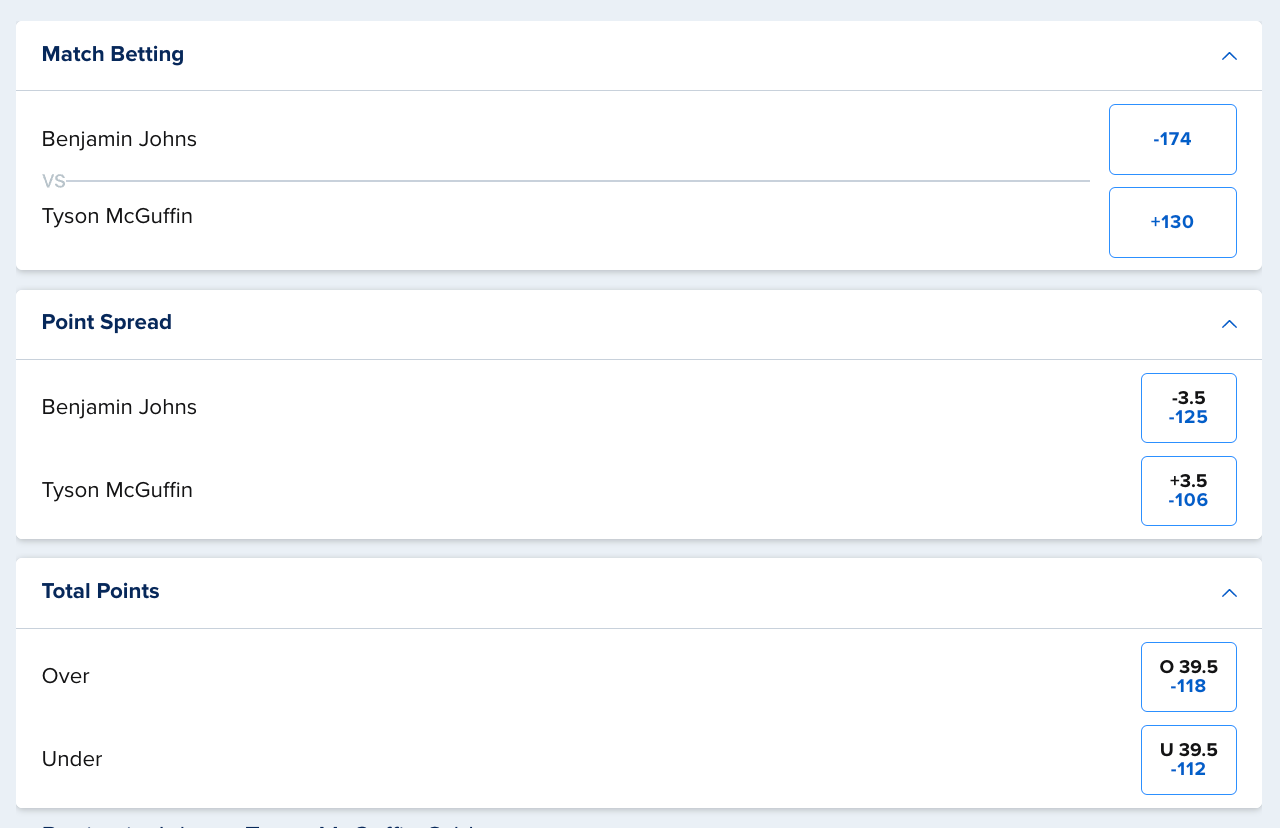 UPDATE:
Ava Ignatowich held strong in her quarterfinal matchup. That's another L on the record books. CP delivered in game two and protected the under.
Ben Johns is rolling in the semifinal against Tyson. More big bets are coming on Ben if the lines look like that.
Staksrud vs Garnett is about even pre-match. I went against Staks early so we are riding with team Argentina in the second semifinal. Either way, this one should be fun to watch.
UPDATE:
Cash in another winner. Staks comes through in the semifinal against Connor Garnett.
The next wager is the women's semifinal Parenteau vs Rohrabacher. CP was lights out in game two of her quarterfinal match. I am taking her minus the 5.5.

There are no odds posted for Anna Leigh Waters matches. I would have dumped all of today's winnings on that semifinal matchup but that was not an option.
Can't wait to see what those odds looks like. ALW probably gives up 3-4 points per game as a career average. That means a reasonable spread for her match could be 15+.
UPDATE:
CP had me worried. Real worried. She dropped game one to Rohrabacher 8-11. But the 2 seed rallied back in big way in games two and three she closed the match and covered the spread 8-11, 11-3, 11-3.
Overall a great start to the weekend. The chalky men's draw allowed for big bets on decent odds. Started the day with 10 units and ended with 30. Let's see if we can keep it rolling tomorrow.
GAMBLING PROBLEM? Call 1-800-270-7117