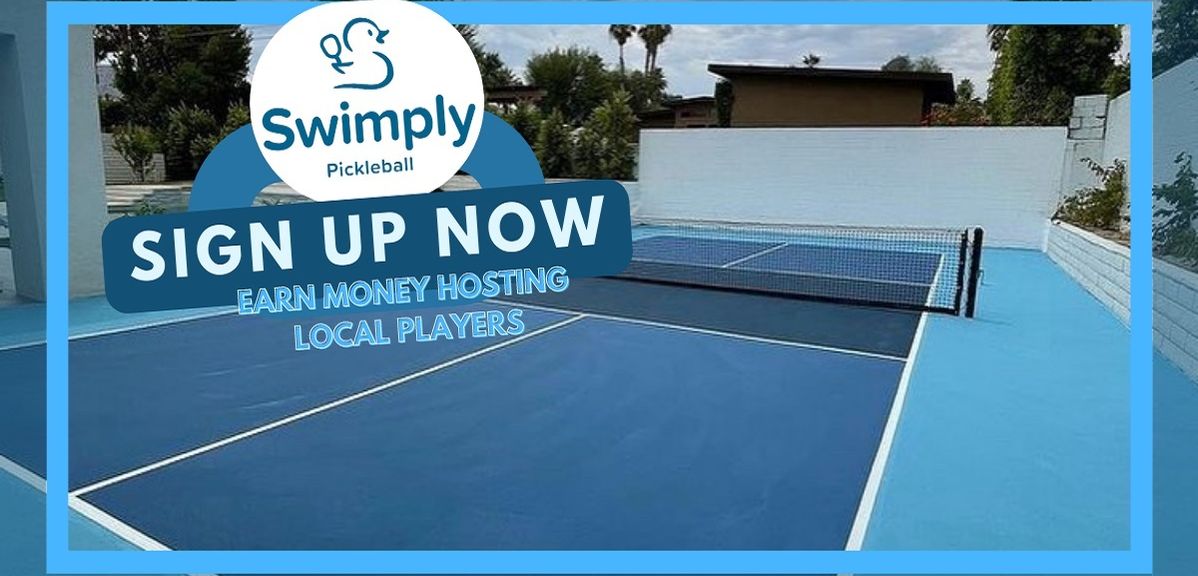 The Dink Pickleball just hopped into Swimply's pool. The result? An ingenious and fun solution to pickleball players' biggest nightmare: the scarcity of available, accessible courts.
First, a shout-out to Swimply. Already known as the "Airbnb of swimming pools," the platform has stepped up its game. Now, they're turning your neighbor's backyard into your new favorite pickleball court.
No more "where's the court?"
Fed up of endlessly hunting for open courts? With Swimply adding pickleball courts to their portfolio, your court hunt ends right at your neighbor's fence.
For those homeowners who've been sitting on a gold mine (read: pickleball court) without knowing it, here's your lottery ticket.
Pair up with Swimply, list your courts, and watch as the pickleball fanatics flood in. Not only do you get to join in the fun, but you also get to turn those dinking rallies into extra cash. Double win!
Community building, one backhand at a time
The Dink Pickleball and Swimply are about to turn your neighborhood pickleball court into the hottest social hub in town.
It's all about connection, camaraderie, and a shared passion for the world's fastest-growing sport. What better way to make new friends than with a friendly game of pickleball (and maybe a little trash talking)?
Read Next: How to Make a Pickleball Court | Makeshift Court Guide
Don't think we forgot about you, instructors. Your lessons just got a serious upgrade. With more courts at your disposal, your student roster is about to get bigger, and your impact even greater.
In a nutshell, The Dink Pickleball and Swimply are about to take your pickleball experience to the next level. Brace yourselves, because the future of pickleball is looking bright - and it's right in your own backyard.
Learn more about Swimply and learn how to list your home court here.
---
If you want to stay up to date with all things pickleball, receive free tips to up your game, and be the coolest person in your picklesquad, you've got to subscribe to our newsletter.