Selkirk is one of the most ubiquitous brands in all of pickleball. Players are accustomed to seeing their trademark 'S' on paddles and apparel at all levels.
Selkirk Labs has also been expanding into different aspects of the game. The latest endeavor is the shoe market.
Court Shoes
If you've played pickleball for a while you know that court shoes are serious business. Frequent players replace their shoes multiple times a year.
One question that you see all over the forums is "Are pickleball shoes the same as tennis shoes?" In short, yes. Court shoes are designed to withstand the gritty tennis court surface.
Most players purchase and use tennis shoes as their pickleball court shoes. Now they will have the option for shoes designed specifically for pickleball.
Selkirk Labs S01 and S02
Selkirk Labs has released their S01 Pro Court Shoe and S02 Premium Court shoe models and we got the chance to take them for a spin.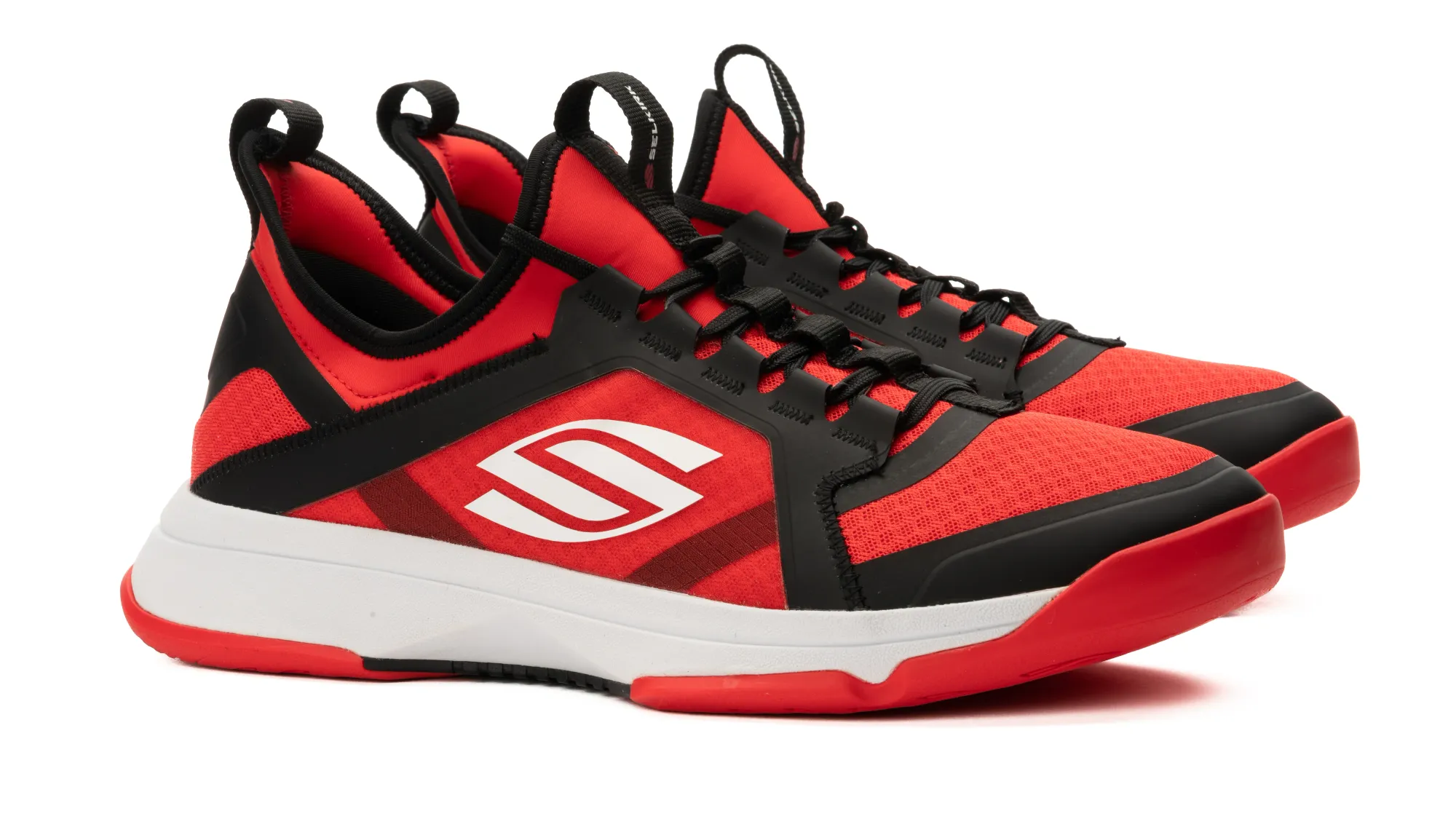 S01 Pro Court Shoe
These shoes are bold. Selkirk came out of the gate swinging with a firetruck red shoe as their first choice.

As a man of more subdued color choices, I was a bit weary when I saw the initial photos.
There's a common belief in sports that white shoes make you look faster. Just ask any dad still rocking their New Balance's.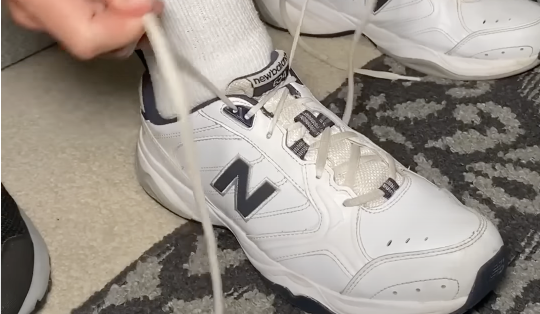 If white shoes make you look fast, red shoes make you look and feel even faster. It's no wonder why Sonic rocked his iconic red kicks.
You slip these on and you'll find yourself flying around the court.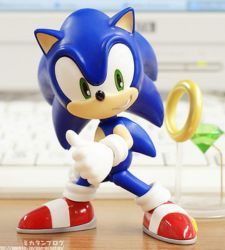 Feel
The S01's feel great on your feet. The neoprene opening is easy to slide into. It provides a sleek look that you don't see in most shoes.
The heel support is great on this design and you can feel the unique contours on the insole. They are shaped to cradle your foot.
This design wasn't a perfect fit for my foot shape but once you lace them and get moving you can hardly notice.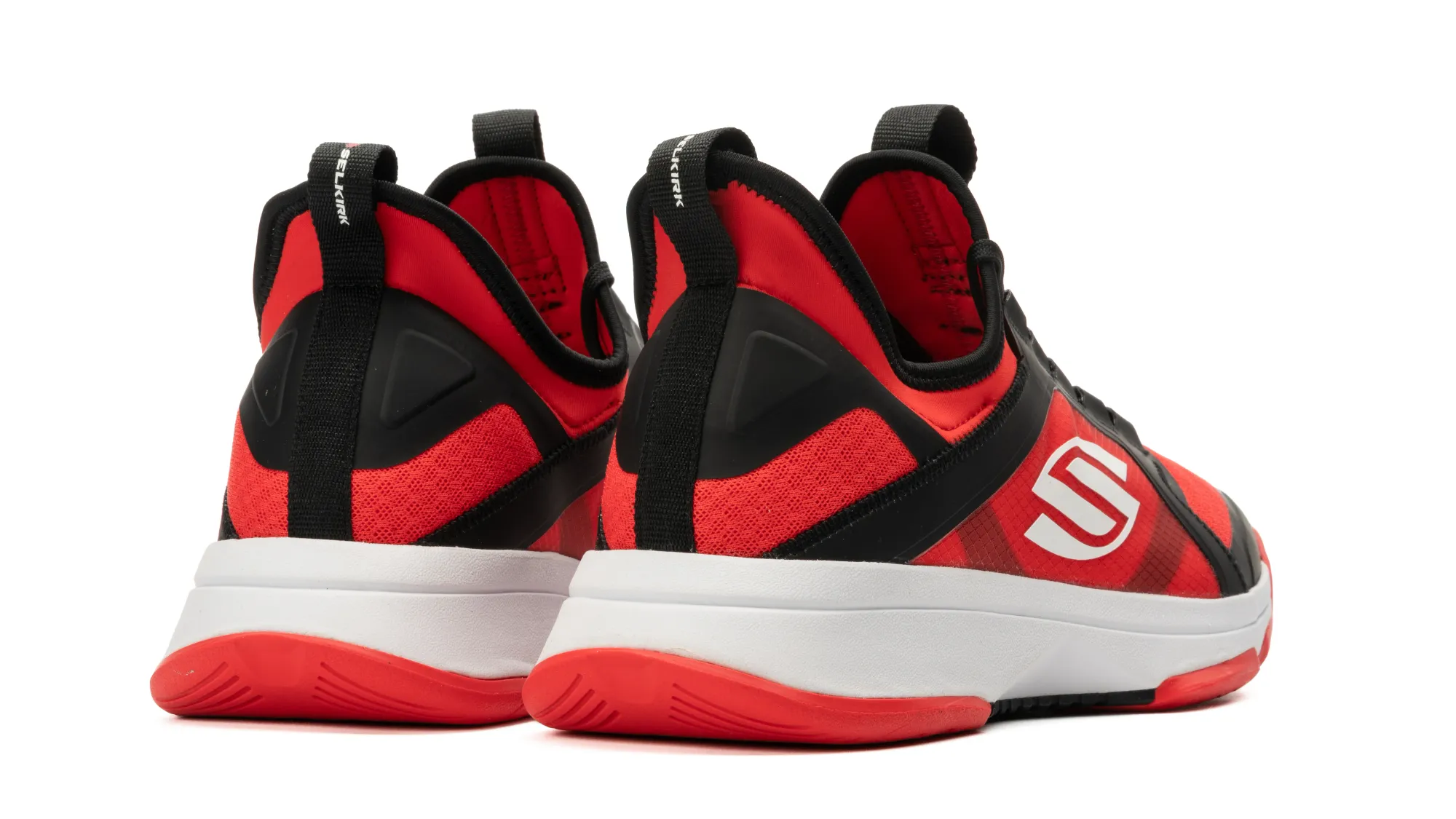 Performance
Although the neoprene foot opening looks great, it does take away slightly from performance. The S01's are flexible but I do feel my foot slightly moving within the shoe and hard-to-reach balls. The structure of the S02 (see below) provided more stability.
The elevated heel keeps you on the ball of your foot and ready for movement. The red color has the placebo effect of making you feel fast and these shoes will help you cover the court with ease.
The sole of the shoe is well structured. It provides a wide base for lateral movement. Side-to-side movement is no concern with these shoes.
I would gladly wear these shoes game after game and benefit from the flashy red feel.
Related: Complete the look with a Selkirk Regal Backpack
S02 Premium Court Shoe
The S02 shoe comes in at a slightly lower price point than the S01 ($144 vs $166). It has a slightly different build and is made from different materials.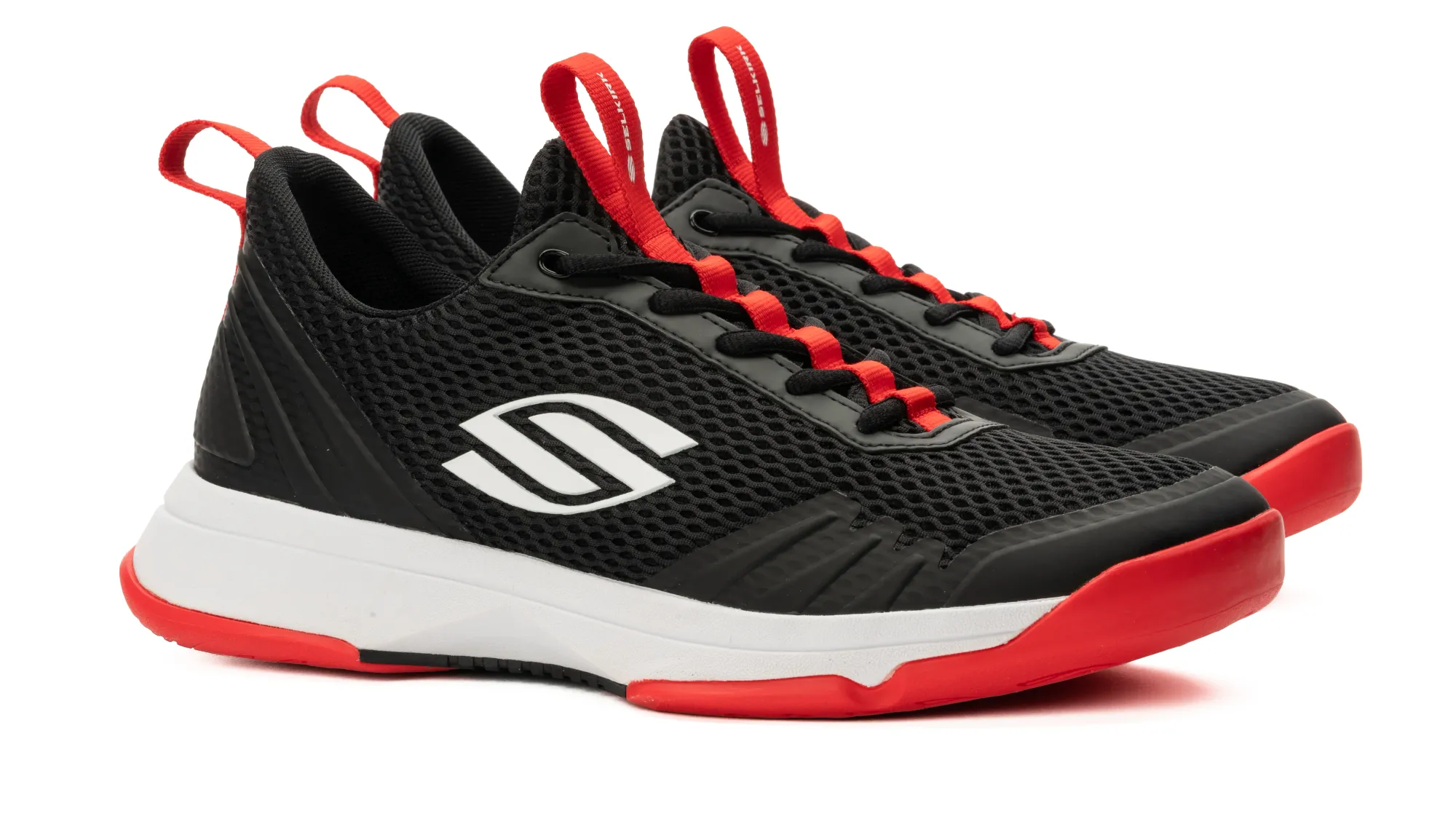 The S02's have a more firm structure than the S01's. They weigh slightly more as well (avg. 14.3oz vs 12.95oz).
I actually prefer the more firm structure and these shoes have become my go-to shoe. The black color does not provide the same placebo effect as the red color of the S01's but these are more than capable of handling on-court movement.
Feel
These shoes feel great when stepping inside. You can feel the contoured design of the insole and appreciate the thought that went into the design.
The structure locks your foot in place but the perforated material is still breathable.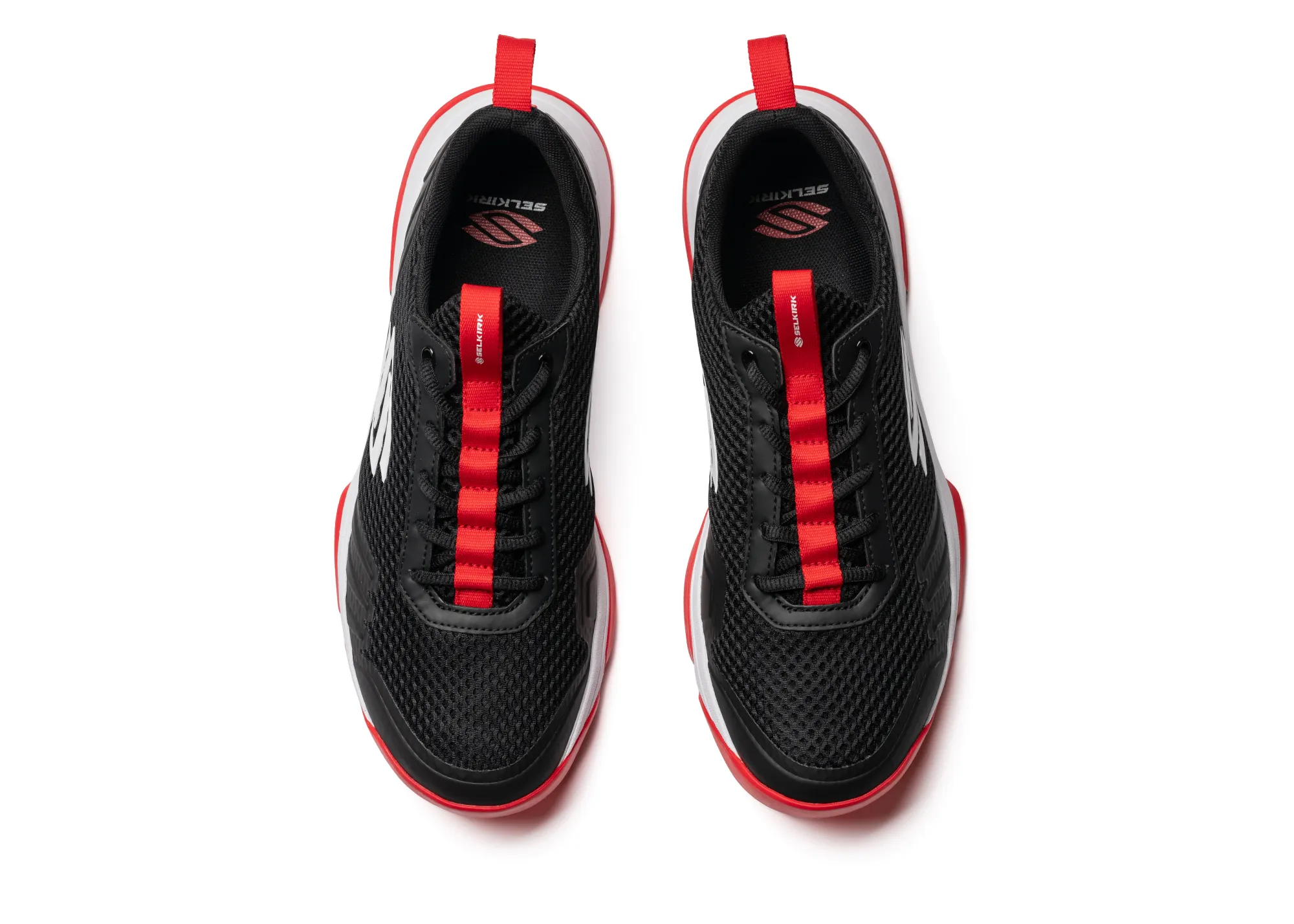 Performance
As with the S01's, the outsole on these shoes is great for pickleball. The wide base is built to provide and foundation when moving laterally at the kitchen line.
The lifted heel keeps you on the ball of your foot so you don't get caught with your feet in cement.
The reinforced toe box provides protection for my pesky toe drag. I have torn threw a fair share of tennis shoes by dragging my toe. The S02's provide enough protection upfront to negate that issue.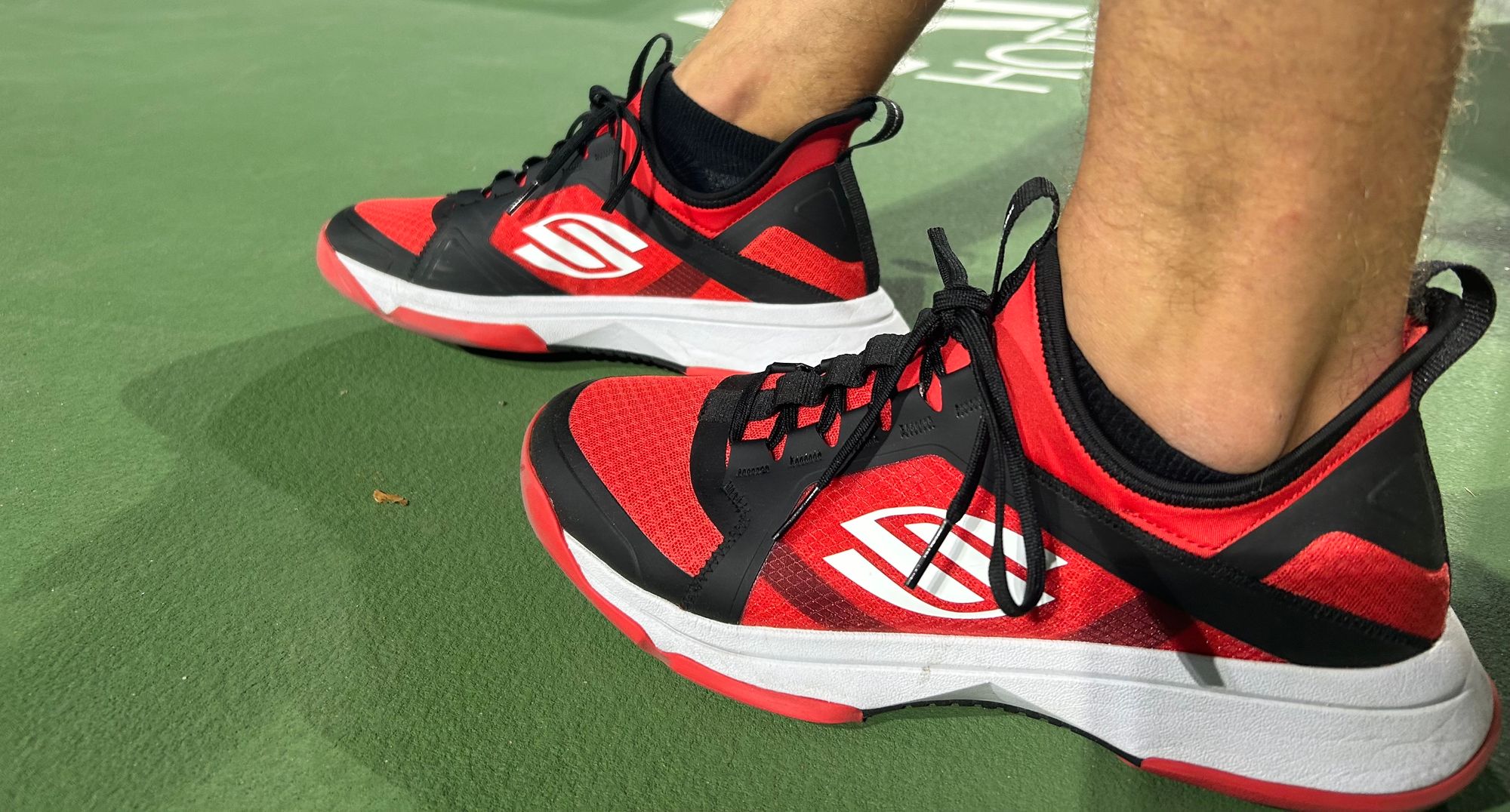 Overall
The new shoe lines from Selkirk Labs are a great option for any pickleball player. If you lean into the look good, feel good mentality then go with the S01 option in red. You will never feel faster than when you slide those on.
For me, it's all about the S02's. I prefer the stability and structure they provide. I am willing to sacrifice with a little more weight to have added protection.

Right now the shows are only available in a limited range of sizes, men's 10 - 11.5. Check back to see if your size is added.
Find all of the technology features that Selkirk focused on when creating these shoes here:
Lifted heel geometry to enhance acceleration from the back to the front of the court.
High-breathability fabric to release vapor during intense play
Reinforced toe box for lateral support and stability
Extended sole covering the toe box for increased durability in the pickleball drag zones
Reinforced heel box for a secure fit and improved performance.
Wide toe box area for a better pickleball fit.
Tapered lateral side flair provides stability and eliminates catching during lateral movements
Premium tri-density insoles provide enhanced arch support and added heel cushioning
Aerated midsole for feather-light comfort.
Durable rubber outsole formulated to withstand hard court abrasion
Outsole flex plate for ergonomic flexion, ensuring the entire outsole system works in your favor
---