ProXR's legendary handle design is now available in the new Raw Carbon 14 and 16 paddle with XR Handle technology.
ProXR's handle design was initially created for baseball bats, giving hitters more leverage on their swings, leading to increased exit velocity.
The handle's ergonomic design provides more surface area between a player's hand and their paddle while allowing for more leverage, creating more "snap".
In pickleball, this ergonomic design enhances players' ability to flick their wrists, quicker reload action, and unmatched paddle control. Perfect for those who struggle with spin (it'll really surprise players who have already mastered it!).
The optimized HEXA core comes in 14mm and 16mm thicknesses, specially designed for more control at the kitchen.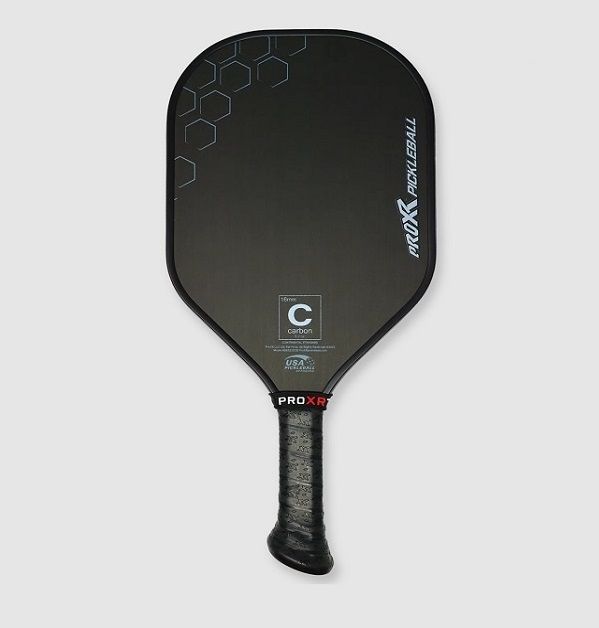 Key features of the ProXR Raw Carbon include:
Core Material: PP Honeycomb
Face Material: T700 Raw Carbon
Stated Weight: 8.2 oz
Paddle Length: 16.5"
Width: 7.5 inches
Handle Length: 5.5 inches
Grip Circumference: 4 inches
Paddle thickness: 16mm
Some of the highest-ranking pickleball pros in the world have partnered with ProXR Pickleball, including John Cincola, Beth Bellamy, Dayne Gingrich, Lee Whitwell, Andre Mick, Taylor Taylor, Jim Dobran, and Landon Daly.
"I absolutely love the Raw Carbon paddle, it helps me manipulate the ball with extra spin when I need to. I love how ProXR is constantly striving to revolutionize the game!" – Lee Whitwell, @ladygibraltar
ProXR Pickleball paddles are fully aligned with USA Pickleball standards and legal for use in tournament play.
ProXR isn't just a paddle company or even a handle company. They're an innovation company, and the combination of their famous handle with a carbon paddle is only the beginning.
Learn more about why the best in the sport are adding ProXR technology to their game at proxrpickleball.com.