After nearly two straight weeks of pro pickleball, the players barely had 3 days off before heading out to Daytona, Florida for the Carvana PPA Tour Hertz Gold Cup this past weekend. The venue was Pictona at Holly Hill, and the play was exciting!
James Ignatowich and Etta Wright were two notable players who skipped this event. Playing in MLP Dallas and then quickly switching to PPA and USAP Nationals a few weeks later had some players feeling like they needed a rest.
Withdrawals galore in Women's Singles
Catherine Parenteau was never signed up for singles. There were three withdrawals, including Anna Leigh Waters and Jorja Johnson. There was also a retirement (Irina Tersechenko).
Needless to say, the women's singles bracket was WIDE OPEN.
Salome Devidze, the APP's top women's singles player came over to the PPA Daytona and won the whole thing. The gold medal match was between Devidze and Lacy Schneemann, who had a great run on Thursday to make it all the way to a silver trophy.
The number 9 seed, Taylor Garcia, balled out this weekend, making it to the semi-finals against Schneemann. Garcia is a former college tennis star, earning two All-American selections at the Division III level, while playing for Washington & Lee University.
During her 5th year of eligibility (due to COVID), Garcia played for Division I George Mason on their first doubles team and 2nd in the singles slot.
She has fully transitioned to pro pickleball now and look for her to be on the rise in 2024. While she is still learning the doubles game (didn't get a win in mixed or gender doubles in Daytona), she is a force to be reckoned with in the singles game.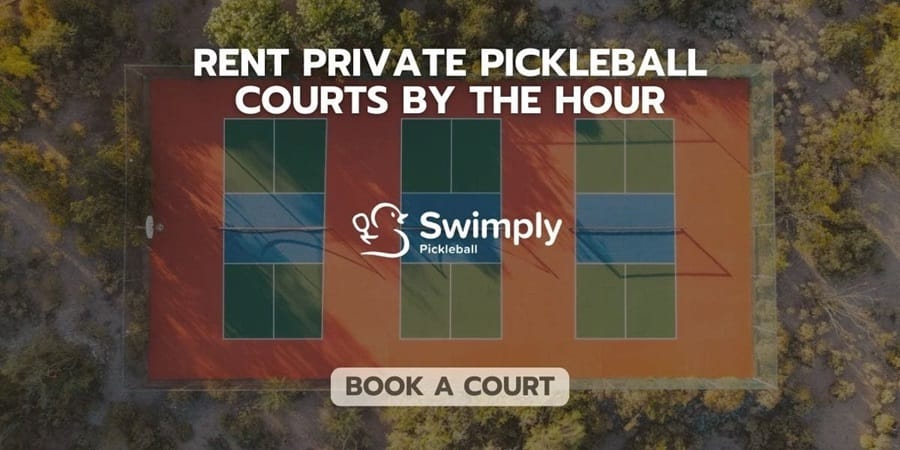 Men's Singles - Chalk, upsets, & 2 ATPs on 1 play
Chalk: Ben Johns won men's singles over the 3 seed, Tyson McGuffin, 11-7, 6-11, 11-3. Two of the top guys made the finals and Ben got another singles crown to add to his rather large bag of trophies in 2023.
Upsets: Gabe Tardio made it all the way to a fourth place finish in men's singles. He upset Federico Staksrud in the Round of 16, who was the 2 seed. He then beat Travis Rettenmaier to make it to the semis. Great run from Tardio, who we don't see going far in many singles tournaments.
Brandon Lane was another surprise upsetter, as the 21 seed. He beat Hayden Patriquin in the first round and then beat Jason Garriotte (5 seed) in the second round, to make it to the quarter-finals.
First, I have no idea how Garriotte got a 5 seed - he has played in Pro Singles Points Draws and Qualifiers this year and doesn't have a pro singles win recorded in DUPR since April 16th.
Okay, now that that rant is over, Lane is not known too much for singles prowess, but he put together a really solid performance, making the quarter finals before being eliminated by Connor Garnett and best in class two handed backhand.
2 ATPs on 1 Play: Travis Rettenmaier rarely plays singles, but since it was the last tournament of the season, he played. He beat Callan Dawson in two games and then Jay Devilliers in three game.
The dude has some serious game. It's too bad his knees are a problem. He moves great, and I hope he had some fun playing singles. He ended up having to retire (I would guess it was a knee issue) against Tardio.
The fireworks came in the first game, with Rettenmaier up 8-4.
They were playing a cat and mouse game, and Jay plays a dink to Travis' far right, off the tape.
Travis chases it down and hits a great ATP that Jay defends with a high, very spinny defensive shot that lands just in on the far side.
Travis runs all the way over to his left, and with the ball spinning onto Jay's side, he nailed a backhanded ATP winner.
I can't remember a time when I have seen two ATPs in a row on opposite sides of the court from the same player IN SINGLES.
Women's Doubles controversy & line calling
One GLARING thing needs to happen before pickleball can be taken seriously as a professional sport: video production MUST get better.
I believe BoxCar Productions does MLP and there are very crisp, perfect replays to ensure all line calls are correct.
The PPA production on replays is just trash. When we went to replay over the weekend, time and time again the ball looked like Halley's Comet traveling through outer space. Every commentator was forced to say things like, "Well, it looks too close for me to really call it."
What they meant to say was, "Our cameras are not good enough and don't cover enough angles for us to be sure if that ball was in or out."
This is a professional sport where the pros are all going to start making six figures in 2024. The PPA must make video production a priority in the (short) offseason.
Now that I have highlighted the camera issue enough, there was a VERY CONTROVERSIAL line call made in the Lucy Kovalova/Callie Jo Smith vs. Hurricane Tyra Black/Lea Jansen.
The call came in game 2.
Kovalova/Smith won the first game 11-2 and were getting beat 3-9 and clawed their way back to 8-9.
At 8-9, Tyra played a ball to Kovalova's right line in the midcourt that Callie called out.
Callie was looking at that sideline from her left side and very easily could have seen the ball out with a hairline of green, while the ball could have actually been in.
This is where the chaos ensued. Tyra was absolutely sure her shot was in and challenged immediately.
After video review, the referee's couldn't overturn the out call - please see above rant about terrible cameras and angles.
After a few minutes, the referee came back to center court and said the call stood.
Lea and Callie got in a bit of a yelling match, with some name calling while Head Referee Don Stanley was called over to oversee the proceedings.
There was approximately 9 minutes between that out call and the next serve, which caused quite an issue on screen.
Finally, the call was confirmed as out, Jansen and Black were not happy at all, and quickly lost 11-9 on a net cord winner that Callie Jo celebrated a little bit extra.
Lea refused to tap paddles with Callie, but did tap with Lucy. To watch the entire exchange, click here. The video editors edited out a lot of the wait time to speed things up.
Black very easily had the best look at the ball as it landed and she thought she knew it was in.
While I think it is Callie's job to call that ball out if she saw it (it was hit to Kovalova), ultimately I think she was wrong on that call. It is a really tough angle to see if a ball is in or out.
But no one will ever know, because the video replay wasn't good enough:
Men's Doubles - Upsets galore
Ben and Collin Johns lost to the 16 seed, young Wyatt Stone and Jaume Martinez Vich. The match wasn't televised, but this seems to be the only way to beat the Johns brothers.
Do it early on in the day, so they don't get warmed up enough to grind through the match.
The 8 seed, Tyler Loong/DJ Young made a big run into the semifinals, beating Johnny Goldberg/Will Howells, Callan Dawson/Hayden Patriquin, and then Vich/Stone to make it all the way to the semi finals.
It was a great run for Loong and Young, since both of these guys have not had the results they wanted in 2023. A fourth place finish for a new partnership in men's doubles is a great way to end the season.
Read Next: Was This the Greatest Mixed Doubles Pickleball Match of All Time?
On the negative side, Loong really gave away way too many unforced errors in the semi finals match for them to have a real chance to win it. I went back and counted at least 12 unforced errors throughout the match, with 9 being in the second game.
Hopefully, he is able to take the positive momentum of his best finish in men's doubles on the year into the 2024 season.
Lastly, the Alshon/Garnett partnership, a 13 seed, was the Cinderella of the men's doubles tournament.
They beat Riley Newman/Dekel Bar and then beat Tyson McGuffin/Brendon Long to face Loong/Young in the semis. With that win, both players made their first Championship Sunday in men's doubles. Maybe look for this to be a 2024 partnership.
They lost to JW Johnson and Dylan Frazier in the finals, but overall, Garnett and Alshon must feel great about how they played in Daytona.
👋
Erik Tice is a contributor who specifically focuses on articles related to Major League Pickleball. He started playing pickle in early 2022 and is passionate about helping the sport grow. Erik lives in Phoenix with his wife Megan and their two dogs, Mojo and Taz.
---