So here's the thing: even the most experienced pickleballer players forget the score. I think we've all experienced a fun game turn contentious:
"No no, you're on the 2".
"We got one. It's 6-4, not 6-3"
It happens to all of us, so here are a couple of tips to prevent you from seeming like a newbie on the court:
First server
When starting a game, keep track of the first server. Even at the pro level, the first server wears an indicator wristband to help the refs track the score.
The first server will always be on the right when the score is even.
It's the easiest way to remember if you have 8 instead of 9…or 3 (we all know that person who screws up the score royally).
It's also the best way to get your bearings after that last crazy rally when Debbie dove for a ball, Jerry backed into the fence, and Janet dropped her paddle midpoint.
---
Keeping your body in pickleball-perfect shape requires perfect hydration.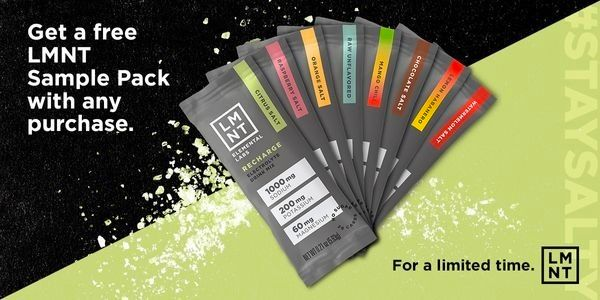 Hydrate like a champ with LMNT. Their ratio for better pickleball is 1000 mg sodium, 200 mg potassium, 60 mg magnesium, all in a tasty electrolyte drink mix that has everything you need and nothing you don't.
Used by athletes in the NBA, NFL, and NHL, LMNT benefits pickleballers of all skill levels. Check them out here and receive a free sample pack with any purchase.
---
Side-out score
Make a mental note of the score when a side-out occurs.
Treat these like video game checkpoints where you can retrace your steps to the correct score.
Example: You get the ball back at 4-7-1. A few rallies later, the score is tied 7-7. You lose a wild point like the one above. The other team calls for the ball, claiming it's a side-out.
Your head is in the clouds after that rally and can't remember if you were server one or two. But you do remember the score at the side-out (4-7-1).
You can explain to them: "I was the first server of the match, we had 4 when we got the ball back, so I am server number one in the side out. The correct score is 7-7-2."
These tricks will help you track the score and keep the peace on your community courts. Use them wisely.
More on pickleball scoring:
---
Have you subscribed to our weekly newsletter yet? Featuring tips to up your game, major pickleball news, pro coverage and more – our subscribers are the most-informed people on the court. Sign up.