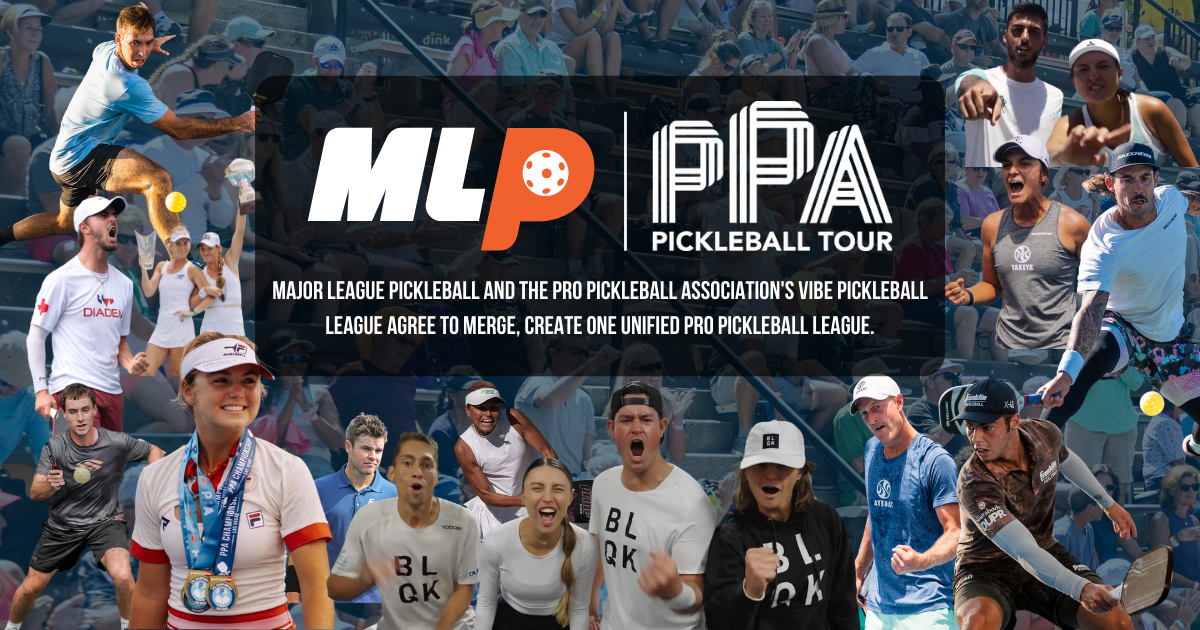 Newsletter
MLP & PPA's Vibe Agree to Merge, Create One Unified Pro Pickleball League
MLP and VIBE team up. Singles day from USAP Nationals. Airport pickleball at JFK.
The most tumultuous year in pro pickleball history finally reached a breaking point. The PPA and MLP sheathed their swords and agreed to a strategic partnership.
As the ink dries on the Treaty of Dripping Springs, it appears these two pickleball giants found peace. For now...
Yes, that means the recently-announced VIBE league, the one Mark Cuban just bought into, will merge with Major League Pickleball.
We know you want those details. We got 'em below.
Happy Veterans Day to all who have served!
Prioritize Court Position
In doubles, the serve and return are a bit of a formality.
Very few points should be lost on the serve or return. Even with that knowledge, some players *cough cough* invest too much thought and effort into hitting a perfect return. I'll be the first to admit it. Ok, now your turn.
Instead of swinging with perfect Federer form, Tyson McGuffin suggests sacrificing an elaborate return for court position. In a video with trusted sidekick, K Mac, McGuffin teaches the half-volley return.
The return is a condensed swing. It's quick. It's to the point. And best of all, it allows you to focus on what is important: court position.
Since the return is rarely a winner, prioritize giving yourself time to make it to the NVZ, and then get your a** there.
To execute:
Keep the ball in front of you
Eliminate the back swing
Short-hop the serve
Then you're off to the races. Get to the line. Set up camp. Win the point.
Picked at the Peak of Freshness
Up your game and your style. Tangerine's fresh-picked pickleball paddles are unlike any others on the market. With so many bland pickleball products on the market, their aim is to be the sweetest!
Check out Tangerine, to add a POP of color to your appearance and your game!
It's Happening: MLP and PPA's VIBE League Combine
After a year of cutthroat competition between the Professional Pickleball Association (PPA) and Major League Pickleball (MLP), the competing owners struck a deal to combine PPA's Vibe league with MLP. Goodbye Vibe, hello MLP on steroids.
If you haven't kept up with the pro scene drama, here's an overly simplified version (read this Twitter thread for the full breakdown):
PPA signed top players to exclusive contracts

MLP upped the prize $ and courted high-profile celeb investment
PPA responded by launching the Vibe Pickleball League, a direct take on MLP's format, as well as their own celebrity investor, the Cubes (Mark Cuban)
All of that happened in less than a year.
The original MLP only featured eight teams in competition. The new MLP is expected to field 24 teams. It's unclear if 2023 will start with 24 teams, but it is certain those teams will compete with more cash on the line.
The two billionaire owners Steve Kuhn (MLP) and Tom Dundon (Pickleball Inc. & PPA) said in a press release that the cooperation allows them to "offer more prize money, enhance player development, pursue larger media and sponsorship deals and, most importantly, grow the game we all love."
Money talks, and those two have a LOT of money between them. We look forward to seeing how they'll put it to use.
Read the full MLP x PPA announcement here.
Something Special About Nationals
Deep in the heart of the Coachella Valley, a familiar sound echoes in the desert air. Cracks, pops, and squeaking shoes are the soundtrack of the week at Indian Wells Tennis Garden.
Ben Johns is over the infamous Tyson McGuffin chug photo from last week's Texas Open. He added a point-blank body shot to his 11-2, 11-4 victory over McGuffin in the winner's bracket final. Johns will play Julian Arnold for gold on Sunday.
Arnold was inches from an upset against Johns earlier in the day. Ben escaped the semifinal match 3-11, 13-11, 11-1. Arnold earned his rematch against Johns with back draw victories over Hunter Johnson and McGuffin.
Anna Leigh Waters completed step one of a Nationals triple crown. She went undefeated through the winner's bracket with comfortable wins over Parris Todd and Salome Devidze.
Devidze and Lea Jansen squared off in the bronze medal match. At 10-10 in game three, a crucial out call from Jansen was disputed and overturned by the official.
Despite being visibly distraught by the call, Jansen regained her edge and won game three 12-10. When asked about her strategy for Waters on Sunday, Jansen replied "Do something different than the last 20 times I've lost to her."
Mixed doubles is the theme for Friday. Catch the action live starting at 2pm ET.
AvaLee is Pickleball's first and only paddle and performance-wear brand designed exclusively for women, by women.
Created by sisters-in-law Lauren Bethany Barnes and Lauren Arlyne Barnes, AvaLee proudly derives its name from the Barnes daughters and represents the future of pickleball with themes of individuality, fashion, and femininity.
By uniting high-performance court fashion with comfort, quality, and wearability, AvaLee meets the needs of modern women everywhere. Because function, fit, and fashion all matter. (In no particular order!)
Together we are AvaLee. #womenofpickleball
Cleared for Take Off
Pickleball at the airport was one of the strangest stories to develop this year. But sure enough, it's back.
This time it is JFK airport in NYC. CityPickle is hosting a pop-up court at the TWA Hotel's tarmac. The court is open to hotel guests, airport travelers, and the general public through November 14th.
Want the airport pickleball experience without the airport pickleball traffic? New Yorkers can snag a discounted helicopter ride from Manhattan to the hotel. Squeeze a game in at lunch and be back in the office for your 2pm meetings.
Headlines & Quick Hits
Highlights
Homecourt Havens
The NVZ color complements the building and porch in an oddly satisfying way. Our only question: how many paddles could we hang inside that house-like shed?