Pool B in Major League Pickleball is already calling in one of the reserved undrafted pros. Adam Stone of the Mad Drops Pickleball Club injured his calf at the NYC Open and will not be able to play in the event.
Let's take look at how this replacement will affect the Mad Drops and their chances of advancing through Pool B. If you missed the Pool A breakdown you can find it here.
POOL B
Mad Drops Pickleball Club | Chimeras | The Bus | Florida Smash
Pool B has the lowest overall DUPR of the three groups. But a DUPR Bowl contender might be lurking in the deep end of the pool.
Mad Drops Pickleball Club - Team DUPR 23.391
Team Owner: Zubin Mehta
Team Members:
Vivienne David (Pick #3 Overall, Pick #2 Women's) Doubles DUPR 5.719
Adam Stone (22, 11) Replaced by Stefan Auvergne Doubles DUPR 5.978
Julian Arnold (28, 14) Doubles DUPR 6.453
Olivia McMillan (45, 23) Doubles DUPR 5.241
---
Chimeras - Team DUPR 23.999
Team Owners: Charles Attal, Charlie Walker, and Mellie Price
Team Members:
Andrea Koop (1,1) Doubles DUPR 5.850
Rob Cassidy (24,12) Doubles DUPR 6.421
Daniel De La Rosa (26,13) Doubles DUPR 6.403
Megan Fudge (47,24) Doubles DUPR 5.325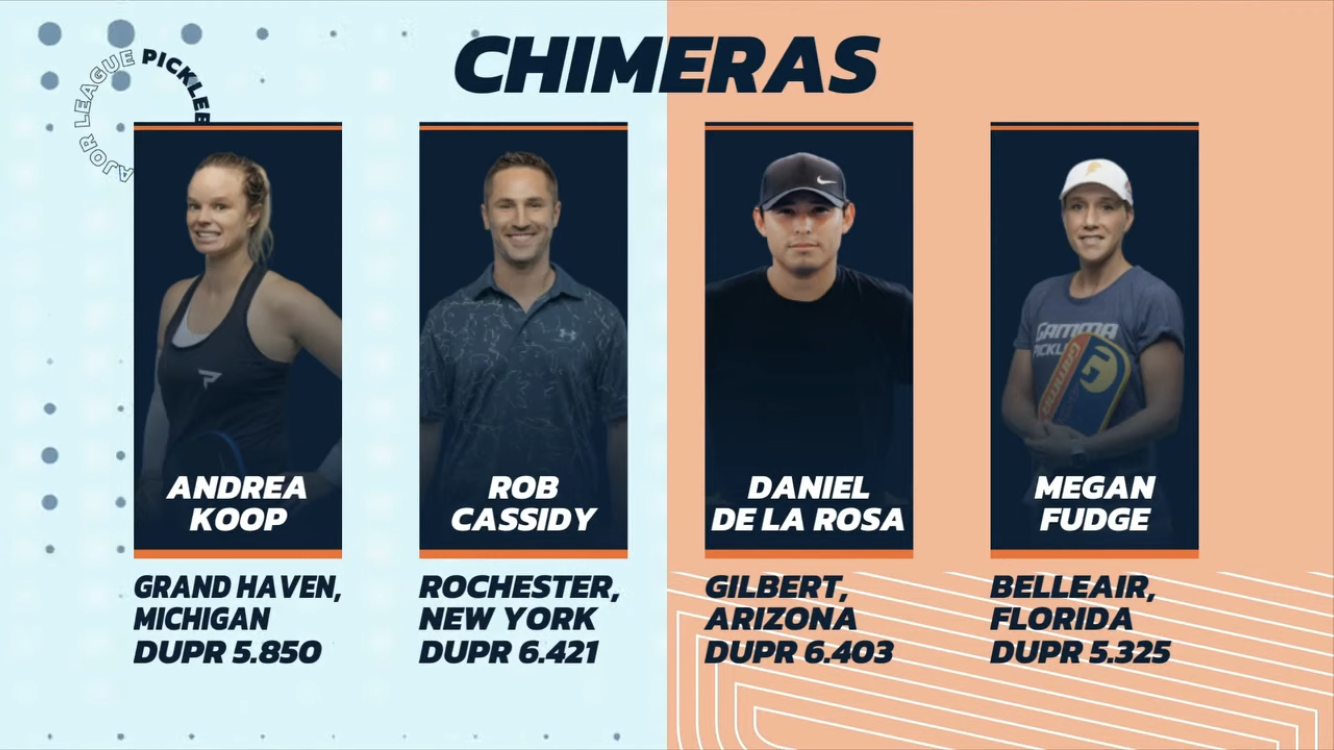 ---
The Bus - Team DUPR 24.290
Team Owners: David Kass, Doug Ulman
Team Members:
Lauren Stratman (5, 3) Doubles DUPR 5.697
Kyle Yates (20, 10) Doubles DUPR 6.646
Eden Lica (30, 15) Doubles DUPR 6.589
Milan Rane (43, 22) Doubles DUPR 5.358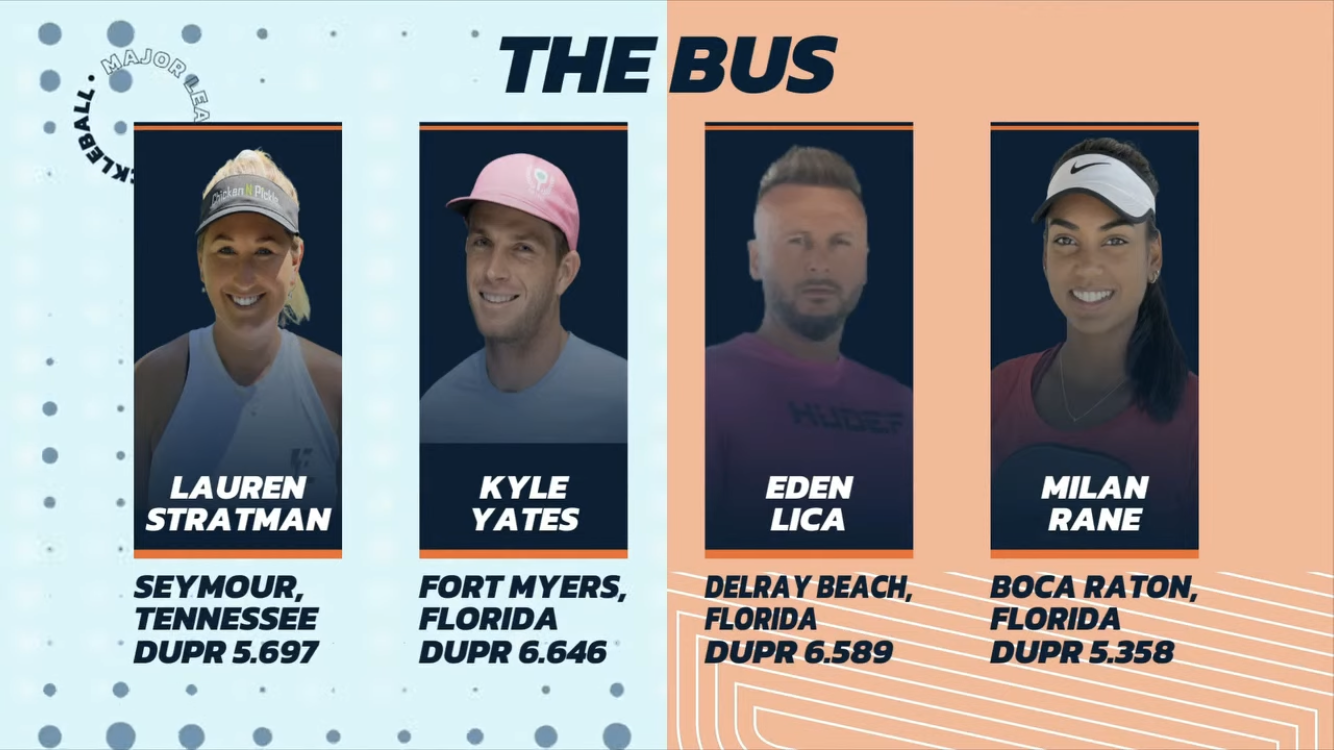 ---
Florida Smash - Team DUPR 24.388
Team Owners: Holly Joseph, Travis Rettenmaier
Team Members:
JW Johnson (2, 1) Doubles DUPR 6.921
Maggie Remynse (23, 12)  Doubles DUPR 5.538
Lee Whitwell (25, 13) Doubles DUPR 5.552
Travis Rettenmaier (48, 24) Doubles DUPR 6.377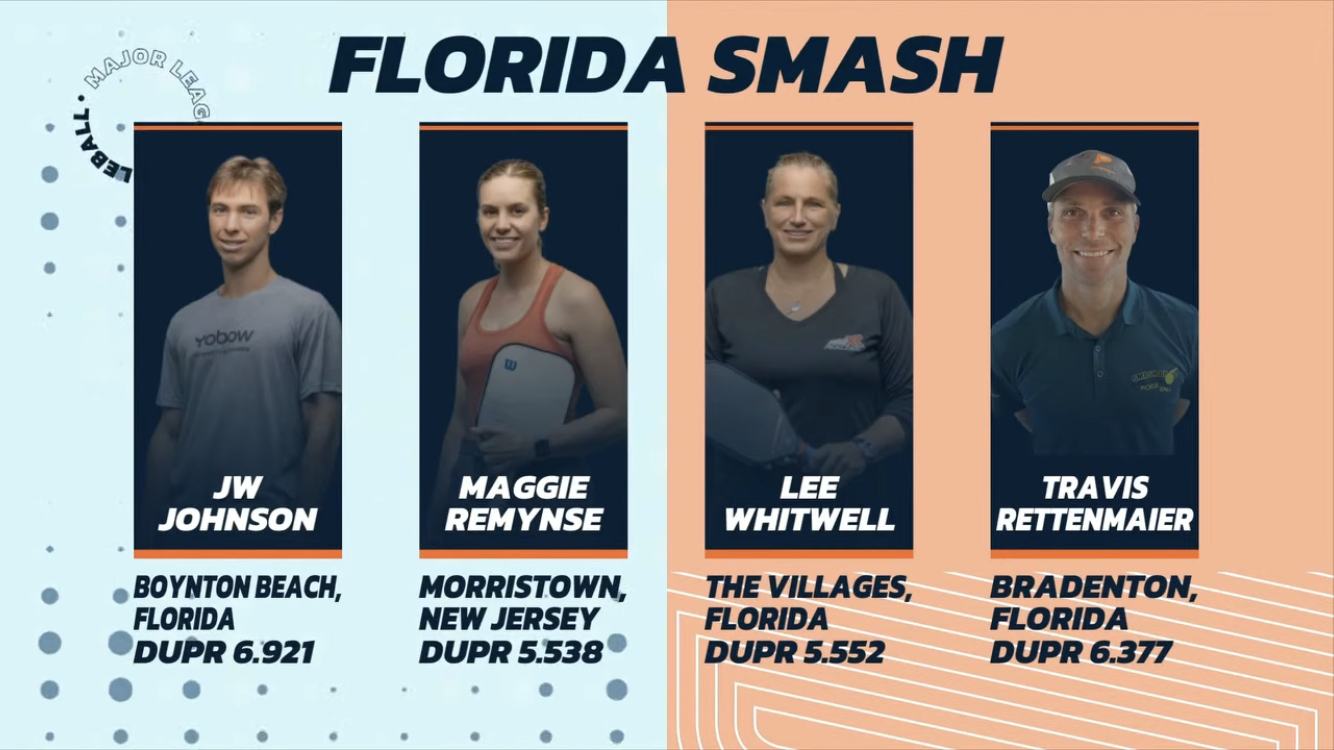 ---
Pool Play
Pool B has a clear favorite according to DUPR. That is Florida Smash. Florida Smash is also my favorite to win the group. JW Johnson has probably improved more than any other player since MLP last year. His hands are lightning fast and there is almost no point in attempting speed ups in his direction. Lee Whitwell knows how to bring the best out of him and that energy will benefit their whole team. Team owner/player Travis Rettenmaier should expect to see a lot of balls sent his way as teams play keep away from J-Dub.
No More Stone for the Mad Drops
As mentioned before, Adam Stone will miss the competition due to injury. Stone is a fan favorite in Dreamland. The Stone/Arnold pairing was one of the most highly anticipated teams in the competition. The move to Stefan Auvergne changes the complexion of the team. Auvergne plays both sides of the court but is less consistent than Stone. Arnold can take over any match so Auvergne won't need to create offense in the men's game.
Underrated
The Chimeras are a team that might not be catching as much hype as they deserve. Koop was a great choice for the number 1 overall pick. Going with Cassidy and De Le Rosa back to back caught people by surprise. Both players have a lot of competition experience and will definitely steal some victories along the way.
Megan Fudge was the final member added to the Chimeras. She has become a regular on the APP Tour but has her best results in singles. She will be another player to keep your eye on. Pairing with Koop allows a lot of freedom to be aggressive. Fudge is the type of player that can play the aggressive role and finish points that Koop has set up. I like the Chimeras to take the second spot in Pool B.
Check out predictions for Pool C, the final MLP Pool, tomorrow. Then the event kicks off bright and early Friday morning from Dreamland.