Season 1 of MLP was the best event in the 2021 pickleball calendar. The original eight teams faced off in a round robin tournament to decide the two participants in the DUPR Bowl.
For season 2, MLP has expanded from eight to twelve teams. Since twelve is too many teams for a round-robin, this year will be broken down into pool play. There are three pools, with four teams per pool. The top six teams will then face off in the knockout stage.
Team names were chosen at random to determine the three pools. The snake draft is used to ensure players are equally distributed among the teams. With the total combined DUPR of each team only varying by less than 1 point the teams look equal on paper.
Pool A
Team Clean  | ATX Pickleballers | Jackrabbits | BLQK
Pool A is an early favorite for the "Group of Death" or the most difficult pool to advance out of. Pool A features the number 2, 3 and 4 men's players selected, Dekel Bar, AJ Koller, and Dylan Frazier. It also is home to last year's champion BLQK who is adding Zane Navratil to returning member Irina Tereschenko.
Team Clean - 24.253
Team Owners: Wes Hurt, Nav Sooch

Team Members:  
Dekel Bar (Pick #4 Overall, Pick #2 Men's) Doubles DUPR 6.858
Michelle Esquivel (21, 11) Doubles DUPR 5.576
Regina Franco (27, 14) Doubles DUPR 5.493
Joey Farias (46, 23) Doubles DUPR 6.326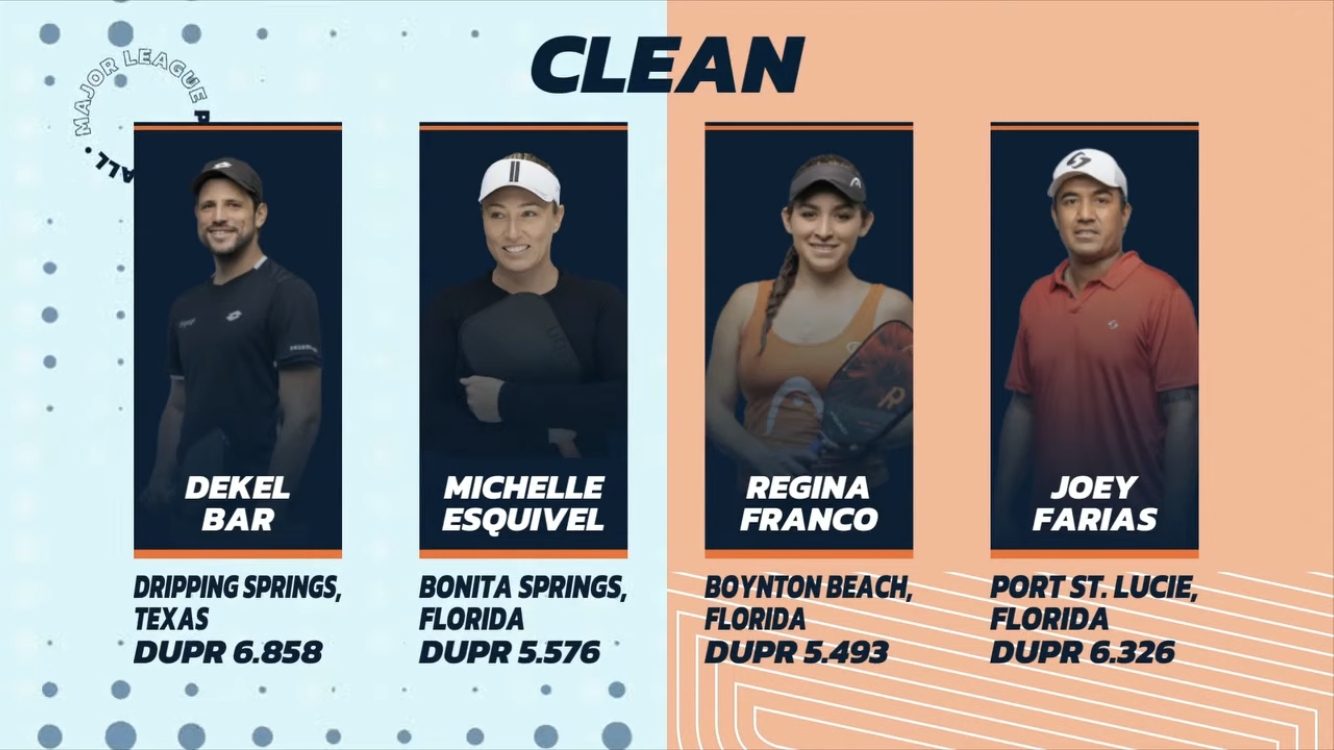 ---
ATX Pickleballers - 24.483
Team Owner: Brené Brown
Team Members:
Dylan Frazier (8, 4) Doubles DUPR 6.783
Jade Kawamoto (17, 9) Doubles DUPR 5.832
Sarah Ansboury (31, 16) Doubles DUPR 5.450
Altaf Merchant (42, 21) Doubles DUPR 6.418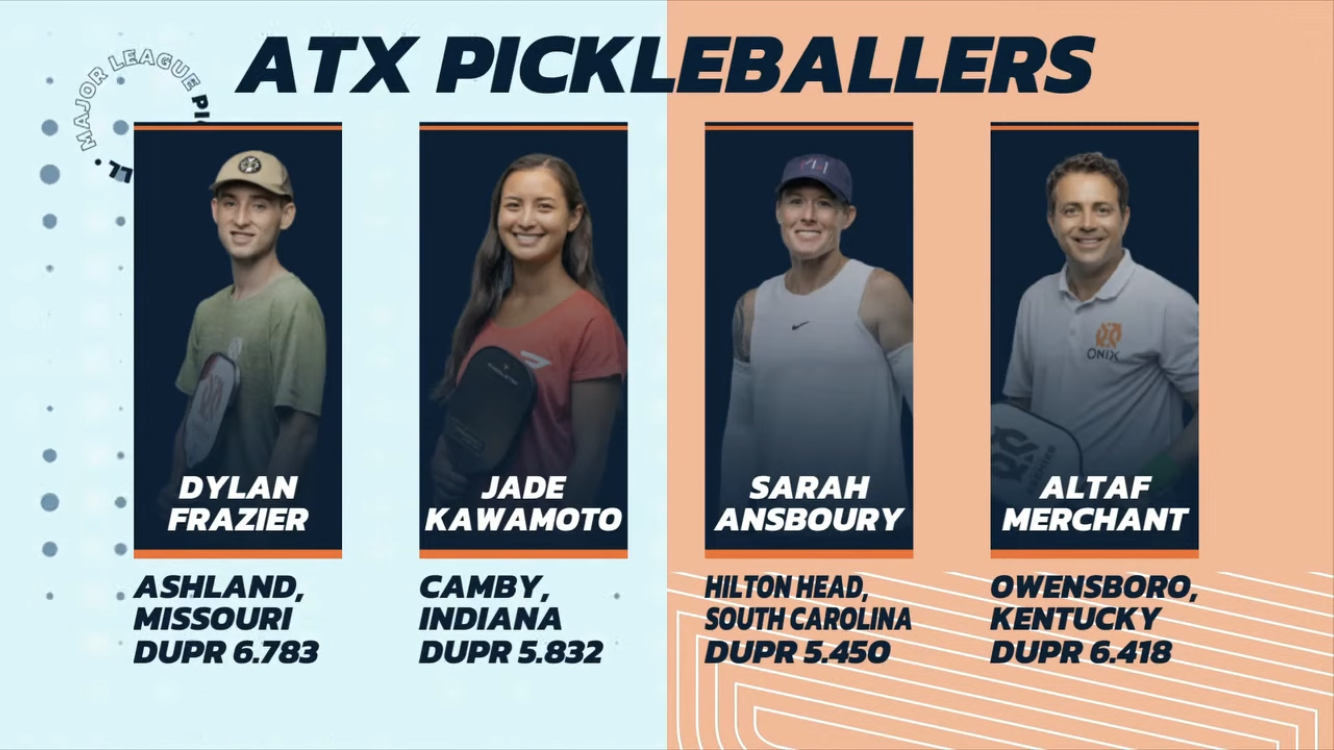 ---
Jackrabbits - 24.210
Team Owners: Mimi & David Mercado
Team Members:
AJ Koller (6, 3) Doubles DUPR 6.708
Jackie Kawamoto (19, 10) Doubles DUPR 5.806
Mary Brascia (29, 15) Doubles DUPR 5.529
Wes Gabrielsen (44, 22) Doubles DUPR 6.167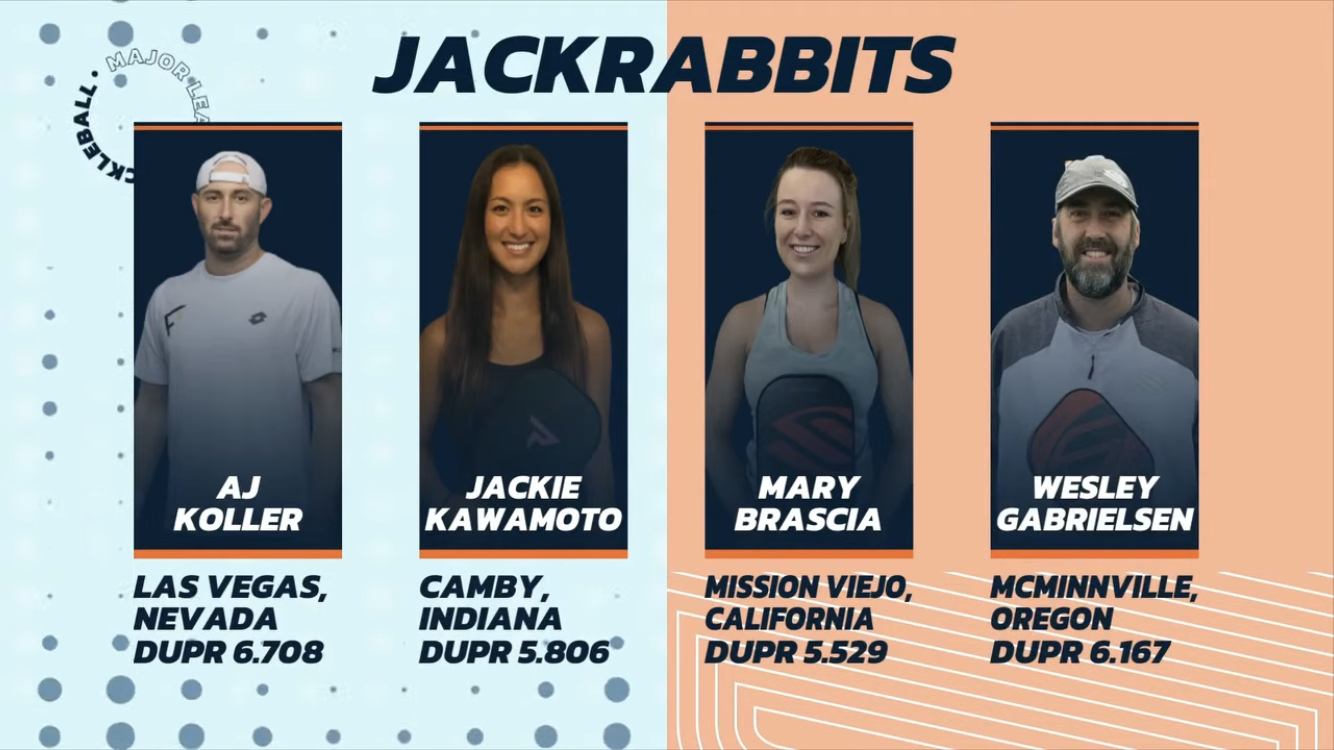 ---
BLQK - 24.310
Team Owners: Ritchie Tuazon
Team Members:
Irina Tereschenko (11,6) Doubles DUPR 5.673
Zane Navratil (14, 7) Doubles DUPR 6.770
Rafa Hewett (18. 36) Doubles DUPR 6.466
Parris Todd (37, 19) Doubles DUPR 5.401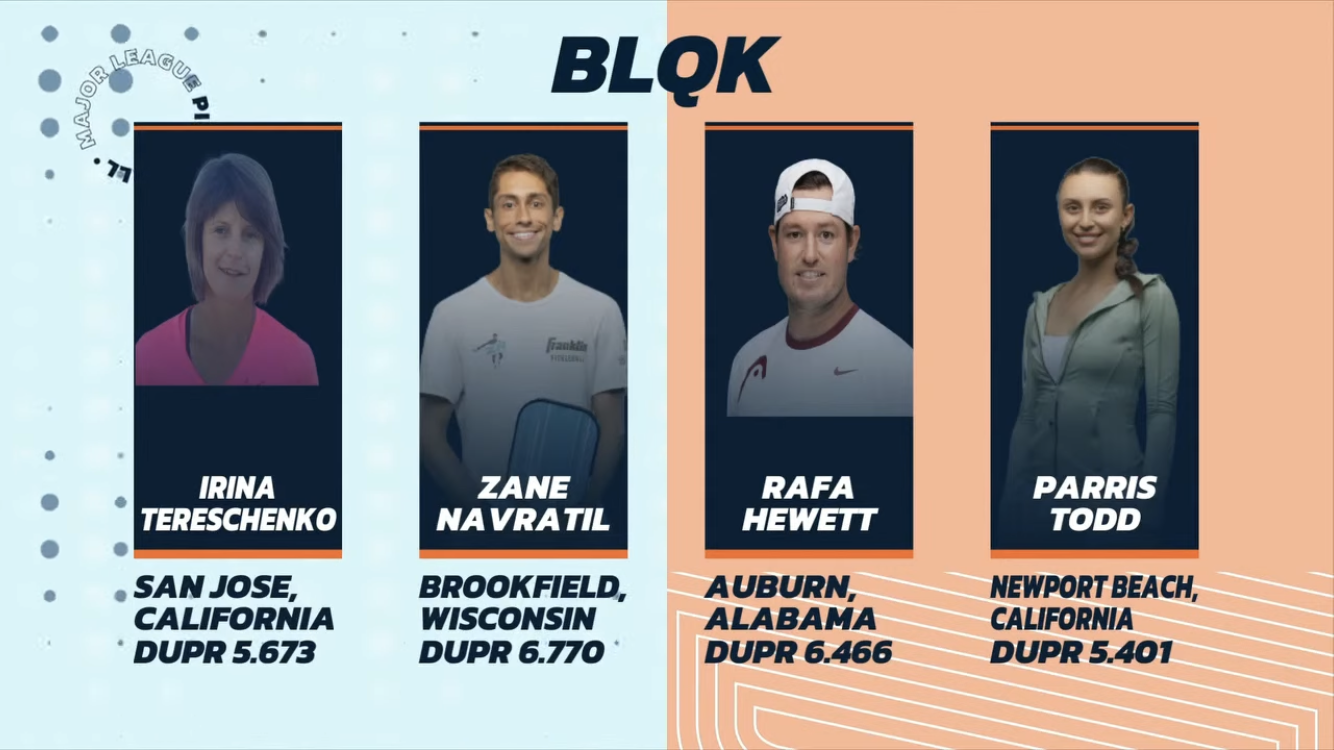 ---
Pool Play
Group of Death? Quite possibly. This pool is loaded with talent. It includes three of the top 4 men drafted and the highest average DUPR of any pool at 24.314.
My favorite to take the group is BLQK. They have the second highest DUPR in the pool but a ton of fire power. One distinct advantage they have is singles prowess. Navratil and Todd are coming off of 3 straight singles titles in the last APP events. Hewett just had one of his best results at the PPA Atlanta Open taking silver. That leaves Tereschenko who can hold her own against anyone on the singles court.
The advantage that comes with strong singles play is the need to only win two games per match. If your're confident in your singles game, then the DreamBreaker is actually an advantage. You can essentially stack your line to ensure that you win at least two of the games.
In each match teams will have the option to stack their mixed doubles line up by pairing their two early draft picks, the theoretically stronger players, together.  The stronger pair would go against the other team that split their strong players in hopes of winning 3 games and avoiding the Dreambreaker.
For BLQK they would only need to win one of the gender doubles games then could use this strategy to create a favorable match up in mixed. With all of the teams being so close. I think this will be the difference in their finish.
Also Advancing
The top two teams from each pool will advance to the knockout stage for pool A it is going to be a dogfight for that second spot. Dekel Bar and AJ Koller are essentially cheat codes for their team and I think will win two games against BLQK and ATX but when it comes to their head to head it is anyone's game.
Esquivel and Franco have the most experience together of any women's team in the pool. But the firepower from Kawamoto and Brascia on the Jackrabbits could be a dangerous combination that we have not seen before. The Kawamotos have shown the ability to hang with anyone in MLP but how will they fair playing in first time partnerships?
I want to believe in Dylan Frazier and Altaf Merchant. There's no doubt Merchant's energy will be electric throughout the weekend. He is built for an event like this. He and Frazier beat Bar and Johnson in St. Louis which is quite the feat. But  Bar and Koller both call Dreamland a second home and will be playing their best in the team setting.
This pool might come down to point differential and Dreambreakers to decide who advances. Every point counts in this event and it will be important not only to win but the keep your opponent's score low whenever possible. That being said I think the Jackrabbits will sneak into that second position. They are an offensively focused team and in quick games to 15 getting out to an early lead can be the difference.
DUPR BOWL
The DUPR Bowl will be played Sunday at 7pm CT on CBS Sports Network. Despite being the group of death, I don't think the teams playing in Pool A will be hoisting the Pritchard Cup. Tune in tomorrow for Pool B predictions.