On Wednesday, July 12th at 9am ET the Premier Level draft for MLP Season 2 took place. In case you didn't see our earlier draft prediction articles, you can find them all here.
Below are the results from the Premier Level draft. We'll cover Challenger tomorrow, but for now, here are the key storylines you need to know: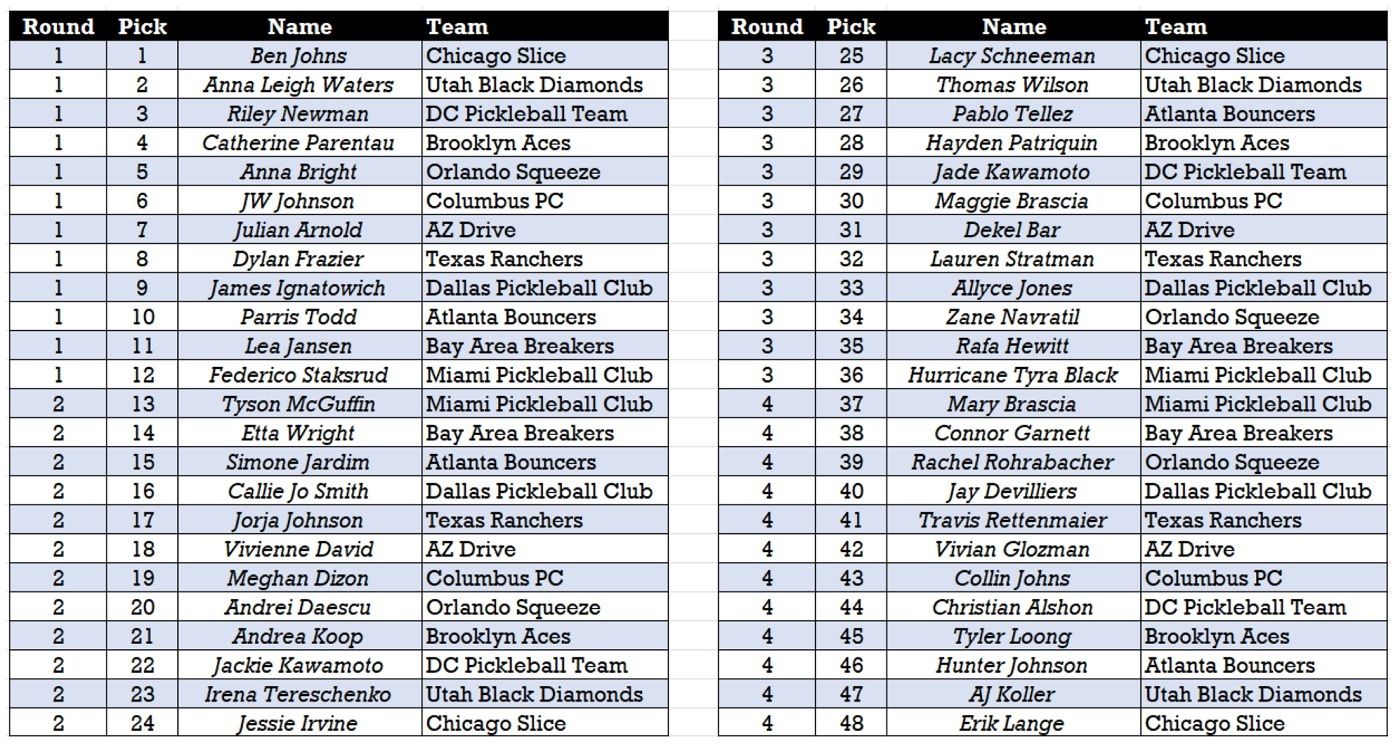 Guys Did NOT Dominate in Premier Round 1
There was a lot of speculation in the build-up to the draft that men would dominate the first round because it has proven that this results in more wins.
Rumors were that there would be 8 or 9 men drafted in the first round and just 3 or 4 females. So how did it shake out?
Seven men and five women were taken. This put to bed the rumors pretty quickly. Especially with ALW, CP, and AB making it three females in the top five picks.
Could those rumors have been spread by some GMs hoping that there would be a mad dash for dominant men when they really wanted a woman all along? Perhaps…
The MFFM and FFMM Patterns Prevailed
Ten total teams chose the MFFM or the FFMM pattern in this year's Premier Level Draft.
There were only two teams who varied from these patterns: AZ Drive and Miami Pickleball Club.
Miami went with a very strong men's combo with Fed and Tyson. They then went very heavy on the women's upside with Hurricane and Mary Brascia.
For the AZ Drive, they went Julian, Vivienne, Dekel, and Vivian. Although it wasn't a common drafting pattern, I think they felt they had to get Dekel when he fell that low.
---
Keeping your body in pickleball-perfect shape requires perfect hydration.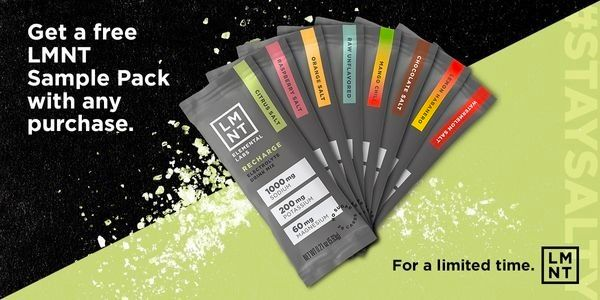 Hydrate like a champ with LMNT. Their ratio for better pickleball is 1000 mg sodium, 200 mg potassium, 60 mg magnesium, all in a tasty electrolyte drink mix that has everything you need and nothing you don't.
Used by athletes in the NBA, NFL, and NHL, LMNT benefits pickleballers of all skill levels.
Check them out here and receive a free sample pack with any purchase.
---
Three Biggest Surprises
Rachel Rohrabacher - We wrote an article outlining some women who could get drafted into MLP that weren't involved in Season 1. Other than Parris Todd, it was thought that the rest MAY get a look in Challenger Level.
Well, Rachel Rohrabacher made her way into Premier Level. I have to think this is a play from Anna Bright who will have to put in a ton of work with Rohrabacher. I would assume Rohrabacher is doing pickle full time after getting her master's degree. This was by far the biggest reach in the Premier Level draft this time around. We will see if it pays off.
AJ Koller Dropping to the 47th Pick - Koller is a super athletic guy who has good hands and an elite backhand roll volley. He is going to be playing some with Riley Newman in PPA events the rest of 2023 and can definitely hold his own in mixed doubles.
To go as the second to last pick was very shocking, especially knowing players like Connor Garnett, Christian Alshon, and Collin Johns went ahead of him. On paper, he is the steal of the Premier Level Draft.
The Atlanta Bouncers' Agenda - It seems very clear what the agenda was for Atlanta. First, get Parris Todd. Then, get her most comfortable woman's partner (Simone). After that, get a very good right sided player (Pablo) to complement their fourth pick in Hunter Johnson, Parris's mixed doubles partner in the APP.
This is an extremely risky draft by the Bouncers. Could it work out - sure! Is there a chance they are terrible and never make the playoffs? Also yes.
Currently in 14th place, Atlanta could have played a little more conservative in the draft and picked some higher floor players. I think the strategy will get Atlanta relegated into the Challenger Level for 2024.
Newcomers to Premier Level
There were seven total players taken in the Premier Level draft yesterday that were not in the Premier Level last season.
We already discussed Parris Todd and Rachel Rohrabacher getting drafted Premier, and they didn't play MLP at all in Season 1.
Pablo Tellez, Connor Garnett, Vivian Glozman, Hunter Johnson, and Christian Alshon all made the jump from Challenger Level in Season 1 to Premier in Season 2.
As we get further into the MLP growth arc, we will probably continue to see numbers like this in the future.
Biggest Snubs
I don't know if there were any HUGE snubs in the Premier Level, but here are six players that could have been Premier and didn't get picked:
Gabriel Tardio - He didn't play great in Mesa, but really picked it up in Daytona and San Clemente. He is young and seems to be getting better all the time. Look for him to dominate the Challenger Level this season and get picked back up in 2024 Premier Level.
Rob Nunnery - The first overall pick in the Challenger Level draft, Nunnery played lights out this past season in Challenger. He is going to a very good team in the St. Louis Shock. If that team and specifically Nunnery can show consistent performances for another 3 events, GMs are not going to be able to pass him up in the Premier Level.
DJ Young - Young got a little unlucky and didn't really play up to the standard he may have wanted in season 1. Hopefully getting drafted to Challenger will light a fire under him to dominate and get back to Premier in 2024.
Stefan Auvergne - Auvergne played extremely well with the DC Pickleball Team. He even filled in with the So Cal Hard 8s for Riley Newman in Mesa. Auvergne was a beast in Challenger and handled playing with Querrey very well. He has the upside for Premier Level for sure.
Susannah Barr - Barr was a solid rock for the Slice in Season 1 and helped them to a 3rd place overall in standings. She is a very great right sider who can handle herself in both mixed and women's doubles. She isn't great at singles, but got better in Dreambreakers where she isn't a liability.
The reason this is even stranger is because Barr was available when the Squeeze selected Rohrabacher. Barr has a lot of really good experience with Zane and he must have been pushing for her. Bright probably eventually won this battle, but Rohrabacher is the much riskier pick. We will see if it pays off.
Jill Braverman - Jilly B won MVP of San Clemente and did very well in her two Challenger Level events in Season 1. Her antics on court are very off putting to many players and I thought it would be hard for her to find a team that really wanted her. If she dominates on the women's side again in Challenger in Season 2, GMs may need to look past that.
We'll put out a very similar article about the Challenger Level draft tomorrow!
---