The new Major League Pickleball owners list is massive. Most of the new teams have been purchased by ownership groups so the list of names now involved in MLP is insane. The groups are made up of celebrities athletes, entrepreneurs and more. The list ranges from NFLers like Larry Fitzgerald to supermodel Heidi Klum to Shark Tank's Robert Herjavec and everything in between.
"The diversity in the backgrounds and expertise of our fantastic new owners is an incredible asset as we aggressively expand Major League Pickleball to reach more fans than ever," said MLP by Margaritaville Interim CEO Brian Levine. "We always say pickleball brings people together, and this roster of leaders from across a wide variety of industries is a strong testament to that philosophy."
Last week MLP announced the owners and rosters for the 12 Premier Level teams. Yesterday, the remaining 12 Challenger Level teams conducted their private draft. The rosters are included below.
The first overall pick was tennis icon Sam Querrey by the DC Pickleball Team. Querrey campaigned to be drafted in the Premier Level draft and although he missed the cut, he will be the face of the new DC squad and have a chance to prove himself before teams are re-drafted in July.
Atlanta Bouncers
Roster: Hunter Johnson, Brooke Buckner, Ben Newell, and Christine McGrath

Team Owners: Anheuser-Busch
AZ Drive
Roster: Wes Burrows, Sarah Ansboury, Andreas Siljestrom, and Sarah Burr

Team Owners: Larry Fitzgerald, Devin Booker, Dierks Bentley, Robert Gary, Doug Hirsch, Sheila Gulati, John Merwin, Sam Frakes, Mark Dalton, and Richard J. Schnall
Bay Area Breakers
Roster: Pablo Tellez, Ewa Radzikowska, Christian Alshon, and Rachel Summers

Team Owners: Jeremy Lin, Mimi Mercado, David Mercado, Geoff Nguyen, Stacey Nishi, Jeff Nishi, Wayley Louie, and Kathleen Louie
Brooklyn Aces
Roster: Cierra Gaytan-Leach, Rob Nunnery, Corinne Carr, and Greg Dow

Team Owners: Kevin Durant and Rich Kleiman's 35V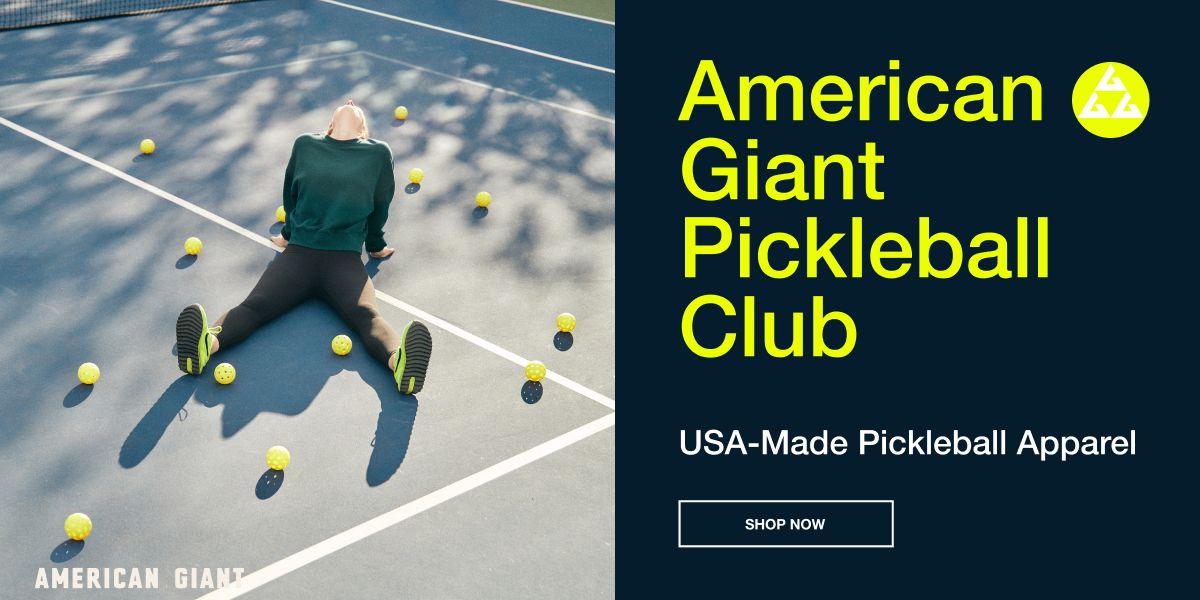 Take 20% off your first order from American Giant Pickleball Club with code DINK. Each durable, cotton piece is designed to breathe, stretch, and hold up to your hardest hits.
Chicago Slice
Roster: Susannah Barr, Emily Ackerman, Connor Garnett, Ryler DeHeart

Team Owners: Ron Saslow's 35 Capital, Heidi Klum, Tom Ricketts, David Justice, Doug Ellin, Chris Evert, Lindsay Davenport, Tracy Austin, Gigi Fernández, David Dobrik, Joe Bonamassa, Ted Foxman, and Steve Bellamy
Columbus Pickleball Club
Roster: Milan Rane, Becky Ryan, Yates Johnson, and CJ Klinger

Team Owners: David Kass, Doug Ulman
Dallas Pickleball Club
Roster: Megan Fudge, Chuck Taylor, Brandon French, and Christa Gecheva

Team Owners: Mark Cuban, Dirk Nowitzki, John Isner, Robert Herjavec, Chandler Parsons, and Todd Wagner
D.C. Pickleball Team
Roster: Sam Querrey, Stefan Auvergne, Shelby Bates, and Monica Paolicelli

Team Owners: Al Tylis, Sam Porter, Eva Longoria, Justin Verlander, Mesut Ӧzil, Kate Upton, Shawn Marion, and Rip Hamilton
New Arrivals from LOTTO. Up your shoe game and protect your feet with the selection at fromuthpickleball.com. Use code 10DINK for 10% off (some exclusions apply).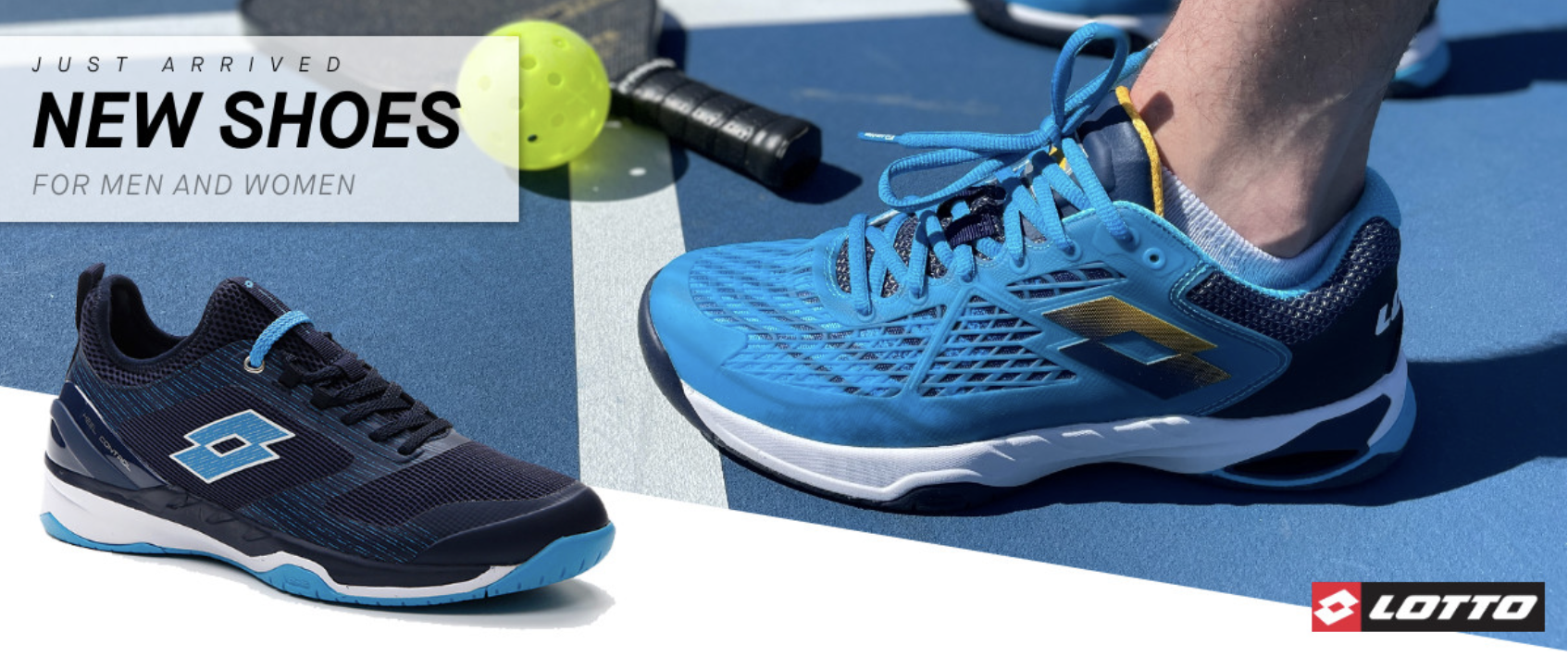 Miami Pickleball Club
Roster: Alix Truong, Regina Franco, Jeff Warnick, and Matt Manasse

Team Owners: Naomi Osaka, Nick Kyrgios, Patrick Mahomes, Rich Paul, Darius Garland, Mardy Fish and Alex Davis at Disruptive Sports Group, Alex Cohen at Heights, Stuart Duguid, The Palm Tree Crew, Prakash Amritraj, Matthew Pritzker, Mark Ein, Romie Chaudhari, Swimmy Minami
Texas Ranchers
Roster: Lee Whitwell, Pat Smith, Genie Erokhina, and Steve Deakin

Team Owners: Tim Klitch, Dan Ferreri, Bryan Sheffield, Kit Sheffield, and Richard Veitenheimer
Utah Black Diamonds
Roster: Michelle Esquivel, Spencer Smith, Olivia McMillan, and Rob Cassidy

Team Owners: The Pardoe Family
Valhalla Volleys
Roster: Bobbi Oshiro, Callan Dawson, Rachel Rettger, and Todd Fought

Team Owners: TBA
Schedule
The stops for 2023 Major League Pickleball seasons are:
Jan. 26-29 – Mesa, AZ – Legacy Sports USA
March 23-26 – Daytona Beach, FL – Pictona at Holly Hill
June 15-18 – San Clemente, CA – Life Time Rancho San Clemente
            - Season One Championship: Monday night, June 19
Sept. 21-24 – Atlanta, GA – Life Time Peachtree Corners
Nov. 2-5 – La Quinta, CA – La Quinta Resort & Club
Dec. 7-10 – San Clemente, CA – Life Time Rancho San Clemente
        - Season Two Championship: Monday night, December 11
Following season one, the team rosters will be cleared. All 12 teams from the Challenger Level will move to the Premier Level for season two. The league will hold another draft in July to set new rosters for season two. Rosters will clear again following the season two championship.
The teams with the best records at the end of the year will comprise the Premier Level to start 2024.
It is going to be a foundational year in the history of Major League Pickleball. The results for 2023 will set the future of the league for years to come. Subscribe to The Dink Newsletter to follow along every step of the way.