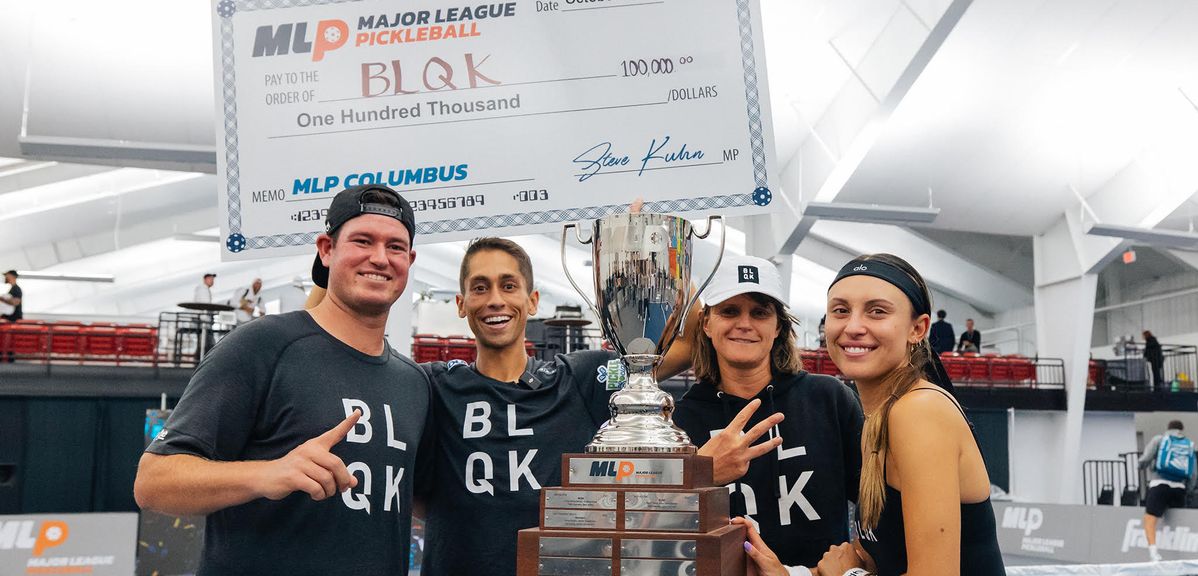 The merger between Major League Pickleball and the Professional Pickleball Association's VIBE has changed the course of pro pickleball. Since the merger was announced, the PPA and MLP have been working behind the scenes to determine what the league, or better yet, leagues, will look like.
Let's start there. MLP will include 24 teams in 2023. The 24 teams will be split into a Premier League and Challenger League, each containing 12 teams. Each team will have a roster of four players, two men and two women. The Premier League will draft the first 48 players before the Challenger League drafts.
The league now boasts a player prize pool that ranges between $8-10 million. It is the highest payout schedule in pro pickleball history.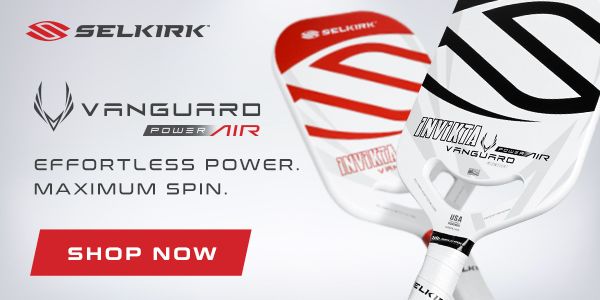 League & Team Schedule
Major League Pickleball will play six events in 2023. The events are broken into two seasons that are each played over three events. The first season championship will take place in June and the second in December.
This is a big change from how MLP existed in the past. The first four MLP events were played start to finish in a single weekend. In 2023, results from the first two events will contribute to the seedings for the season championship months later.
In addition to MLP, the PPA will have 25 tour events next year.
14 Tour Events
4 Majors
4 World Championships
1 PPA Tour Finals
2 Special Events
Here is a look at the year as a whole.
New Arrivals from LOTTO. Up your shoe game and protect your feet with the selection at fromuthpickleball.com. Use code 10DINK for 10% off (some exclusions apply).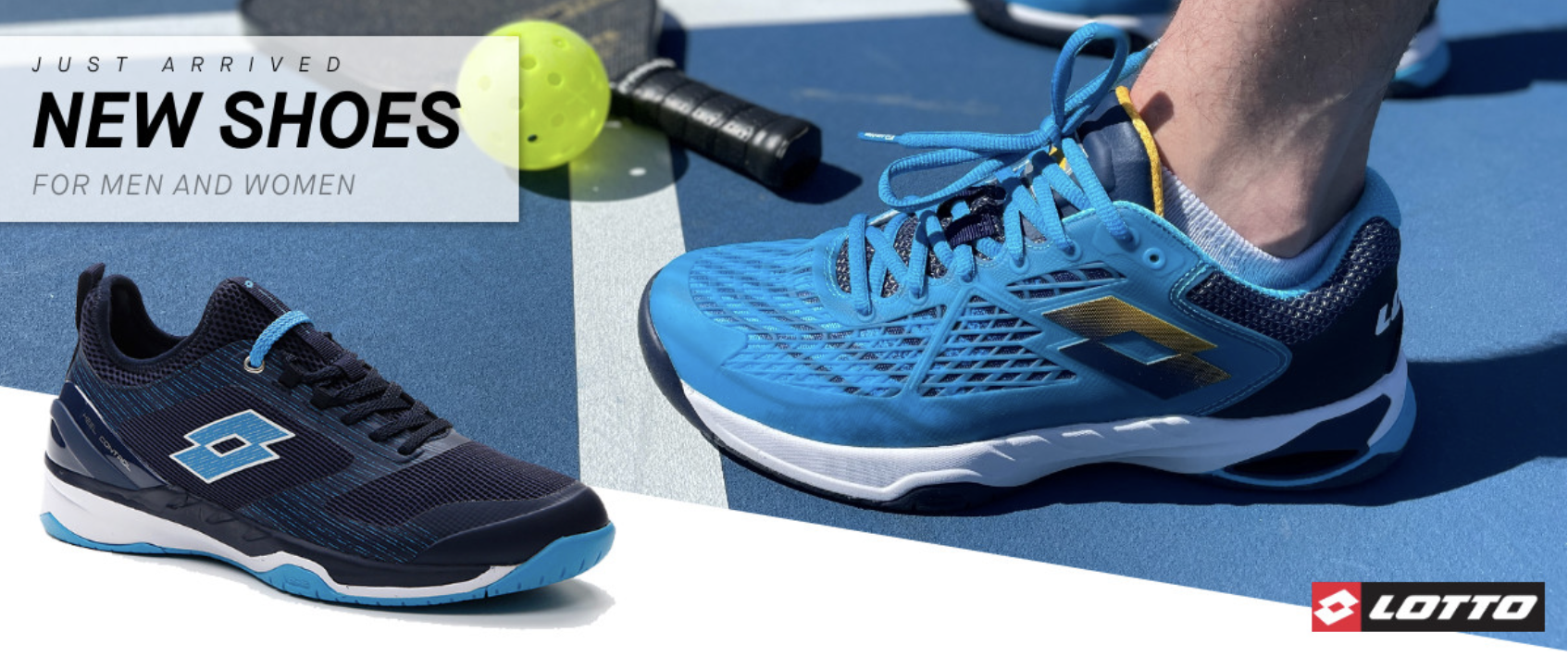 PPA-MLP Player Tour Card
Now that we have the schedule, we need to talk about what players can expect on their side. Any player that wants to play in MLP must commit to play for two years and play 5 PPA events in addition to the 6 MLP events.
The PPA-MLP also introduced the creation of player tour cards. Players will be invited to be either Gold or Silver Card Members.
A PPA-MLP Tour Card Committee "analyzed past tournament performance and history (quantity of events), current PPA Ranking, DUPR, and overall player marketability" to determine who would be offered a Gold card.
The gold card players will have more benefits and more commitments than silver card players, including tour exclusivity.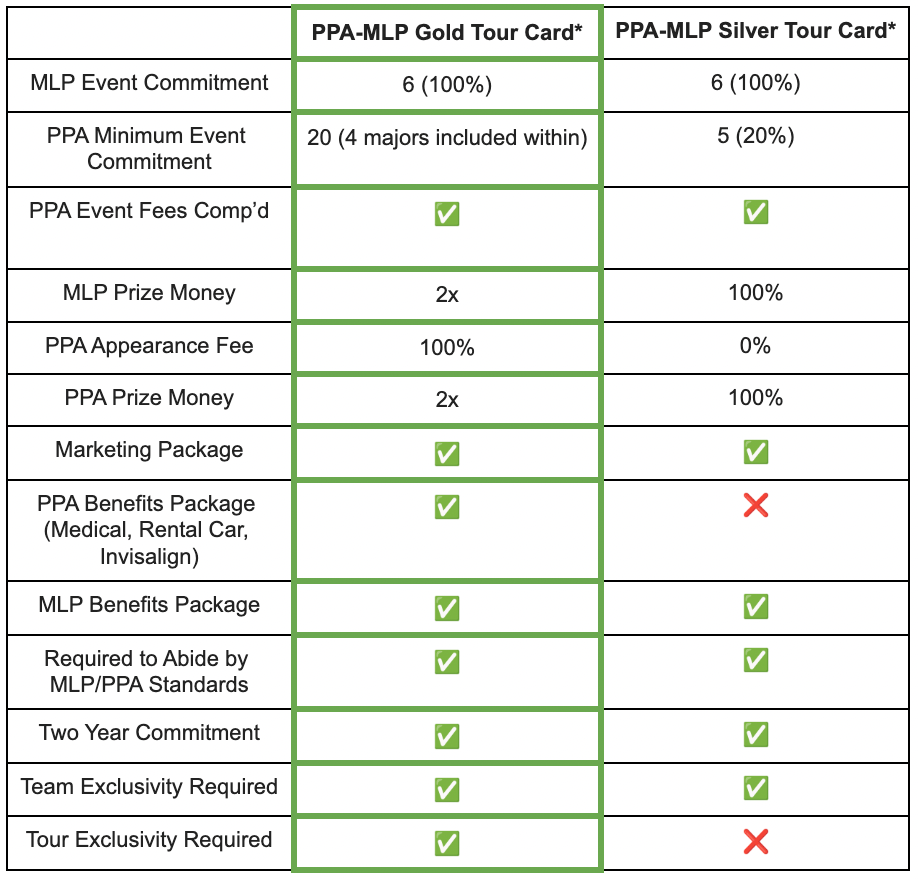 The most glaring difference for players is the earning potential of the gold card. Both MLP and PPA prize money is doubled for gold card players.
In 2022, that would have meant a player that won an MLP title would walk away with $50K instead of $25K. BLQK won two titles in 2022 and their roster would have collected $100k each with this model.
We don't know yet how many players will receive the gold card offer. But it's clear that exclusivity is still a valued part of the equation.
All players in MLP will need to hold either the gold or silver tour card. Any interested player has until Dec 5 to apply for the biggest draft in the history of pickleball. Submit your name here.