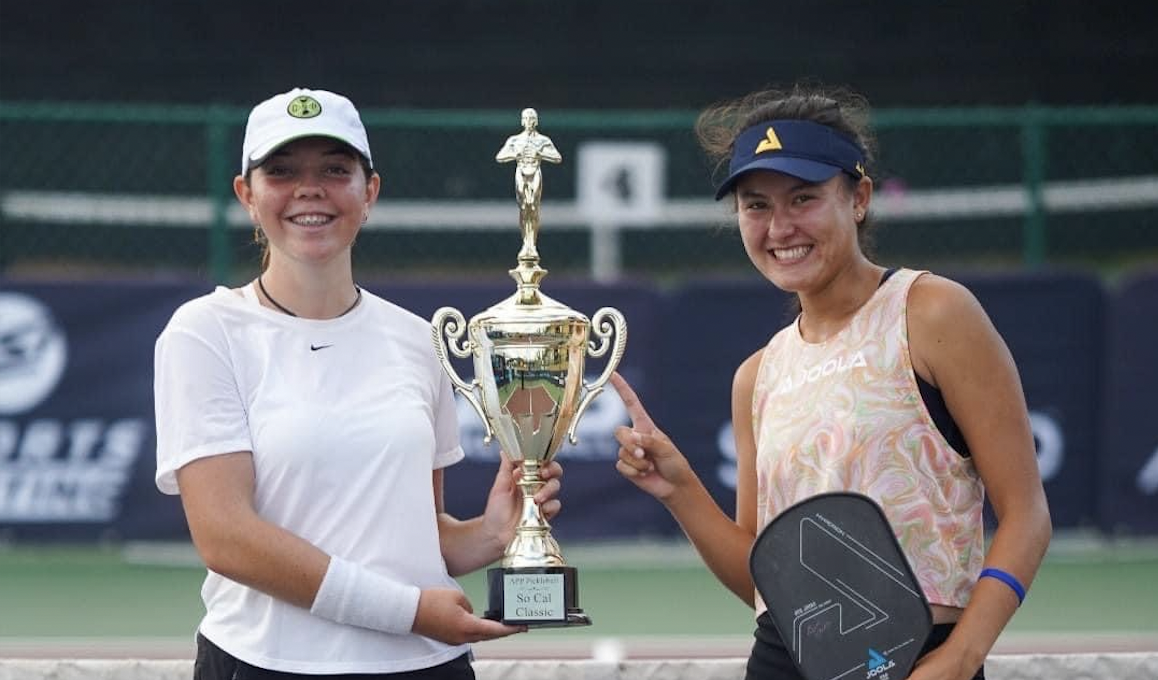 The Pros
Jorja Johnson and Dylan Frazier Take Their Second Gold at the APP SoCal Classic
JW Johnson and Dylan Frazier, along with Anna Bright and Jorja Johnson stole the show on Saturday at the APP So Cal Classic in Encinitas, CA. Both teams took gold in gender doubles in their respective divisions. This makes two golds from Jorja Johnson and Dylan Frazier who ran the table is yesterday's mixed doubles event. Let's look at who else filled out the brackets in both divisions.

Men's Doubles
Johnson and Fraizer beat DJ Young and Mario Barrientos in the gold medal match 11-3. 11-9, leaving the bronze medal for the youngster Hayden Patriquin and his partner Julian Arnold. That puts Frazier on triple crown alert for Sunday's singles event as he already secured the gold in mixed doubles with Jorja Johnson and men's doubles with Jorja's sibling JW.

Gold Medal Match
The number 1-seeded team in Johnson and Frazier did what their seed suggested and took care of business on their road to gold. In fact, the young duo at a combined age of 39, didn't drop a single game all tournament long, which ended in their gold medal performance against Young and Barrientos.

In short, Johnson and Frazier did an excellent job of keeping their opponents guessing. Johnson and Frazier were the instigators of the action, whether it be through their 3rd shots drives, or their speedups at the kitchen. That kept tremendous pressure on Young and Barrientos who always seemed to be on the defensive.

While Johnson commanded the middle with his forehand, Frazier was sneaking on that right side with his no-backswing 3rd shot drives and his speedups to his opponents forehand-hip at the kitchen, which was often Young. Johnson and Frazier were overwhelming Young and Barrientos, and were just a little too much to handle for the challengers.
RAPIDLY IMPROVE YOUR GAME OR YOUR MONEY BACK WITH PICKLEBALL MASTER COURSE! GET 10% WITH CODE THE DINK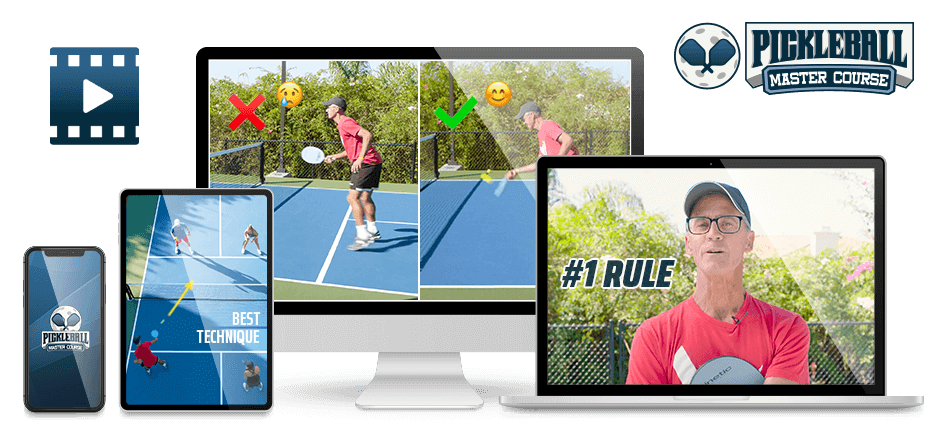 Bronze Medal Match
Young and Barrientos propelled themselves into the gold medal match by beating Partiquin and Arnold in the bronze medal match 11-7, 11-9. In the first game, Patriquin and Arnold found themselves with a 5-1 lead to start the match, but it started to slowly dwindle away as Young and Barrientos mounted their comeback.

By increasing their aggression and anticipating at a higher clip, Young and Barrientos closed the gap and tied the game at 6-6. From their Young and Barrientos countied their run ending the game with a 10-2 run. Cleary the eventual victors found a kink in their opponents armor and started to exploit that.

In game 2, it was Young and Barrientos that jumped out to a solid lead early, going up 7-2. When Patriquin and Arnold started their comeback it was just a little too late. The game got close at 9-9, but it was ultimately Young and Barrientos that prevailed via a Young pancake shot, plus a Barrientos backhand block as Arnold missed the return.
Women's Doubles
Johnson and Bright followed their male 1st-seeded counterparts and didn't drop a game on their way to the gold medal over Lee Whitwell and Lauren Stratman. That puts Johnson on triple crown alert like Frazier in Sunday's singles event. Parris Todd and Susannah Barr went home with bronze.

Gold Medal Match
Johnson and Bright came out victorious against Whitwell and Stratman 11-7, 12-10. While Whitwell and Straman had early leads in both games, it was the pressure and attacks of their opponents that proved to be too challenging.

Johnson and Bright were ripping their 3rd shots at what seemed to be about 50% of the time, and when the opportunity presented itself ripped their 5th shots. In addition, Johnson and Bright were the initiators when it came to speedups at the kitchen. It was partially due to Whitwell and Stratman leaving balls too high, but the other part was the tenacity and aggression of Johnson and Bright.

The final game was tied at 10-10, when Whitwell returned a serve long to make it 11-10. After the Whitwell/Stratman timeout and forced sideout, they were able to get the serve, but to no avail. When Johnson and Bright got the serve again, they put the game away on a Johnson backhand attack down the Whitwell backhand line. Game over!
Bronze Medal Match
The only medal match of the day that went to 3 games was Whitwell and Stratman versus Todd and Barr, with the former team winning 11-4, 8-11, 11-5. In all 3 games Whitwell was being attacked constantly by Todd and Barr but was able to stand firm and dish out her own backhand counterattacks.

In the 1st game, Whitwell and Stratman got out to en early lead and maintained it the entire match. The 2nd game was the closest with a lot of back and forth action, but Todd took command of her team and got the W. The 3rd game was the decider and once again it was Whitwell and Stratman.

The 3rd game started out with Todd and Barr taking a 4-2 lead, but that was quickly nullified and erased. Whitwell and Stratman went on a 9-1 run to close the game and launch themselves into the gold medal match. In short, Whitwell and Barr took advantage of Barr, by isolating her the best the could. That ultimately gave them the edge and the match.