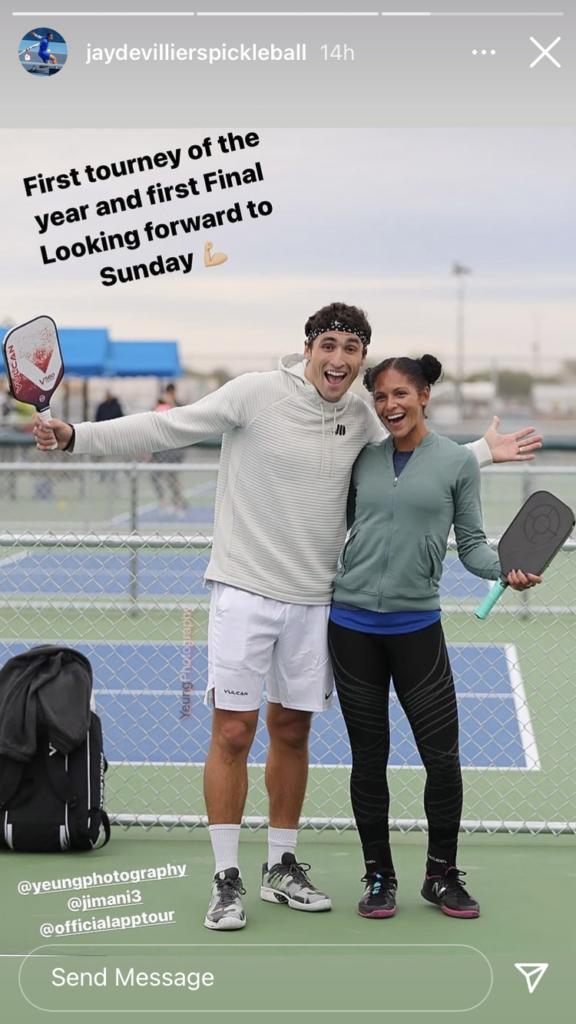 First mixed doubles action of the year took place on Friday at the APP Mesa Open in Arizona with Jessie Irvine and Jay Devilliers winning the winner's bracket final and advancing to the gold medal match on Championship Sunday. They will play the winners of Lauren Stratman/Dylan Frazier vs Vivienne David/Dekel Bar. The loser of that match will take home the bronze medal. That match will be a rematch of the winner's bracket semi-final where team David/Bar won 3-11, 11-2, 11-3.

The ballers were definitely out on Friday. While we know our top 3 teams that will compete on championship Sunday, there were a lot of other high level teams that just missed the opportunity to play for a medal. We will break down all of Friday's mixed doubles action below! Let's go!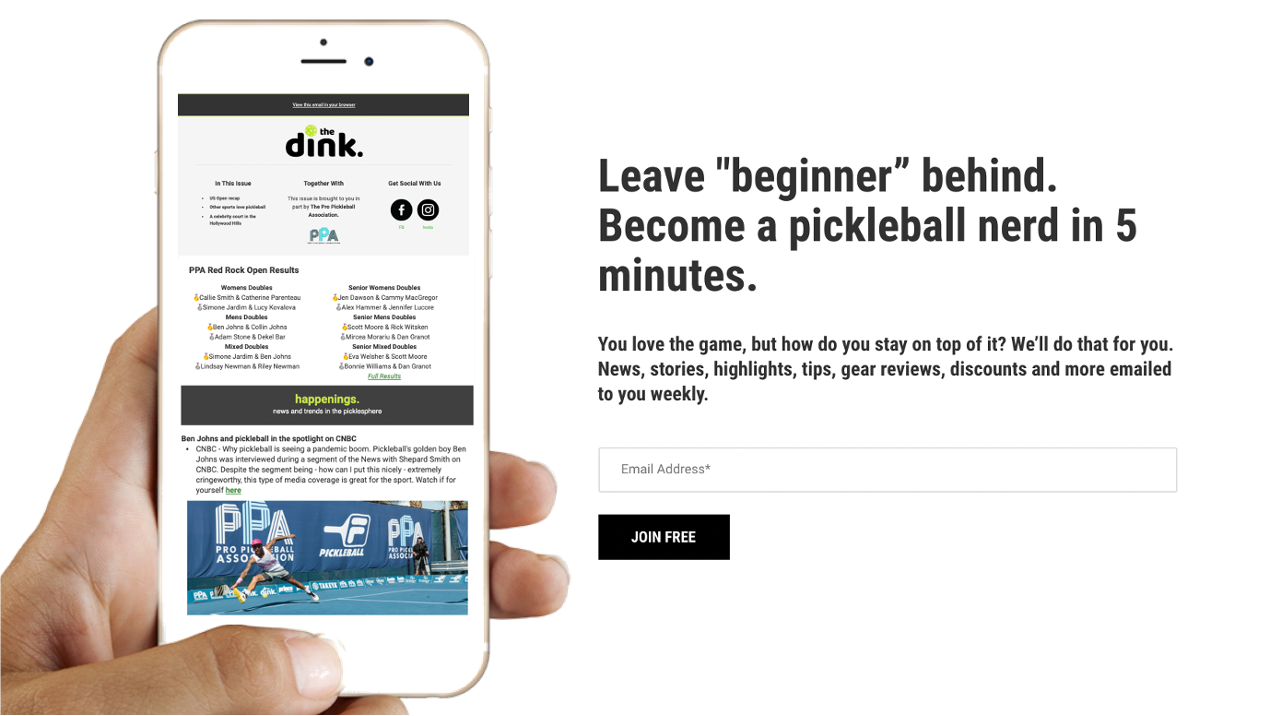 Irvine/Devilliers
Irvine and Devilliers beat team David/Bar in the winner's bracket final 11-6, 11-7. In short, Irvine's composure and consistency was just too much for the opposing team. Irvine did an excellent job of working herself up to the kitchen, taking her time with every shot and consistently hitting non attackable shots into the kitchen. That allowed her partner, Devilliers, to run up to the non-volley line with confidence and poach anything that was left high.

That was not only the storyline in the winner's bracket final match, but that was the story for team Irvine/Devilliers on the day, as they didn't drop a game. They beat team Lee Whitwell/JW Johnson in the winner's bracket semi-finals 11-6, 11-5 and team Susannah Barr/Wesley Gabrielsen 11-7, 11-6 in the round before that. Irvine's consistency paired with her ability to mix it up and attack, just gave the opposition too many problems. Of course taking nothing away from Devilliers with his reach, anticipation and knack for finding and killing the ball to win rallies.


GET 10%OFF THE NEW CRBN PADDLE FROM FROMUTHPICKLEBALL.COM WITH CODE 10DINK


David/Bar
Team David/Bar was essentially the second place team at the conclusion of Friday. However, they are in the bronze medal match against team Stratman/Frazier for the right to play Irvine and Devilliers in the gold medal match.


Team David/Bar played extremely well on Friday only losing that match to Irvine and Devilliers. They were able to beat team Stratman/Frazier in the semi-finals and Jorja Johnson/Callan Dawson in the round before that 12-10, 11-3. Bar's frame and reach was really difficult for other teams to handle. That paired with David's tenacity proved to be just the right mix to make it into championship Sunday.

However, they have their work cutout for them as they have to play a rematch against Stratman/Frazier. Of course, if they win, they will rematch Irvine/Devilliers in the finals. All eyes will be on them Sunday to see if they can advance.

Stratman/Frazier
Team Stratman/Frazier round out the mixed action for Championship Sunday as they will be featured in the 3rd place match, with the opportunity to move on into the first place match. While they were ousted by David/Bar in the winner's bracket, they had a great win against team Lea Jansen/Zane Navratil 11-4, 11-5. They also won their first match against team Allyce Jones/Spencer Smith 11-1, 11-7.

Their work wasn't done as they had to face Jones/Smith again in the losers bracket and then team Whitwell/Johnson winning both matches 15-3 and 15-5 respectively. Stratman did a great job of rolling her forehand dink when she had the opportunity, slicing it when she needed more time and hitting her two handed backhand when the moment presented itself. That, with Frazier's consistent third shot, dinks and kills, allowed them to weather the storm and make it into the bronze match.

GUARANTEED TO RAPIDLY IMPROVE YOUR PICKLEBALL GAME OR YOUR MONEY BACK! GET 10% OFF WITH CODE THEDINK


Honorable mentions
Like always, in these stacked divisions there are always going to be teams that you thought would make it further than they did. It makes sense, because not everyone can qualify for Championship Sunday. Only 3 teams can, and with a division this OP (over powered) some teams are going to be going home disappointed. Let's look at some other teams that had a shorter run than expected.

I think the two most notable teams that didn't qualify for Sunday's action would be the teams that feature both Thursday's singles champions. While they haven't solidified their gold yet, they are the front runners entering Sunday, as the winner's bracket winners: Navratil and Tereschenko.

Navratil teamed up with the new Franklin star Lea Jansen. After winning their first match 11-0, 11-0 against team Kamryn Blackwood/Caden Nemoff, they lost to Stratman and Frazier. They were then forced into the opportunity bracket where they beat team Joy Leising/John Cincola,  15-6. However, their run didn't last long as they lost to team Tereschenko/Erik Lange 15-8.

Tereschenko was the other singles star from Thursday that had a shorter run than expected on Friday. She and her partner Lange were taken out in the winners bracket by team Barr/Gabrielsen 11-8, 5-11, 11-7 in their first match, and then Whitwell/Johnson in the opportunity bracket 15-3. While they definitely made a nice run in the opportunity bracket, they just ran out of steam towards the end.

While there were some other teams that are worthy of recognition, the last team I want to touch on is Corrine Carr and Adam Stone. On paper and from past experience, you would definitely expect them to make a run on Friday. However, that just wasn't the case as they went 2-2. They lost to team Johnson/Dawson in the winner's bracket 11-13, 11-2, 11-3 and in the opportunity bracket to team Jones/Smith 15-4.

It's no doubt that professional pickleball is off to a great start in 2022. The divisions are becoming more and more stacked and I can't wait to see what else is in store. Saturday is doubles day featuring some more great combinations like Navratil/Frazier, Dekel/Adam Stone and the young kid Hayden Patriquin with Wyatt Stone. On the women's side of things we have David/Tereschenko, Irvine/Andrea Koop, and a team I am looking forward to watching, Stratman/Jansen, among others. So stayed tuned!

Get a full recap on men's and women's singles from day 1 here.