Do ratings have to be hard?  
Find out for yourself this Monday LIVE during an "Ask us Anything" on all things ratings and DUPR, with Founder Steve Kuhn & CEO Jill Braverman, hosted by Thomas Shields from The Dink.
As pickleball participation grows meteorically, there are more and more rating-related questions and discussions happening in the Pickleball ecosystem. We want to help answer those questions, to be transparent and open about who we are and what we stand for, and how we're helping the global pickleball community.
You can submit any and all questions by registering for the webinar. Even if you can't join us live, we'll send you a personal message with the answer to your question. Or, you can post your questions below. The event will stream live at 10:00 PST/1:00 EST on Monday, April 11, 2022 on Zoom, Facebook, and Youtube. Go ahead, ask us anything. You can read the DUPR origin story here.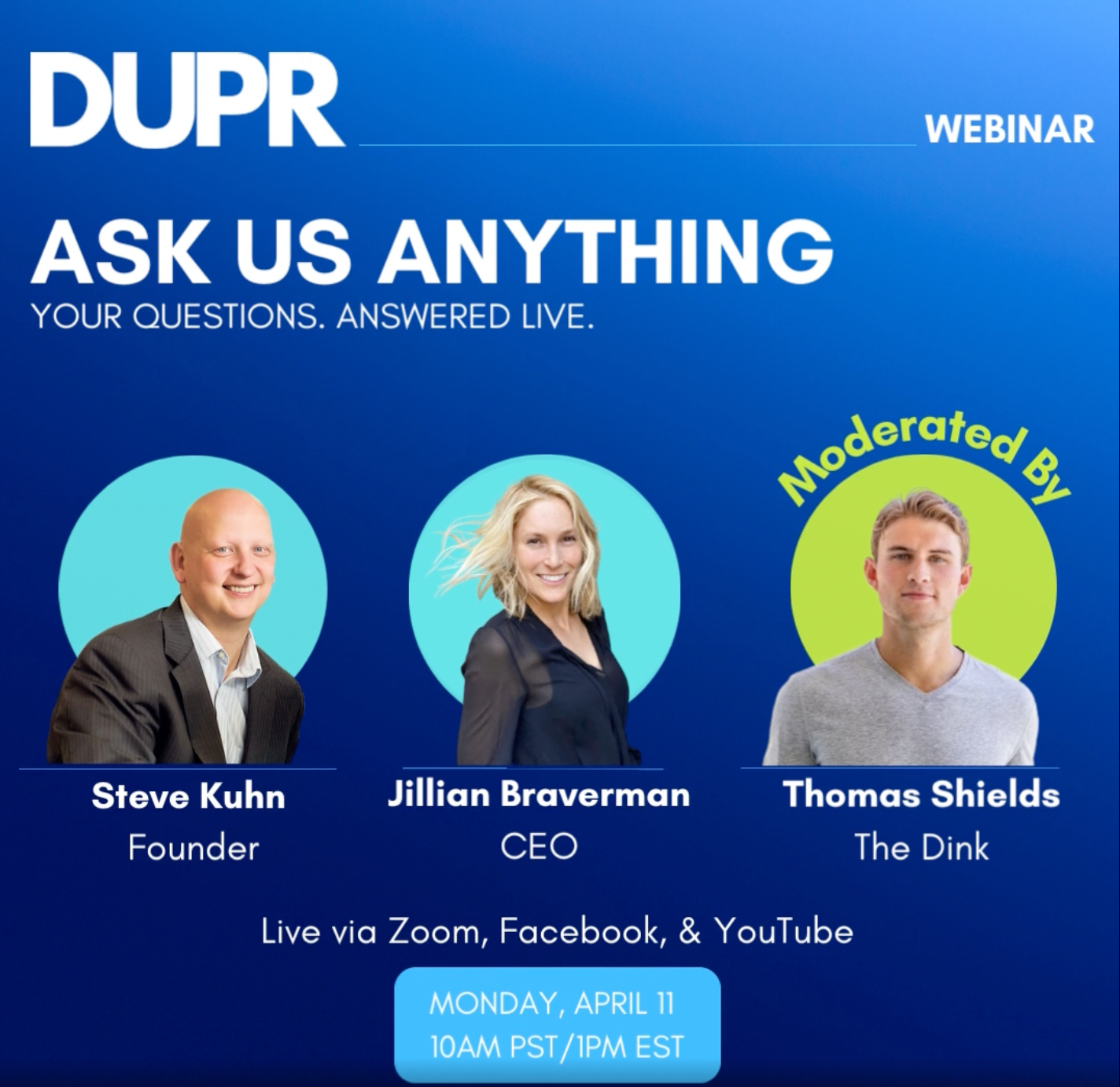 About the Panelists:
Steve Kuhn is the founder of DUPR and Major League Pickleball. Not only an avid Pickleball player, Steve is also the founder of Ideal Immigration, improving America's socioeconomic well-being through immigration reform. He has also founded and is currently working with numerous charities including Charity Water, Young Voices of Austin, the Andy Roddick Foundation and Immigration Justice Corps. Steve's DUPR is a 4.196.
Jill Braverman is the CEO of DUPR and former Head of Commercial at Universal Tennis. She is a former professional Pickleball player and Silicon Valley based startup founder who has helped over 1,000 founders, many nontechnical and female, ideate, prototype, fundraise for, and develop their app concepts. She is passionate about democratizing technology, especially in sports, to breakdown socioeconomic and geographic barriers to entry. Jillian's DUPR is a 5.945 in Singles and a 5.525 in Doubles.
About the Moderator:
Thomas Shields is Founder of The Dink, Pickleball's favorite newsletter, blog and podcast. Thomas lives in Austin, TX and is a McCombs MBA Candidate. His DUPR is 4.964.