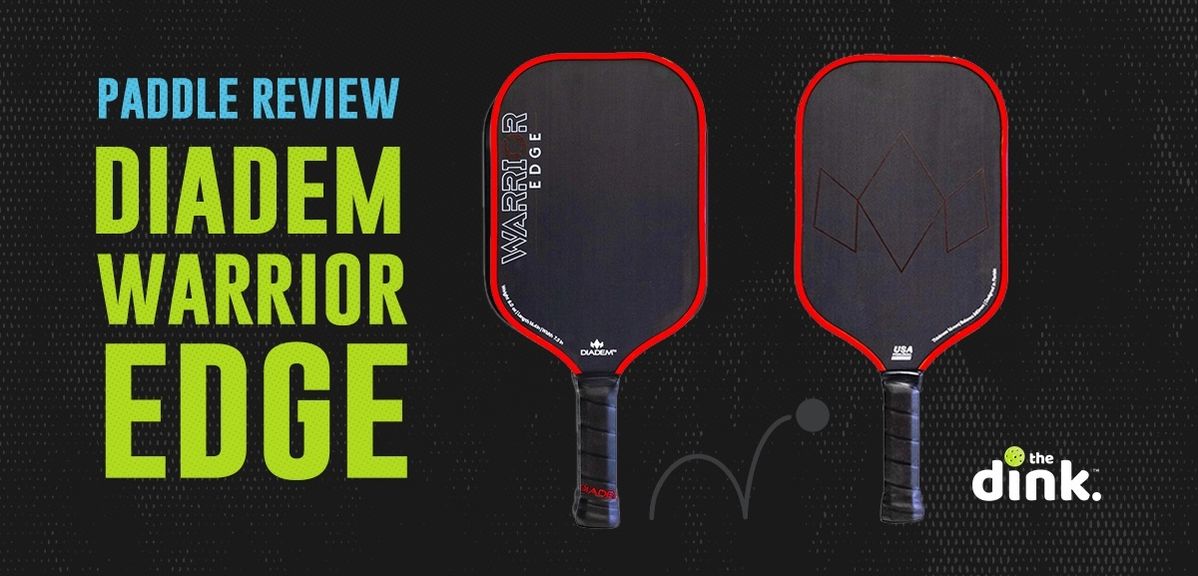 Paddle Reviews
Diadem Warrior Edge Review: A 'Control' Paddle if There Ever Was One
The Diadem Warrior Edge is my favorite pickleball paddle as of summer 2023. That's a bold statement considering I've tried every major category and build type of paddle that's popular on the market right now.
And, before you ask: no, they didn't pay me to say that. But before I explain how I arrived at this position, here are the technical specifications you need to know:
Warrior Edge Specs
Weight: 8.0, classifiably "midweight"
Thickness: 16mm
Handle Length: 5 inches
Core Construction: Honeycomb
Key Material: Etched carbon fiber
Shape: Slightly elongated
Price: Diadem recently discounted the price from $174.95 to $149.95 at time of publishing
Something I noticed right away when playing with this paddle is a remarkable consistency in how the ball plays off of the vast majority of its surface.
While I acknowledge the importance of determining a paddle's sweet spot to achieve ultimate expressions of power and control, it must be noted that Diadem has achieved more than just a paddle with a large sweet spot in the Warrior Edge.
Even in non-"sweet" areas, there's a consistent feel and result in the way the ball interacts at almost every point on the paddle's face which I have not experienced yet in any other paddle.
I must also award Diadem my congratulations on a comfortable, just-right grip in terms of size and texture (speaking as a 6'2" male with somewhat thin, moderately-sized hands).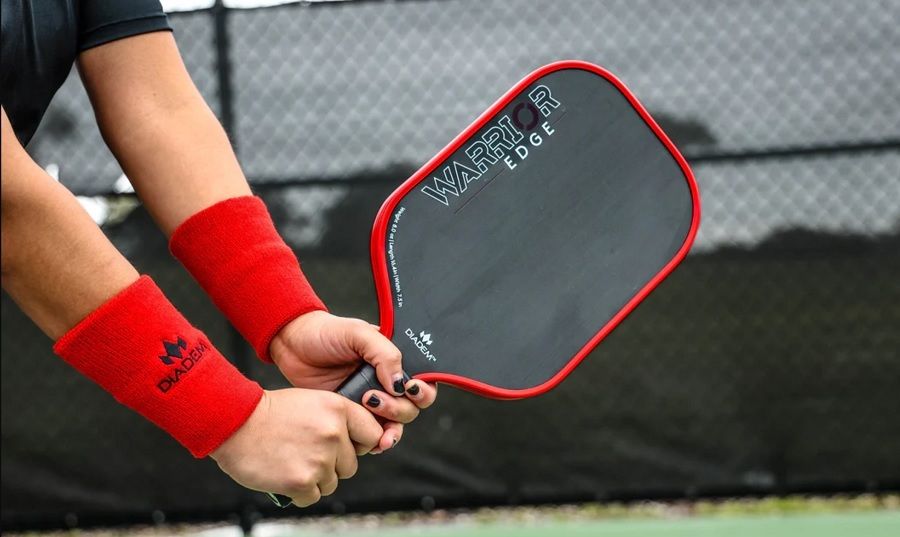 How do I categorize it?
I said above that the Warrior Edge is my favorite paddle I've tried yet. But I had to play quite a few games with it to arrive at that conclusion.
The first couple of games I played with this paddle, I struggled to place it: Is it a 'spin' paddle? Is it a 'power' paddle? Is it a paddle particularly-suited to resets and the soft game?
Eventually, I came to the conclusion that it must be a 'spin' paddle because I found myself netting some balls that I would normally have no problem sending just over the net.
I have a strong forehand topspin technique, but I found my deployment of it using the Warrior Edge to be initially inconsistent...that is, until I realized that I didn't need to hit as hard to generate tons of spin.
I found myself able to save my energy for tougher put-aways and point grinds, knowing the Warrior Edge can spin like a DJ.
Related: Where Should You Add Lead Tape to Your Pickleball Paddle? | The Paddle Taping Guide
Carbon paddles are noted for having less vibration upon hard contact with pickleballs, but this takes decreased vibration to a new level.
I love many of Selkirk's thin designs for their power and spin capabilities, but they do often absorb less impact than thicker honeycomb paddles.
This paddle handles completely differently than the most popular Selkirks, yet still generates plenty of spin.
Where thinner, spin-focused paddles often enhance spin through pop and a sense of aerodynamics in the hand, the Diadem Warrior Edge relies on a durable face and carbon fiber construction.
---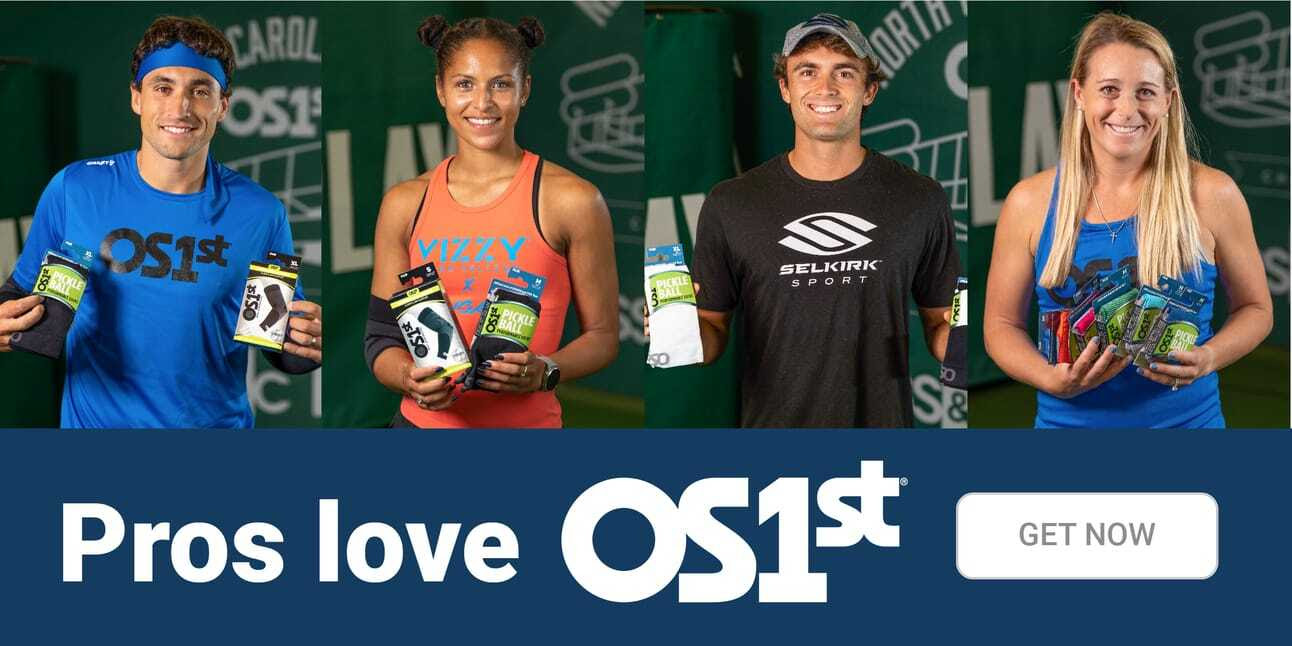 The Official Sock of Major League Pickleball, OS1st compression socks are designed for comfort, injury prevention and improved recovery.
---
Warrior Edge excels in the soft game
More than any other paddle I've tried, the Warrior Edge features some serious "dwell time."
More info on that here, but for those who aren't aware: dwell time refers to how long a ball dwells on the paddle face upon making contact.
I can physically feel that the way balls interact with the face of this Diadem paddle is different than most, even if the difference is generally subtle.
I found reset shots were slightly less consistent at first – but there's a reason for that.
See, I'm used to spin and power-focused paddles from Selkirk (and the most spin-heavy paddle I've tried, courtesy of PCKL).
My experience with very different paddle types put me in a temporary loop during playtesting:
When an opponent fired a hard drive at one of those paddles, all I needed to do was hold it in the right position and the ball would float over the net
But because the Warrior Edge has so much dwell time in comparison to those harder paddles with thinner bodies, the first few times I tried to reset with it, the ball would fall short
I needed to add more punch to my resets, which ultimately suits me better anyway
When I'm facing off with a strong-armed opponent who likes to send balls at my head with the speed of a rogue comet, it's great to be able to dial-in my response swings based on how hard they come at me. I can always add more punch if my opponent slows down their drives.
Depending on your proclivity for slowdowns and resets, plus your experience with certain types of paddles, there may be a need for adjustment when you're playing at the NVZ line with the Warrior Edge.
In short: who is this paddle for?
Ultimately, the Diadem Warrior Edge is my favorite paddle because it most closely matches my personal play style. The more I play, the more control I want over my resets and dinks, and this paddle provides that in spades.
The Warrior Edge is a highly enjoyable paddle for those who focus on spin, dinking, and dialed-in resets.
Those at a 3.5 or higher rating will likely appreciate this subtlety most, but that is entirely dependent on how you play at any level.
And now that Diadem has reduced its price, I expect the Warrior Edge may be within reach of more buyers seeking a "next step" paddle. Learn more via Diadem's website.
👋
Adam Forziati has been a primarily recreational player since 2018 but hopes to enter the competitive arena this year. He channels his natural curiosity and passion for pickleball when writing content for The Dink's website and newsletter.
---