We all try to cram as much pickleball gear as possible into our bags – who hasn't forced a sweatshirt into the top of theirs once the court heats up, competing for space with backup paddles, car keys, a phone, chunky water bottle, etc.?
But an ideal pickleball bag wouldn't just be larger than the solutions we see out there every week.
It would feature a thoughtful layout of pockets: separated spaces for paddles, balls, personal equipment, large water bottles, and even some snacks.
It would be durable enough to survive the backseat of your car, being slung around shoulders of all sizes, hung on fences, and dropped on hard surfaces.
Its design would consider the every-day needs of recreational players as well tournament winners, with thoughtful extras like an insulated section, padded upper pockets for sunglasses, or a dry storage compartment big enough for your jackets, hats, and notebooks.
The Third Shot Drop Court Case has all of those features and more.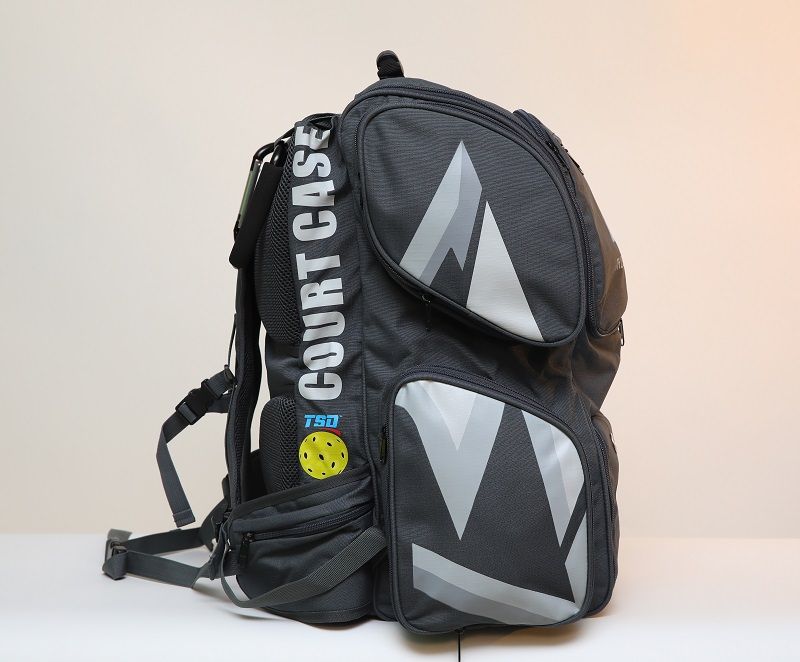 Made from water-resistant ripstop fabric, the Third Shot Drop Court Case even features rubber feat on the bottom, ensuring the items inside stay dry even when the bag rests on dewy grass or damp courts. But its reinforced loops and carabiners keep it securely attached to fences for easier access to your gear.
It even features two external USB charging ports, ensuring you never miss critical tournament details or important texts when your phone inevitably runs out of juice.
Third Shot Drop Court Case features at-a-glance:
(2) Heavy duty reinforced loops with carabiners to hang bag from a fence
Wet compartment for shoes, sandals and clothes that doubles as a place for an insulated cooler bag 14" x 8" x 6" high
4 Side pockets are zippered and expandable to hold 12 pickleballs in each lower pocket
(2) External USB charging ports
Top loading compartment holds two 32oz water bottles upright with 4" elastic loops on both rear corners,
Dry storage compartment for papers, rule book, pens, cards, etc. and plenty of room for jacket, sweatshirt, hat, dry clothes, towels, massage gun
Padded space for sunglasses, phone, keys, etc.
Room to hold 4 paddles
Learn more about the TSD Court Case – The Ultimate Pickleball Tournament Bag – here.