Oh, so you're a former tennis player converting to pickle? Join the club. Whether your parents were putting you in lessons to keep you busy during the summer or you were grinding it out at the highest level of USTA's, you're one of us.
And now, you've caved to the hype. You're a pickleballer. Ok fine, you don't have to adopt the designation of pickleballer yet, but if you're spending time on the pickleball court, you might as well find a paddle that suits your skillset.
Having a tennis background can be a significant advantage in pickleball. Choosing the wrong paddle can cause that advantage to evaporate. Choosing one of the paddles below can ensure that you capitalize on the assets you already have as you finally make the transition to pickleball.
What factors make up the ideal pickleball paddle for an ex-tennis stud? There are a few, namely:
- Spin
- Shape
- Power
Based on countless conversations and plenty of trial and error, these three factors seem to consistently decide whether a paddle suits a tennis player. So which paddles embody these characteristics best? Glad you asked:
Use code 10DINK for 10% off paddles and equipment at Fromuth Pickleball!
1) The CRBN 2
2) The Electrum Model E
3) The Franklin Ben Johns Signature
The CRBN 2

CRBN is a newly launched brand that seems to be taking pickleball by storm. It's sleek, all black look is a great complement to its aggressive style of play.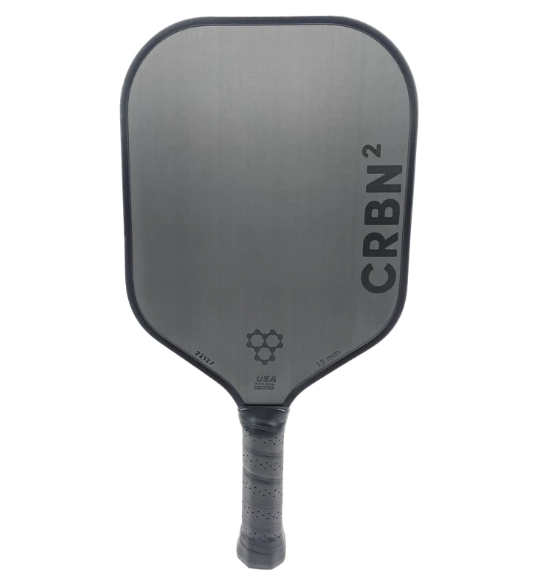 Spin
Simply put, this paddle generates RPMs. In fact, in a test of all the top paddles in the game, CRBNs one came out on top. You can read more about the analysis here.
It's noticeable too, and takes some adjusting when you first play with it. But once you get comfortable, you actually realize that its ability to generate natural RPMs allows you to flatten out your stroke (you don't need to come over it so much) and add power to your shots.
Pickleball players love spin because it allows you to pull off some crazy winners down the line from the baseline and carve balls at sharp angles when at the net. This is the best paddle for that.
Lastly, you can play some pretty gnarly looping lobs over your opponent. Kind of like throwing a fade in football: it looks like it's going too long, and then all of a sudden, it drops right into the target zone.
Shape
This paddle is quite similar to the Ben Johns, but with a more square face and a little less length on the handle. You likely aren't going to be hitting two-handed backhands with this one, but you'll definitely have an easier time finding the sweet spot. Hitting the sweet spot is crucial for a consistent short game at the net. So, if you're a tennis player who hasn't yet perfected your short game, the CRBN2 might be perfect for you.
Power
Power is somewhat subjective with this paddle, meaning that the amount of power you experience depends on your stroke. Are you someone who's adding tons of topspin? Well, then you'll lose a bit of power. This is a common hurdle for tennis players…it takes a while to learn that a flatter stroke actually reduces the risk of error and increases power.
If that sounds like you, then maybe the CRBN2 is the right paddle for you. Its ability to effortlessly generate spin grants you some peace of mind as you start to flatten out your stroke, because you'll still be able to add tons of topspin to the ball. Once you do that, you'll notice that this paddle packs plenty of punch.
Additional Perks
This is the hot paddle right now. CRBN, so hot right now. So, you'll definitely look like a pickleball insider when you step onto the court with this weapon
Not to beat a dead horse, but this thing is going to give you some nasty spin
Price: $179.99
10% off from CRBN Pickleball with code THEDINK
The Franklin Ben Johns Signature Paddle
This is about as close to a classic as you can get in pickleball. Just about every competitive player has had a stint with this paddle, and for good reason. The Franklin Ben Johns is named after #1 ranked Ben Johns, a Delaware native who can't seem to lose. He's widely considered the pickleball goat.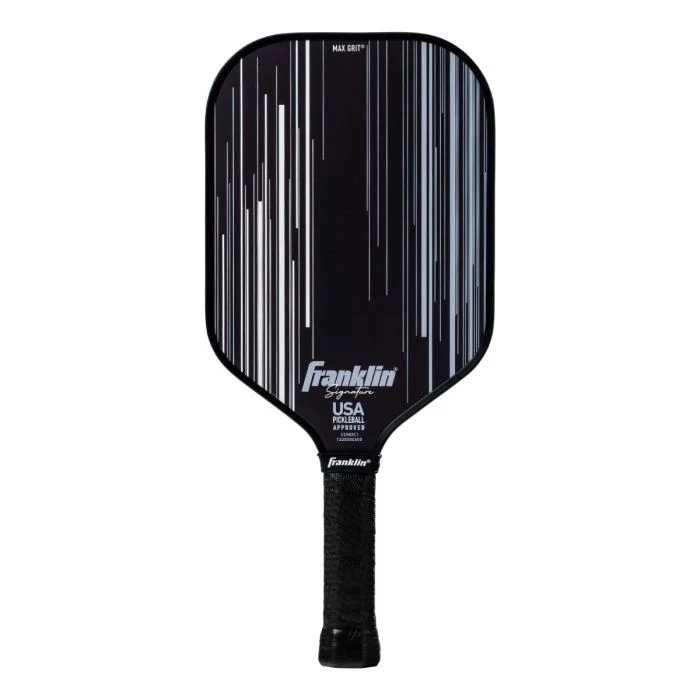 Spin
This paddle is the king of forehands down the line. Many singles specialists prefer this paddle for exactly that reason: it's meant for those who like to paint lines. It's gritty surface allows for players to manipulate the ball in ways that most other brands simply cannot match.
Shape
The Franklin Ben Johns shape could be considered 'middle-of-the-road.' It has a handle that's just long enough for players to grip it with both hands for a two-handed backhand. Its face allows for a nice amount of reach into the kitchen. Pickleball paddles come in all sorts of shapes and sizes (short and long handles, square faces, skinny faces, the list goes on). This model can be considered the average of all of them, in terms of shape.
Power
For most tennis players, power is not an issue, but some paddles can provide a little extra boost that makes a noticeable difference. This is one of them. Is it the most powerful in pickleball? Not quite, but it's definitely in the top 5. And that's saying a lot for a model that doesn't tout itself as a 'power paddle.'
Choose the 16mm if you're looking for a little more help on the soft game. Choose the 13mm if you feel like you have the soft game down, and you'd rather benefit from some extra power.
As a former tennis player myself, and as someone who has tried just about every paddle out there, I always come back to the Ben Johns Signature. It's the closest thing you can find to an actual tennis racquet.
Additional Perks
It comes in multiple colors, from the classic white with red accents to a sky blue and all-black. It even has a deep purple for those feeling a little moody.
The price point is pretty unbelievable. The ratio of paddle quality to price is debatably the highest in pickleball. At only $100, you might as well snag a backup while you're at it.
Price: $100
Get 10% off yours at Fromuth Pickleball with code 10DINK
The Electrum Model E
Electrums were the first paddles to really start pushing the limits when it comes to spin and power. I'd actually credit Electrum for reimagining what a pickleball paddle can do and giving rise to all the grit we're seeing in the market today. There was a time when many of the pros were questioning Electrum's legality because of how wicked pro Pat Smith's shots were with this thing.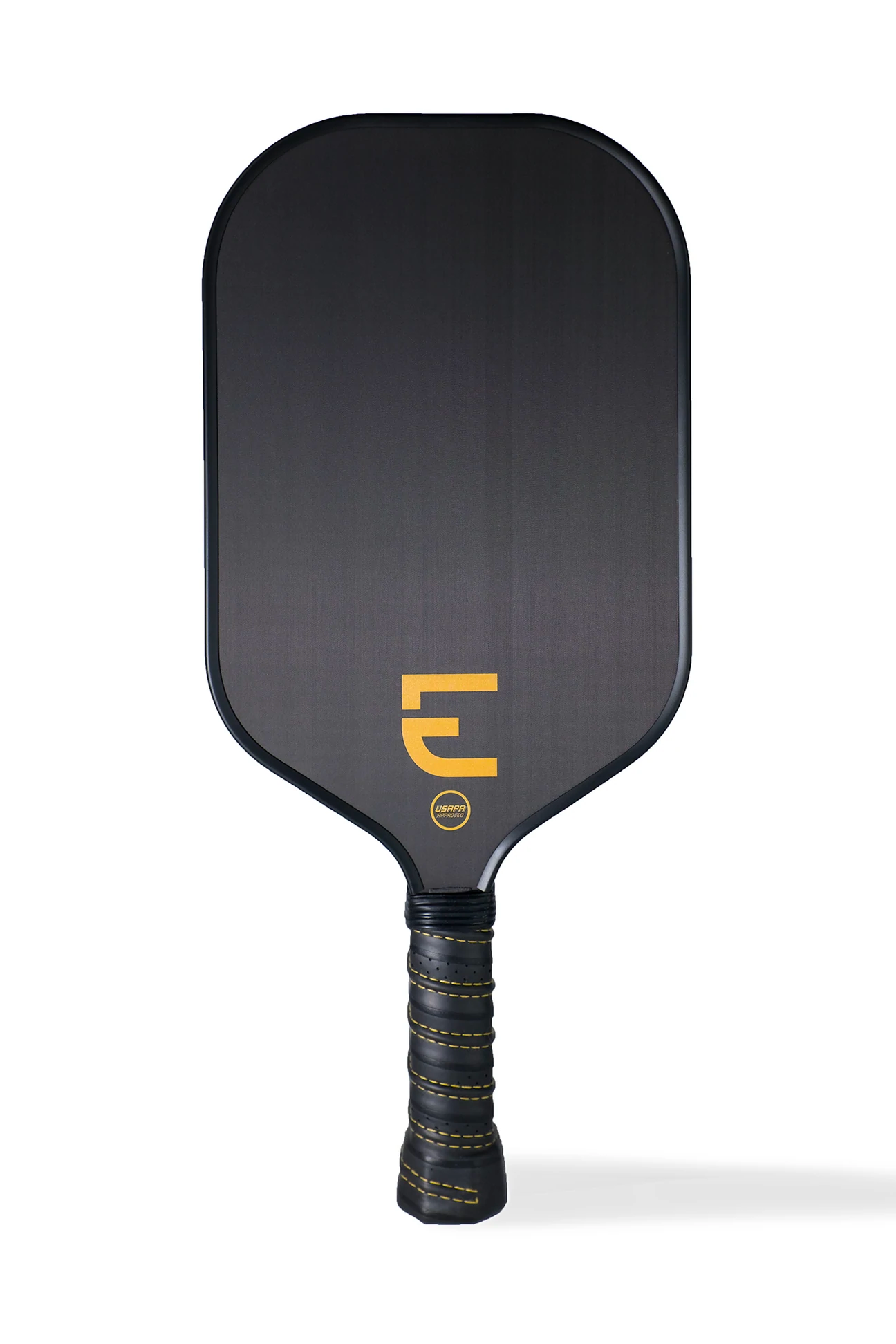 Spin
Before the CRBN's hit the market, Electrum had the reputation of THE paddle for spin. And while the CRBN has taken the spin throne, Electrum is still top 3. The trade-off is the power, which this paddle has plenty of. When I'm not playing with the Ben Johns, this is my first choice because it has a similar combination of spin and power.
Shape
Much like the Ben Johns Signature, the Electrum Model E's shape is like if you average all the legal paddles on the market. Enough handle length for the two-handed backhand, overall length for solid reach into the kitchen and not too skinny where you're going to struggle to find the sweet spot. This thing mimics the shape of a tennis racquet, which makes strokes feel super natural for a former fuzzy-baller.
Power
This thing rips. It also has that "pop" off the face. It feels like the ball is really exploding off the face of the paddle and it tends to catch players by surprise. It makes speedups at the net that much more lethal, and you can certainly rip those nasty forehand winners right up the middle when you need to.
Additional Perks
This thing is like the batmobile of paddles, it's just got a cool look to it
They're super durable and you won't have to replace them as much
Price: $179.99
Get 10% off yours at Fromuth Pickleball (code 10DINK) or from the CRBN site (just make sure to use code: thedink)
All-in-all, you aren't going to be upset with any of these choices. There are plenty of paddles out there that will require you to completely change the way you strike the ball. These paddles are not like that.
Whichever you go with, make sure to capitalize on the 10% off by using 10DINK at checkout on fromuthpickleball.com.
Want more nerdy pickleball information? You're in luck, we send out a twice weekly free e-newsletter that covers everything from improving your game to the latest on the pro circuit. Subscribe here.