With worldwide sponsorships and a tour stop televised in China under its belt, the APP Tour has had an eventful 2023. Now, the pro league announces big plans for 2024.
"We will be running a minimum of 20 events in the USA, and continuing to grow our international partnerships portfolio," a spokesperson said.
The 2024 APP Tour will feature:
A minimum of 12 events total
At least 4 of these events will be categorized as APP Tour Majors
At least 8 of these events will be categorized as APP Tour primary events
(APP Tour Majors will feature larger venues, larger draws, and larger prize pools compared to APP Tour primary events)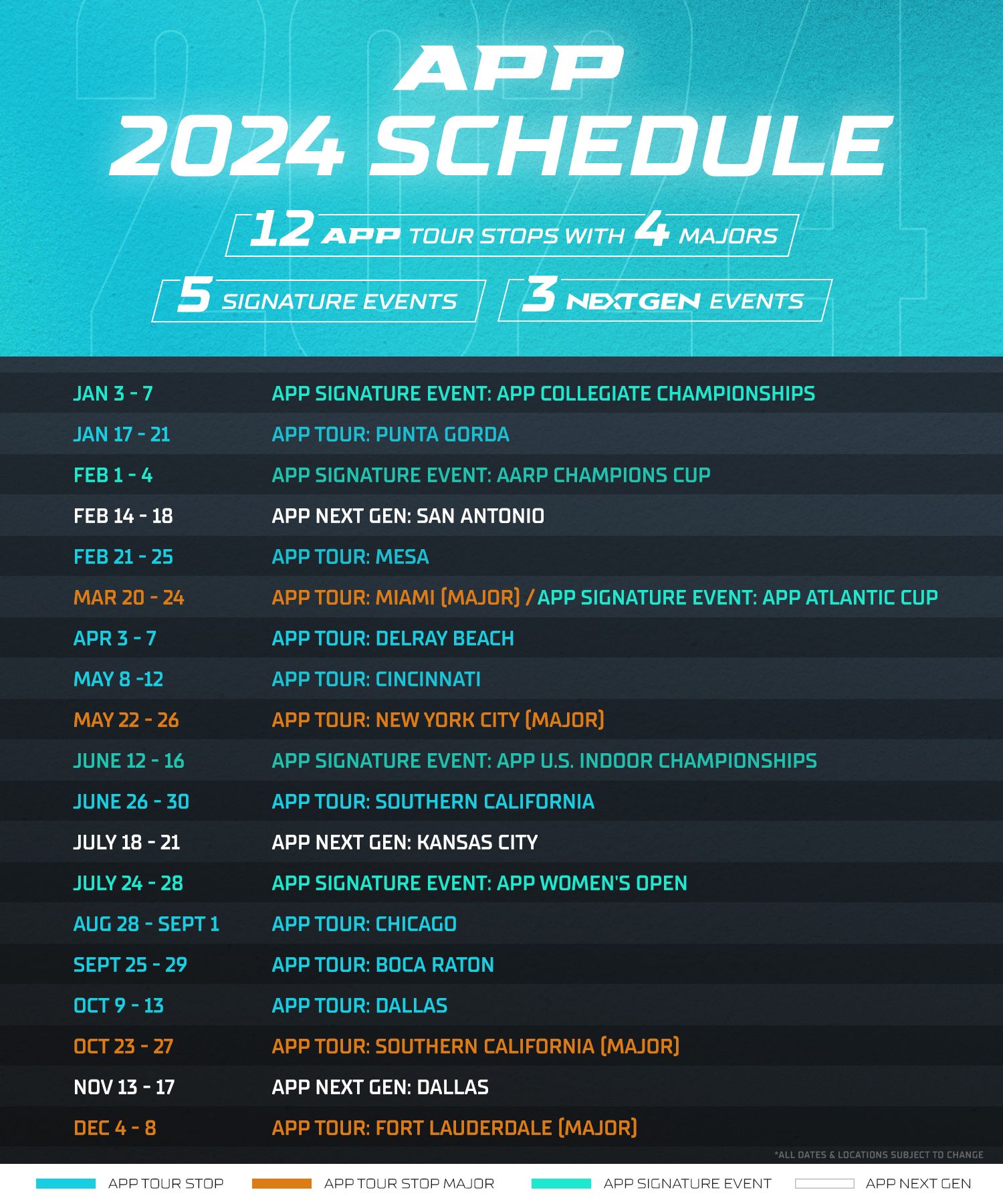 New "Signature Events"
Alongside the APP Tour will be APP Signature Events – at least five standalone events that cater to specific audiences and geographies.
Next Gen enhancements
The APP has confirmed that it will increase its commitment to identifying and developing future stars of our sport, with the APP Next Gen Series featuring a minimum three tournaments in 2024.
The press release also boasts an increased focus on the APP Next Gen National Team, "who competed so successfully for the first time abroad at the 2023 English Open powered by the APP."
More international deals
The APP will increase its international footprint through partnerships with federations and organizations in emerging markets worldwide.
In 2023, the league fostered sponsorships in India, England, Spain, Sweden, and Australia.
Read Next: Niche Sports Book from the 70s Predicts Pickleball's Growth
"We have more, much more, to come in this important area of our business. Pickleball is growing worldwide, and the APP is playing a lead role in helping power that growth."
Increased player prize pool
APP players will be glad to learn that the league is increasing the player prize money in 2024.
Pro players competing in APP Tour Majors in 2024 will be battling it out for a minimum prize fund of $150,000 per event, while primary events will feature funds of at least $100,000 per event.
---