On Wednesday, July 12th at 12:30pm ET the Premier Level draft for MLP Season 2 took place.
Find our analysis of the Premier Level draft here.
Here are the results from the Challenger Level draft: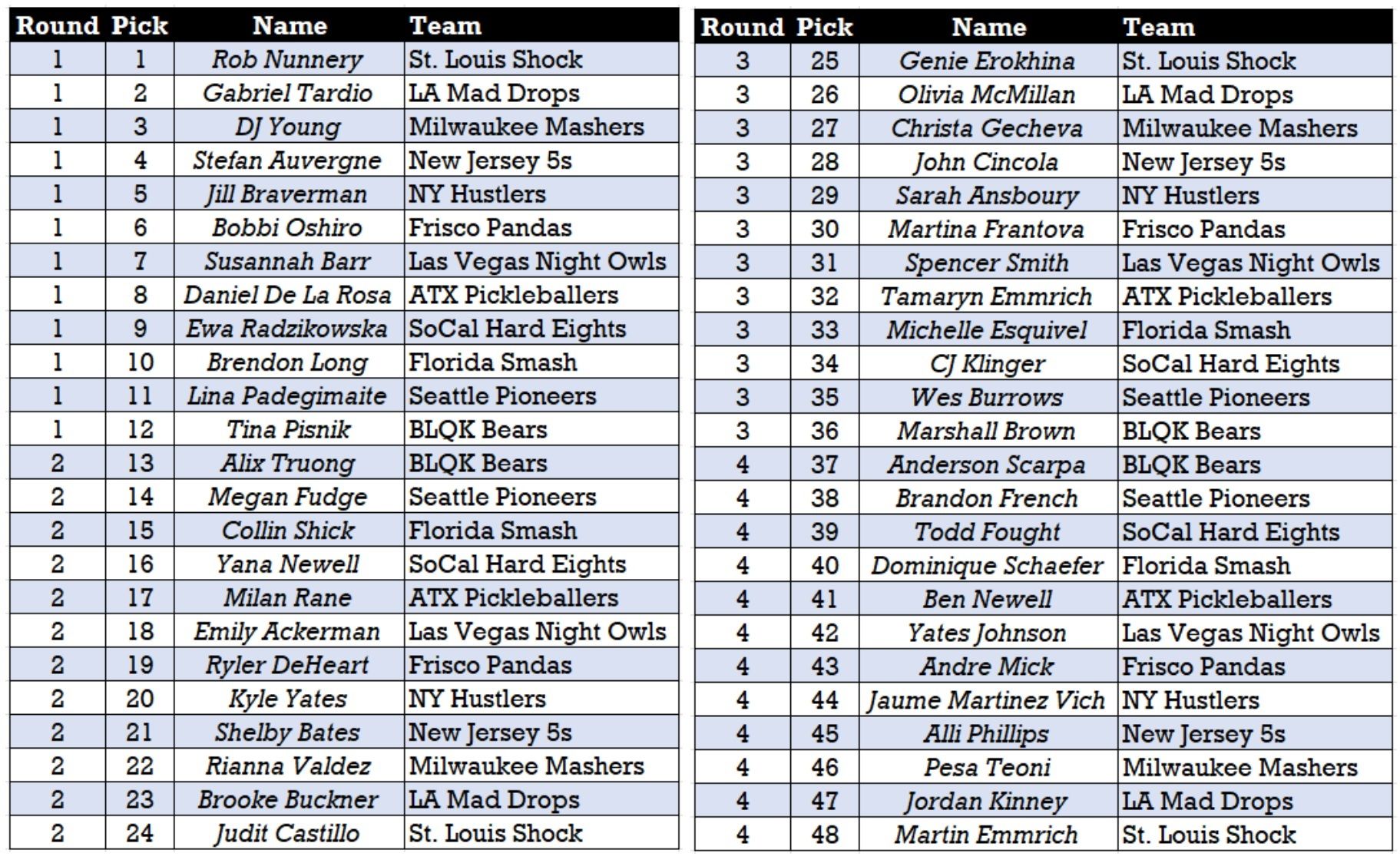 The Snubs
Callan Dawson: How. In. The. Hell… Did this happen?
DUPR is not everything - I understand this. HOWEVER, he is the 26th rated men's player, according to double's DUPR. In Challenger Level Season 1, he finished as the eighth best men's player, with a 20.7 average finish (two or more events).
He is possibly the most consistent men's right sided dinker in the game, not just Challenger Level. His pickleball IQ is extremely high and by all accounts is one of the nicest people on tour. I think recency bias (Collin Shick, Andre Mick & Jaume Martinez Vich), more attackability (Marshall Brown & Todd Fought), or some sort of unique perspective not many people have (Jordan Kinney & Martin Emmrich), are three reasons Dawson didn't get picked.
Just because Dawson doesn't have the quickest hands in the world doesn't mean he "can't be offensive." He keeps his opponents off balance constantly with his offensive dinking and he helps set up his partners for better shots.
His steadfastness will be sorely needed on several Challenger teams. By the second event in Season 2, I believe Dawson will be picked up again.
Rob Cassidy - The animated lefty finished FIFTH in overall men's standings in the Challenger Level in 2023 Season 1 with the Utah Black Diamonds.
They finished in 9th place overall in Season 1 and every one of Cassidy's teammates got picked up in the Challenger Level again for Season 2. With the emphasis on lefty men to have two forehands in the middle, I am very surprised he didn't get drafted at all.
Very much like Dawson, I think some GMs got caught up with some shiny newer, younger players with upside, rather than the players they think they know. I disagree with this thought process because this season is going to be three events and then in 2024 we are going to do another draft anyway.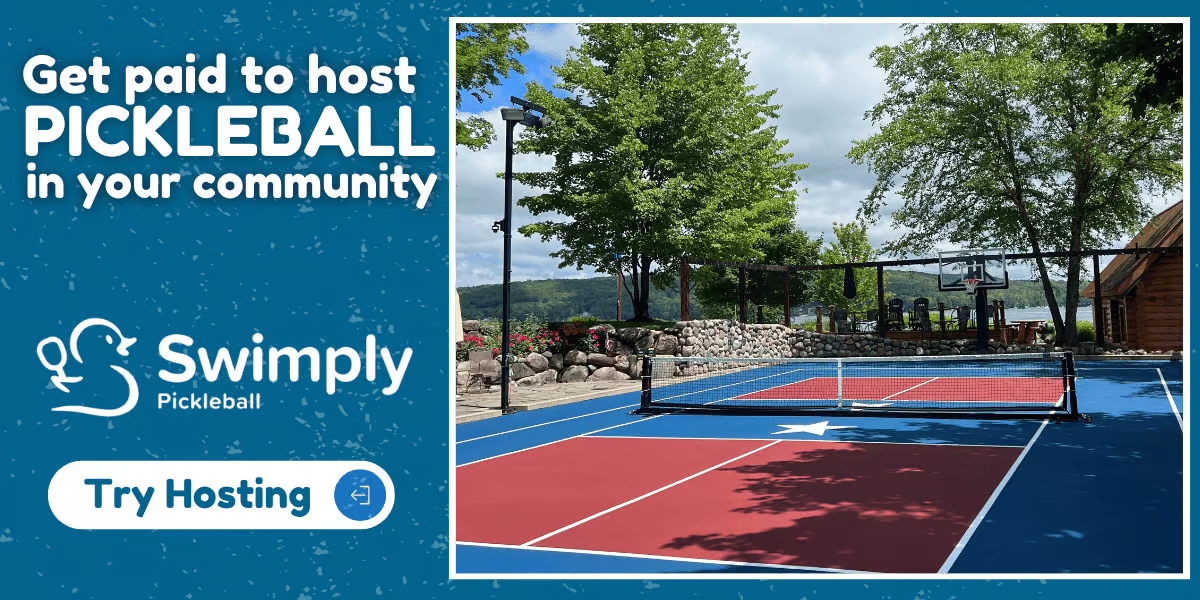 If this was the inaugural draft for the foreseeable future and teams and players were staying the same for a long period, I could understand the thought process. But you need as many points as you can get in three events. Cassidy should have been picked up, but I assume he will be playing MLP by the second event after one or more of the "up and comers" flops in Georgia.
Sam Querrey - Sam is a huge name from tennis and he was taken first overall in Season 1 of 2023. He definitely got better throughout the season, but proved he is not ready for MLP. I thought there might be a team that felt confident enough with their current standings to take him late in Challenger.
Sam needs to continue to work on his doubles game - both of them. He is a liability in men's doubles and in mixed he lacks consistency and counter attacking ability. Querrey needs to continue playing PPA and APP tournaments in order to get that experience if he hopes to be in MLP within the next year.
Monica Paolicelli - Paolicelli played in Mesa with DC Pickleball Club and Sam Querrey. She may have been a bit of a scapegoat in the next shuffle draft.
She is a lefty and athletic, so I was surprised she was not picked about again for Season 2. Monica has the 3rd highest DUPR of any women's player who didn't play Premier Level in Season 1. I didn't see many matches in the last six months, so maybe she has/had some sort of injury happening.
Other notable MLP Season 1 players who were not drafted to Season 2:
Greg Dow
Scott Doerner
Lee Whitwell
Patrick Smith
Jeff Warnick
Rachel Rettger
Christine Trifunovic
Regina Franco.
Eight Newcomers to Challenger Level
With the mention of some snubs and other notable players left off MLP rosters for Season 2, that means there was an influx of new players to the Challenger Level from Season 1 to Season 2.
Collin Shick was picked up in round 2 by the Florida Smash. Tammy Emmrich and Marshall Brown were picked up in round 3. Dominique Schaefer, Andre Mick, Jaume Martinez Vich, Alli Phillips, Jordan Kinney, and Martin Emmrich were all picked up in round 4.
In our draft preview articles we mentioned Brown, Schaefer, Martinez Vich, Phillips and Kinney. We missed Shick and the Emmrich couple.
The MFFM & FFMM Patterns Also Prevailed in Challenger Level
Eight total teams chose the MFFM or the FFMM pattern in Season 2's Challenger Draft, so we saw these slightly less than the Premier Level draft (10 total). The FMFM pattern also happened twice with the Frisco Pandas and the NY Hustlers.
Frisco is dead last at 24th in the standings so they needed to go for broke in Season 2. They started with Bobbi Oshiro, who could have easily been drafted in Premier. Then they went to Ryler DeHeart, Martina Frantova, and lastly got Andre Mick.
The NY Hustlers are in a much different position, being in 7th place with 24 points. They seemed to have a strategy of high floor, lower ceiling with their first three picks in Braverman, Yates, and Ansboury.
The Martinez Vich "high ceiling, low floor" in the fourth round gives them an X factor. I like that consistent player strategy with a wildcard mixed in to keep them toward the top of the standings after Season 2.
Biggest Reaches
Tina Pisnik - I know that Ritchie and Jimmy definitely did their research and they probably have access to stats we don't have. I had her going in the 3rd round of my mock draft and she may have been there in the third for BLQK.
However, I will say this - having the 12th/1st pick and then waiting 23 spots before picking again may have forced their hand. If Ritchie for sure wanted these two and was worried Pisnik wouldn't be there at the 36th pick, I love the ability to reach in order to get the two women they wanted.
Collin Shick - Shick seems to be getting better every day while still attending med school. He is an extremely talented singles player and is getting better in both doubles games. I think he is a great pickup in the Challenger Level, but I believe Florida could have had him in Round 3 or 4.
This is the Florida team: Brendon Long, Shick, Esquivel, and Dominique Schaefer. Florida had their pick of Milan Rane, Yana Newell, or Emily Ackerman when they drafted Shick in the 2nd. Again, Shick is a good pickup, I just think he was taken too early and now the Florida Smash women's team is going to struggle.
Tammy Emmrich - Emmrich has been playing with Tina Pisnik a lot lately and has had some pretty good results. Although the women's options were slim when ATX drafted, they had Michelle Esquivel and Rachel Rettger available.
Also, they got a little luck that Ben Newell was available in round 4, who was Daniel De La Rosa's partner in MLP Season 1. I would have taken Newell in round 3 if he was for sure their guy and hoped that Emmrich was available in the fourth. All that to say - the strategy worked out for them, but it was a risky one.
---