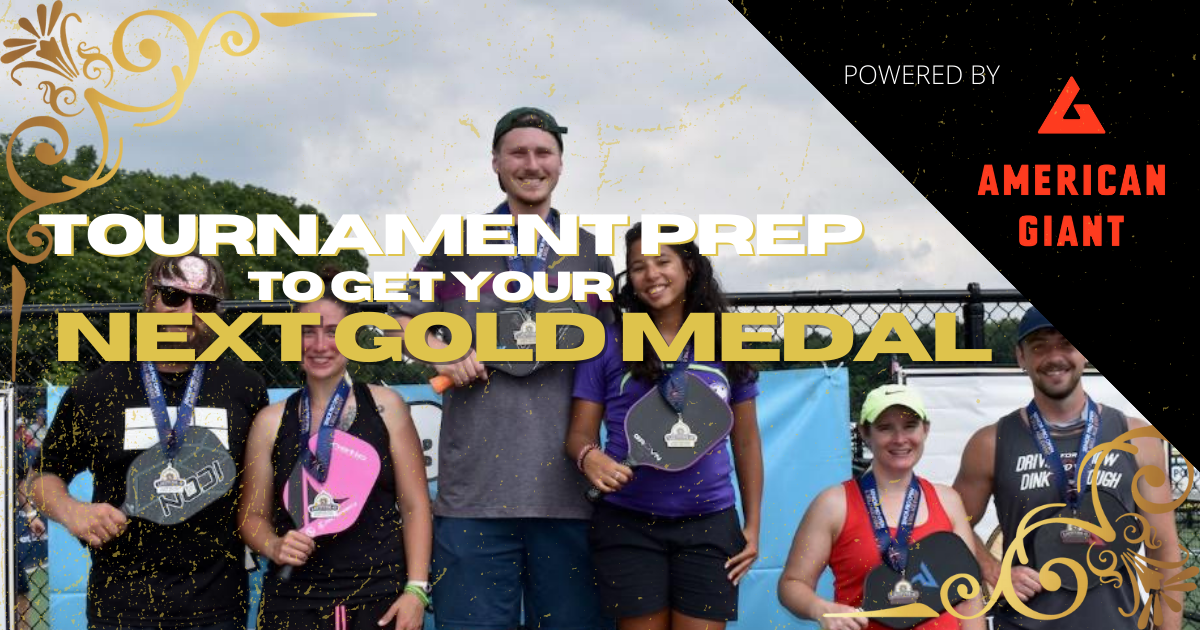 Up Your Game
Pickleball Tournament Preparation and Game Time Tips to Earn Your Next Gold Medal
First things first: if you're preparing to play in a pickleball tournament, you must figure out what your start time is going to be.  
This is something you might not find out until a week before the tournament starts. I like to simulate the start of the first tournament game with another doubles team.  
Let's say we are starting at 8 am.  I will arrange a doubles match at 8 am and we will get there and warm up for 10 minutes (or however long they say you are allowed) then start playing.  
I feel like I don't hit my peak performance until I have been playing for an hour, but this will give you a good feel on when you hit your peak performance and if you need to warm up longer.
Preparation
Get a good night's sleep. Obvious, right? I get super pumped up the night before and have trouble sleeping. I read a good book and clear my mind the night before.  Figure out how to clear your mind and sleep well because this is crucial.
Eat a big meal the night before if you are playing in the morning. I will just graze on granola, fruit, and beef jerky throughout the playing time. I do not do well eating a big breakfast before playing.
Go in with a set plan. Are you stacking? Are you only stacking on the serve? Make sure you know what you are going to do before you show up.
Find the right partner. Doing the partner dance can be hard and ideally, you want to find a partner whom you can get some practice with before you step onto the tournament court.
Think about what type of players you have played well with. Do you like an aggressive partner? Do you like a partner that is a mix of aggressive and patient? Do you know someone that fits that description and is around your skill level?  
Go ask them! The worst they say is no and you can go ask more people!  If you have seen the person, get angry in rec do not ask them to play in a tournament. It is a serious competitive setting, but you should also be having fun or it isn't worth your time.
More tips from Sarah Ansboury, a pro pickleball player:
Game Time
Use your timeouts! I have heard people say they don't like using timeouts because that isn't how they play, or it messes up their flow. If you lose 3 or 4 straight points, what flow are you in? You are tumbling down and it is only to your benefit to pause the game and reset your mind. You might even take your opponents out of their groove.  Maybe they despise timeouts, and you just changed the momentum. Either way, take a timeout if your opponent goes on a run. Other times I like to use a timeout is if I was just running all over and feel winded or lost a point with a fast hands battle. If you are tired or feel the momentum is not on your side use a timeout.
Let it go! If the other team comes out swinging hard, you need to let some higher balls go and see how good their drives are.
Don't worry about your errors. You can focus on what you were doing wrong after the match or after the tournament. During the game, you need to move on quickly and focus on the next point. Worrying about your errors will just cause you to make more. Have a next-point mindset.
When trouble strikes, go to your best shots. Are you in love with your drives?  Start driving more and get your partner to shake and bake. Are you all about the soft game? Start dinking and setting up your counterattacks. Don't play into your opponent's game.  Play to your strengths.
Ok, this sounds obvious but keep the ball in play and make your opponent's move. Keeping the ball in play and making your opponent move around will get you far. It won't take you to the pro level but will keep you competitive.
Get the ball in the middle. Dink middle, drive middle, and third shot drop middle. I'm not saying do this all the time but do it more than you were thinking. It will reduce your opponents' angles, cause some confusion, and set you up for more attacking opportunities.
Read Next: 5-Minute Pickleball Warm Ups for Competition Day
Want to see my tips and reviews in video form? Check out my Tiktok.