Results
Men's doubles: 🥇Kyle Yates & Andrei Dăescu 🥈Hunter Johnson & Yates Johnson 🥉Stefan Auvergne & Brendon Long
Women's doubles: 🥇Parris Todd & Simone Jardim 🥈Megan Fudge & Susannah Barr 🥉Bobbi Oshiro & Lee Whitwell
Mixed doubles: 🥇Bobbi Oshiro & Brendon Long 🥈Parris Todd & Hunter Johnson 🥉Simone Jardim & Andrei Dăescu
Men's singles: 🥇Hunter Johnson 🥈Yates Johnson 🥉Max Manthou
Women's singles: 🥇Parris Todd 🥈Salome Devidze 🥉Megan Fudge

The biggest sports day of the year went down on Sunday with that comeback leaving fans speechless! That's right, it was Championship Sunday at the APP Daytona Beach Open and the comeback came from Hunter Johnson in men's singles against his number one rival and brother: Yates Johnson.

Did we miss anything else over the weekend? Yeah, didn't think so. At the tournament in Holly Hill, Fla., home state-resident Parris Todd, came within inches of a triple crown, but fell just shy of it in mixed doubles. The Selkirk-sponsored pro walked away with a gold in singles and women's doubles and a silver in mixed.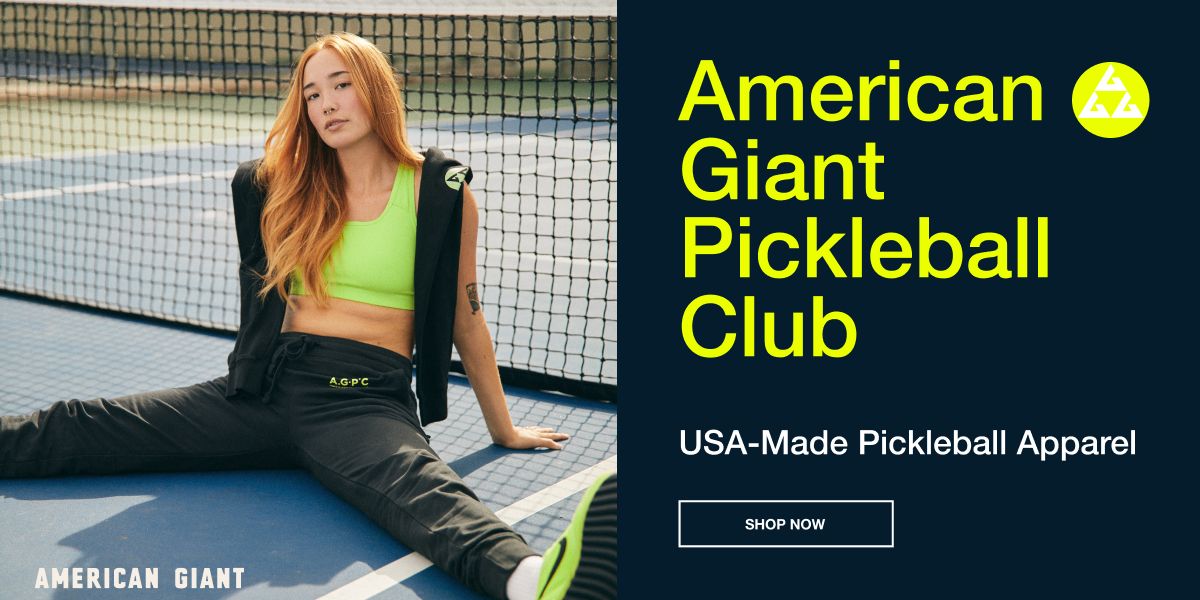 Take 20% off your first order from American Giant Pickleball Club with code DINK. Each durable, cotton piece is designed to breathe, stretch, and hold up to your hardest hits.
She got her Sunday started in singles where she rallied off nine unanswered points against former Georgian tennis player Salome Devidze in their first game. She then made things quick in the second, winning 11-4. In her post-match interview, Todd echoed the late great Kobe Bryant saying "job's not done," alluding to her triple crown bid. She kept up the Mamba mentality in women's doubles alongside Simone Jardim to defeat Megan Fudge and Susannah Barr 9-11, 11-2, 11-3.

Parris tried to strike with venom once again in mixed doubles by completing the double dip against Bobbi Oshiro and Brendon Long, but couldn't win the tiebreaker to 15 to take home the triple crown. Oshiro and Long got off to an incredibly rocky start in the first game, missing all sorts of easy shots. But once they calmed their nerves and settled in, they were stellar. With the win both Oshiro and Long picked up their first pro APP mixed doubles gold medals.
On the men's side of things, the medals were pretty spread out. Hunter Johnson completed an epic double dip against his brother, meaning he won the best two of out three and the tiebreaker to 15 to win the gold. They then teamed up in men's doubles to give the eventual gold medalist Kyle Yates and Andrei Dăescu a run for their money. They too won the best two of three, but couldn't overcome the tiebreaker.

With the silver, the Johnson twins are one step closer to solving the mystery that is men's doubles. Both players pretty much walked onto the pickleball court and were dominant in singles, but it has taken them a little longer to figure out men's doubles. But that is starting to become a thing of the past. In the first APP tournament this year they took bronze, and now they have a silver. Gold should be right around the corner.
The APP had a very special guest get on the 4.0 podium in singles: WNBA superstar Jewell Loyd. The current Seattle Storm and Perfumerias Avenida player can now add pickleball medalist to her illustrious basketball career which includes being a WNBA champion, Olympic gold medalist and a WNBA all-star.
For anyone keeping tabs, her overall game definitely makes Dirk Nowitzki and Kevin Durant's pickleball games look a little rudimentary (just saying). Definitely peep that backhand drive. Some curious eyes will definitely be on Loyd to see just how far she decides to go with pickleball.

The pro pickleball game moves fast. Luckily, we do, too. Subscribe to our newsletter to keep track of pro matches: